Clint Bautz, the owner of Lake Effect Brewing Company in Portage Park, has always wanted the ability to deliver his beer directly to customers, but Illinois liquor laws made that impossible—until the pandemic hit in March. With breweries across the state suddenly losing some of their biggest customers as restaurants and bars were shut down, the Illinois Liquor Commission approved a temporary measure in March giving craft brewers the green light to start making residential deliveries.
"I felt so good that we had this new privilege to deliver," Bautz says, explaining that he quickly set up an online store and began making deliveries himself. "But I saw a few restaurants that were looking like they were gonna close down for good, so I reached out and asked if there's anything we could do to help."
One of the first businesses that Bautz contacted was nearby Fannie's Cafe, which had previously collaborated with Lake Effect on a beer made with the bakery's chocolate cake as well as a beer and pie promotion on Pi Day (March 14, or 3/14). Lake Effect had bottles of Ooh La La French Silk Stout and Blueberry Thrill Blueberry Pie Gose that it was trying to offload, so Fannie's Cafe baked some miniature French silk and blueberry pies and bundled them for delivery, with both businesses sharing the profits.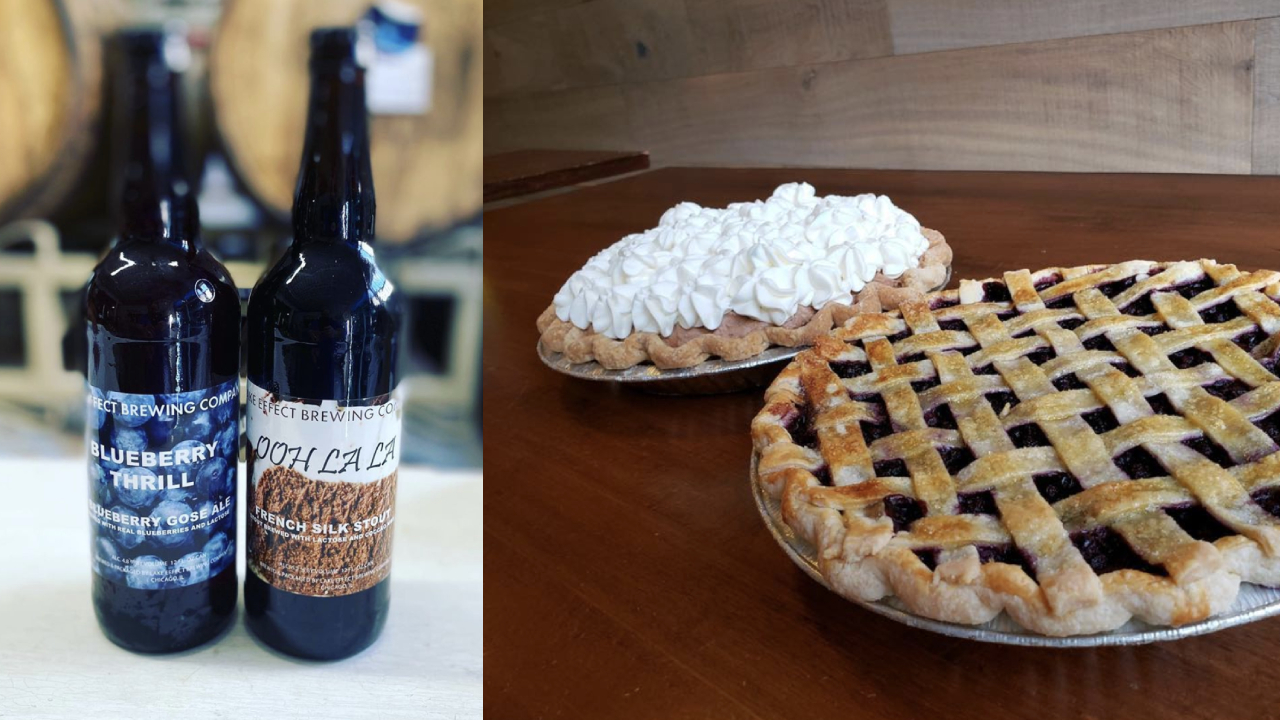 "[When the pandemic hit] I thought we were going to close for sure; we didn't have the capability to do delivery and we didn't have a strong online ordering system yet," Fannie's Cafe owner Stephanie Rybandt says. "When Lake Effect approached us to do this collaboration I said yes, because that's pretty much the only thing I was able to do at that point."
The collaboration with Lake Effect allowed Rybandt to keep two bakers on, churning out more than 1,000 miniature pies over the course of several weeks as orders poured in. Fortunately, Fannie's Cafe was able to receive a Paycheck Protection Program loan that gave the business time to implement an online ordering system and begin offering baked goods for pickup. Making pies for Lake Effect to deliver provided Rybandt with a way to stay busy in the frantic early weeks of the "stay-at-home" order. "It made me a little bit hopeful that we could be creative and find ways to keep going," Rybandt says.
Bautz's outreach to local businesses didn't stop at Fannie's Cafe—since March, Lake Effect has bundled its beer with sausages from Gene's Sausage Shop, donuts from Weston's Coffee, a personally curated LP from Tone Deaf Records, Superdawg gift certificates and a beer-themed painting kit from Chicago Sip & Paint. According to Bautz, throughout the months of March, April and May, the collaborations with local businesses resulted in many customers buying beer from Lake Effect on a weekly basis, though he admits that he's seen diminishing returns on the bundles over the past few months.
With sales picking back up slightly in recent weeks, Bautz is planning new collaborations with local businesses in September, bundling Lake Effect's beer with giant pretzels and sausages from Gene's Sausage shop (in celebration of Oktoberfest) and samosas from Mango Pickle in Edgewater. And he's still not charging a fee for delivery to neighborhoods surrounding Portage Park, mostly out of a desire to keep prices low and not nickel and dime his customers.
Even though some bars and restaurants have been able to reopen and other Lake Effect projects are moving forward (the Jefferson Park firehouse in which Bautz plans on opening a brewpub recently got rezoning approval), Bautz is still focused on finding ways to collaborate with and support his fellow local businesses. "Especially during the really slow months of summer, if we could sell 100 pies and 100 six-packs, that's a good week for us," Bautz said. "That's a week we wouldn't have had if we hadn't gotten together."
Most popular on Time Out
- These notable Chicago restaurants and bars have now permanently closed
- Take a look around Time Out Market Chicago, now open in the West Loop
- How Chicago museums are welcoming back guests under new safety guidelines
- The 16 most romantic restaurants in Chicago
- This Chicago pop-up bar is inspired by '80s comedy 'Honey, I Shrunk the Kids'