After being closed to the public for nearly four months, local museums and cultural institutions got the go-ahead to reopen in a limited capacity when Chicago officially entered Phase 4 of its reopening plan in late June. The ability to welcome back guests came with a host of new guidelines that are familiar to anyone who has entered an indoor business over the past few months: mandatory use of face masks, ample hand sanitizer and 6 feet of distance between parties.
While adhering to the basic industry guidelines that the city passed down to cultural institutions, each Chicago museum has been presented with unique challenges that they must address to make guests feel safe. The Art Institute needed to control crowds in its popular marquee exhibitions, the Field Museum had to channel visitors into a single entrance, and the Museum of Science and Industry needed to find a way to showcase its bountiful interactive elements online.
We spoke with representatives from three of Chicago's largest museums to find out more about how the visitor experience has changed at their respective institutions and the unique solutions that have been developed to keep exhibits safe and functional. From asking guests to use a new entrance to handing out a stylus to every ticket holder, here's how museums are adapting as guests return to their halls.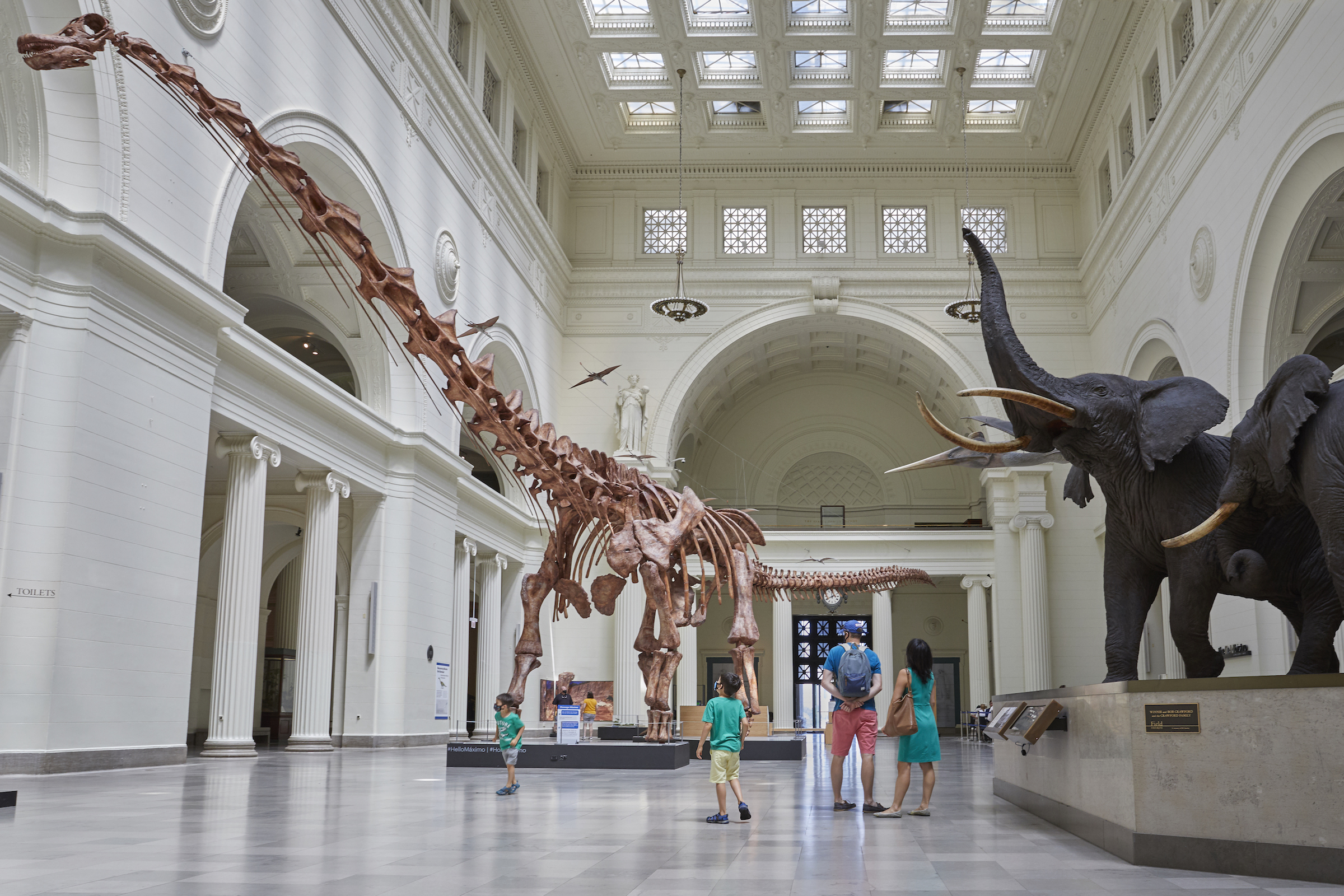 The Field Museum
Among the first to reopen in Chicago after the city entered Phase 4, the Field Museum was prepared to operate in the age of social distancing in a way that many institutions were not: with 480,000 square feet of real estate, there's a lot of room to spread out. "We've been preparing since March 14 when we closed down for what this would look like, and we were very fortunate that when the Phase 4 guidelines were released, what was asked of us was already what we'd been planning for," guest relations manager Jacob Shuler told us, noting that Field Museum leaders were part of the industry working group that provided feedback on the city's reopening guidelines.
The biggest change that visitors will immediately notice is that instead of being ushered into the spacious Stanley Field Hall, they are now only able to enter the Field Museum through its east entrance on the building's ground floor, right by the "Underground Adventure" exhibition. Once your e-ticket is scanned (timed reservations made through the Field's website are encouraged, but the museum has been accepting some walk-up visitors), you can pull up a map of the museum on your phone (paper maps currently are not being distributed) and venture into the exhibitions or stop by the Stanley Field Hall to gaze up at Máximo the Titanosaur.
The majority of the museum is open to guests, with one-way paths clearly marked on the floors of most exhibitions, while smaller galleries like the Grainger Hall of Gems have capacity restrictions that are monitored by staff. While the highly interactive, children-focused "PlayLab" exhibition is currently closed and some interactive elements in other exhibitions have been disabled, touch screens throughout the Field (such as those used in the "Cyrus Tang Hall of China") are still being used to display information, accompanied by stickers asking guests not to touch them.
According to Shuler, the reaction to the new safety measures has been largely positive, which he credits to the fact that the Field Museum is "following the vocabulary that people are already accustomed to in grocery stores and other public places." The only major modification that the museum has had to make to its safety precautions since reopening is the addition of signs outside of the entrance reminding visitors that face masks are required inside the building. And it's a good sign that guests are acclimating to the new rules, because as Shuler explains, "Our expectation is that these safety measures are going to stay with us pretty far into the future."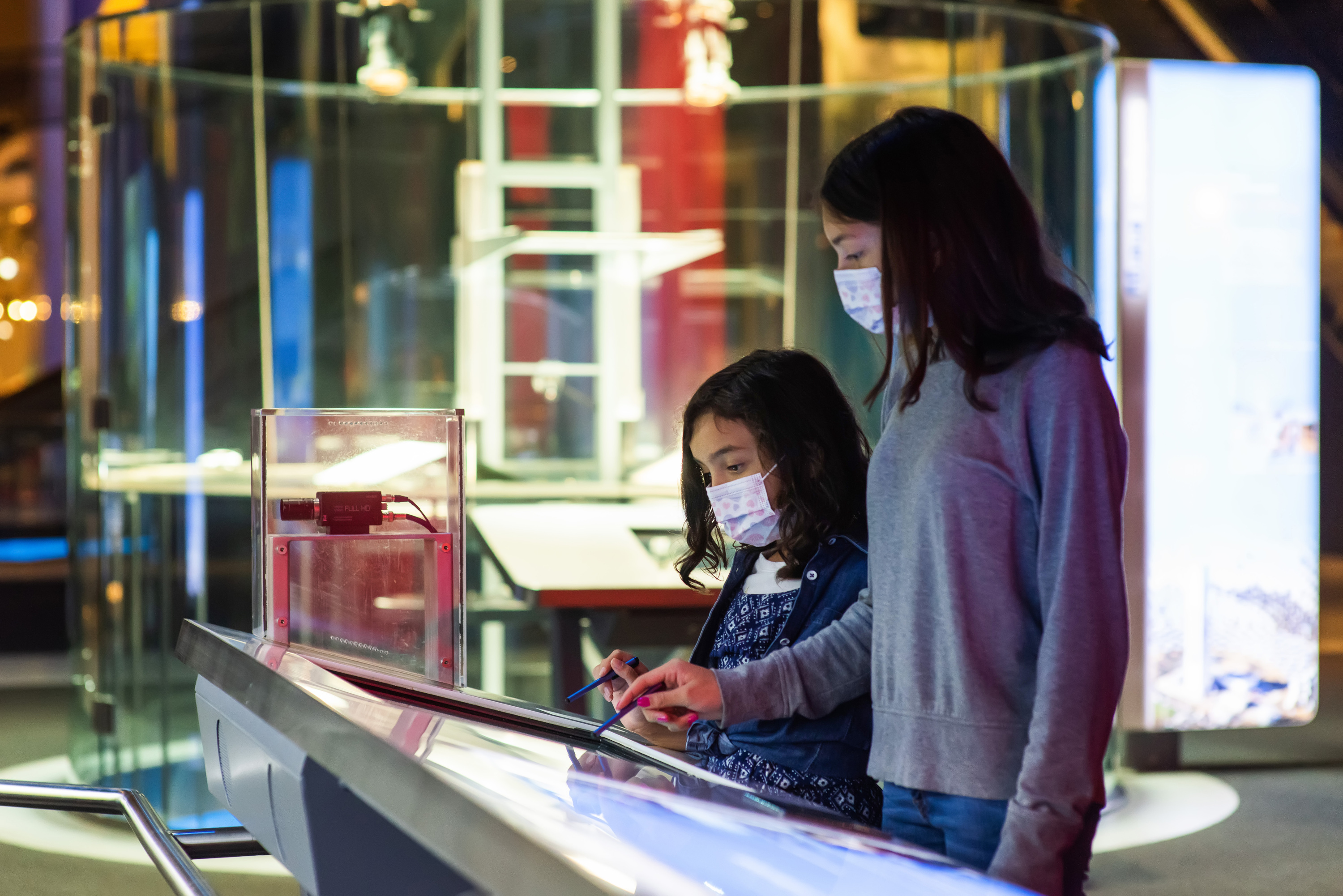 Museum of Science and Industry
If you've made the trip to Jackson Park to visit the Museum of Science and Industry in the past 15 years, you're probably accustomed to descending to the building's subterranean entrance hall through a side door or the parking garage. But when the museum reopened at the beginning of August, it swung open its front doors on the north side of the building, allowing visitors to pass through the ornate columns before heading downstairs where they can avoid lines (and guarantee entry) by purchasing a timed ticket in advance.
Before guests step inside the exhibitions, they're issued a stylus that can be used to tap touch screens and buttons without using their fingers. External communications manager Isabel Morales explained that finding a way to maintain the presence of interactive features within the exhibits was a priority as the institution began devising its reopening plan. "We are a highly interactive museum, and we wanted to make sure we had a way to honor that," Morales says.
Unfortunately, some interactive elements—such as the ticketed tour of the "Coal Mine" and the U-505 submarine—are closed temporarily, as they require guests to squeeze into tight spaces that don't allow for social distancing. Scheduling issues also caused the Museum of Science and Industry to push back the debut of the traveling "Marvel: Universe of Super Heroes" exhibit which will not open until March 2021. One thing that is open: the Giant Dome Theater, which was renovated just before the museum closed in March and is currently screening three films at limited capacity.
If you need a snack or some fresh air while you're visiting, you can now head out to the museum's front lawn, where a tent offers grab-and-go food and beverages. According to Morales, the lawn and its amenities are also open to the general public, making it a nice spot to relax after a bike ride or walk on the nearby Lakefront Trail. While MSI is still figuring out how it will host its popular "Christmas Around the World" exhibit this winter, right now the staff is getting comfortable with the new safety guidelines and procedures while helping guests do the same. "Like other museums and cultural institutions, we've been hit by the pandemic, so we're just happy to be open again," Morales says.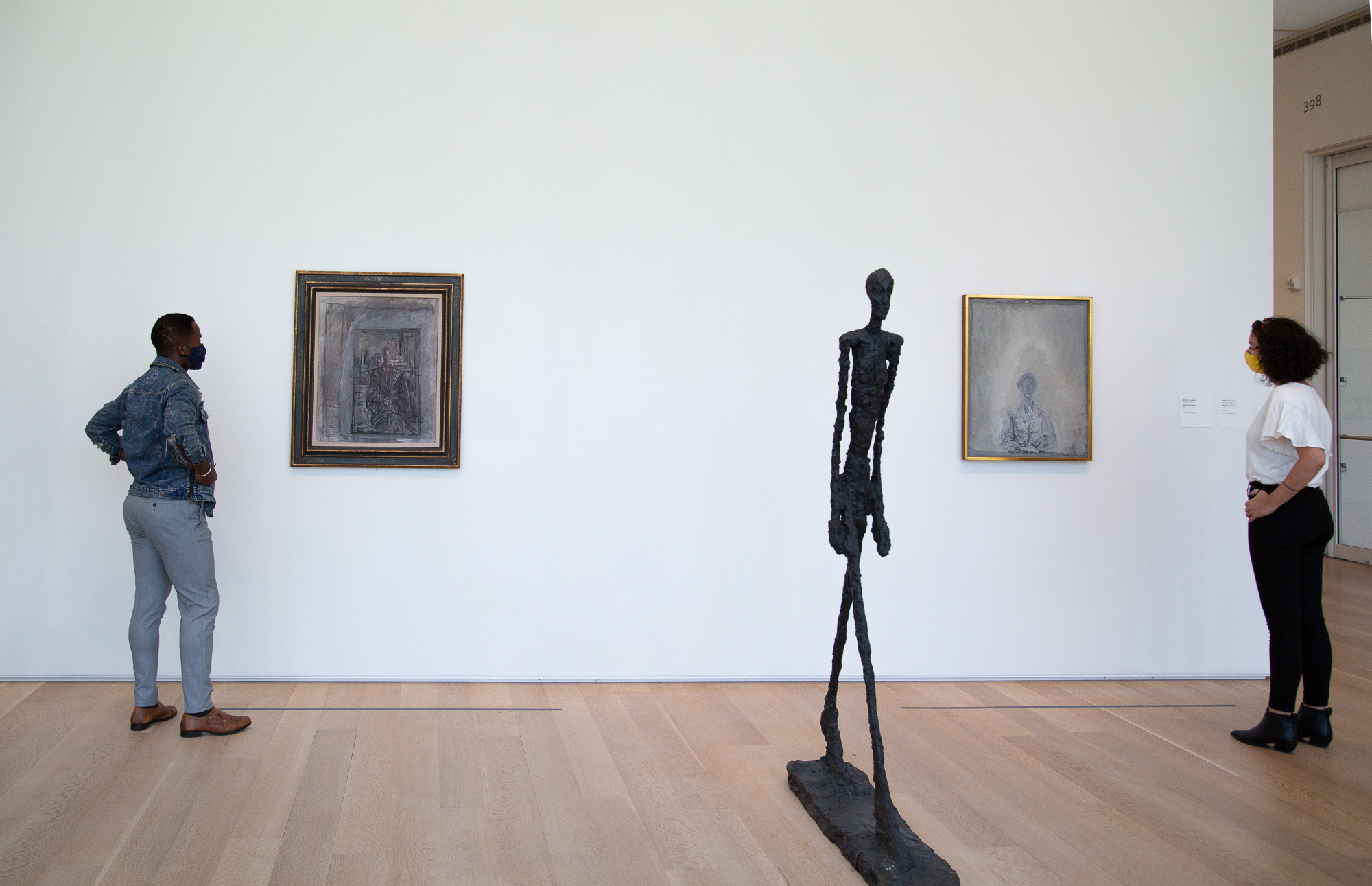 The Art Institute of Chicago
Going to an art museum is often a relaxing and sometimes meditative experience, so when the Art Institute got the green light to reopen, it made plans to keep folks safe while putting guests at ease. "Rather than focus on a modified HVAC system or mask requirements, we prefer to encourage our community to visit the museum and feel comfortable experiencing our collection and exhibitions in person," executive director of public affairs Kati Murphy told us.
Of course, you are required to wear a face mask as you begin to explore the Art Institute's various galleries, the vast majority of which are still open to visitors. Many exhibitions now have dedicated entrances and exits, and some galleries now have floor markings indicating a one-way path through the works of art. Maintaining 6 feet of distance from other groups may make your trip through each exhibition slightly longer, but it could also give you more time to appreciate the pieces you see along the way.
When the Art Institute reopened at the end of July, it extended its "El Greco: Ambition and Defiance" exhibit (which had opened shortly before the museum closed in March) and debuted a virtual queue system that allows staff to control how many people are in the gallery at one time. The system will also be used when "Monet and Chicago" opens on September 5, allowing guests to check in at the exhibit's entrance to be assigned a spot in a virtual line. The layout of the Monet exhibition was also modified during the museum's closure, spacing out works to make social distancing more intuitive.
One perk that the Art Institute is offering that other museums are not is exclusive hours for members. Currently, the first hour of each day the museum is open is reserved for members, giving them an opportunity to experience the exhibitions alongside significantly fewer people. For everyone else, the museum has provided a chart indicating the most popular times to visit, allowing those who want to avoid crowds to plan a trip during a time period that is typically quieter. But if you want to virtually guarantee a less populated museum experience, spending $105 on a membership that allows unlimited visits might be worth the peace of mind.
Most popular on Time Out
- These notable Chicago restaurants and bars have now permanently closed
- Take a look around Time Out Market Chicago, now open in the West Loop
- Illinois won't join Chicago's emergency travel order, even though it qualifies
- The 16 most romantic restaurants in Chicago
- This Chicago pop-up bar is inspired by '80s comedy 'Honey, I Shrunk the Kids'