If breakfast is the most important meal of the day (according to some people, at least), then brunch is the most important meal of the weekend. That's why Time Out Market Chicago is launching its Feed Your Soul Jazz Brunch on Sunday, July 25, taking place every Sunday from 11am–3pm and featuring dishes from each of the chefs within the Fulton Market food hall. Just like every other meal at the Market, you'll be able to mix and match all of the options, ordering from as many spots as your appetite can handle—and don't worry, each vendor's regular menu will be available, too.
Want some smooth tunes to accompany those stacks of pancakes, egg sandwiches and bowls of Hangover Ramen? The Chicago Soul Jazz Collective will perform from 1–3pm every Sunday, providing a side of entertainment while you fuel up for the day ahead. Plus, Time Out Market Chicago is partnering with Chicago-based brand Kido to present a free, family-friendly yoga class from 11–11:45am on Sunday, August 8 and Pure Barre will present a ticketed rooftop class (with a treat from Bittersweet) from 10–10:45am on Sunday, August 15.
And for those who'd like to add a bit of booze to their morning, all Time Out Market Chicago bars will offer pitchers of Classic, Bellini and Strawberry Elderflower Mimosas for $60 each during the Feed Your Soul Jazz Brunch. That enough for 10 glasses, so make sure to bring a few friends to help you out.
You can take a look at the complete Feed Your Soul Jazz Brunch menu below and stop by Time Out Market Chicago from 11am–3pm this Sunday to try these delicious dishes yourself.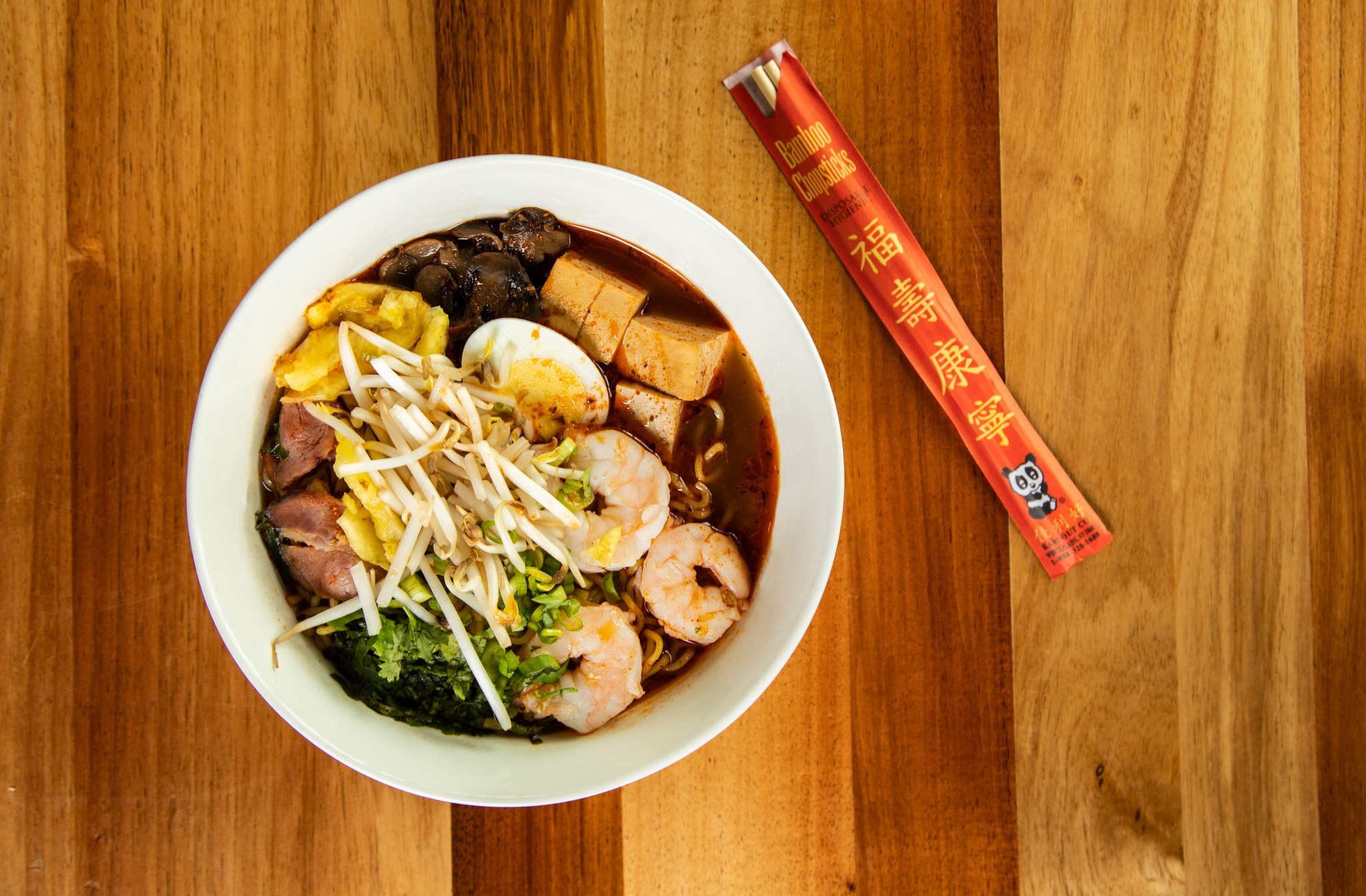 Hangover Ramen from Bill Kim Ramen Bar
Shrimp, smoked pork, bbq mushrooms hard-boiled egg, bean sprouts and scallions in a spicy hangover broth.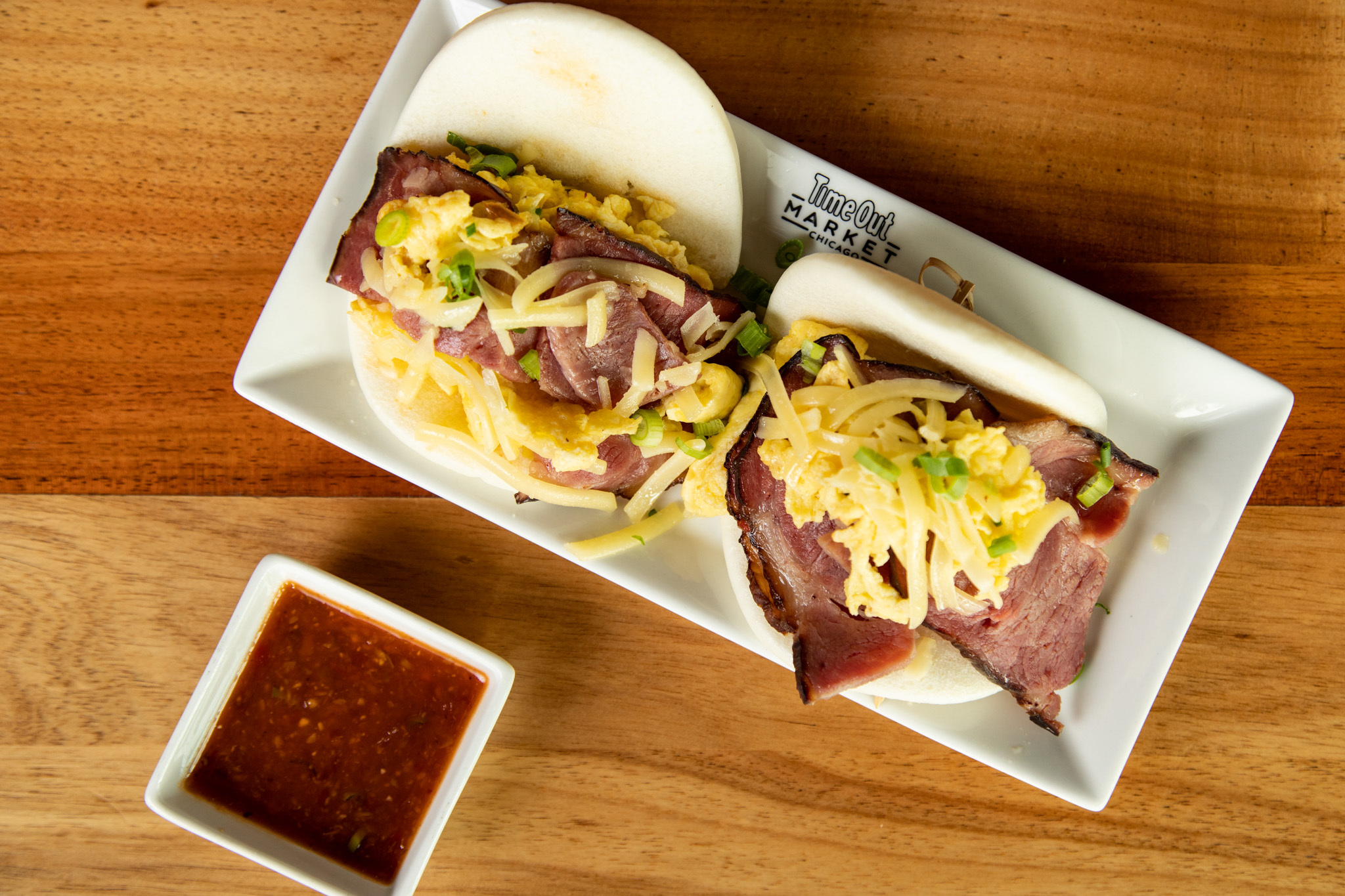 Breakfast Bao from Urbanbelly
Smoked bacon, cheese and egg wrapped in pillowy bao, served with lemongrass fire sauce.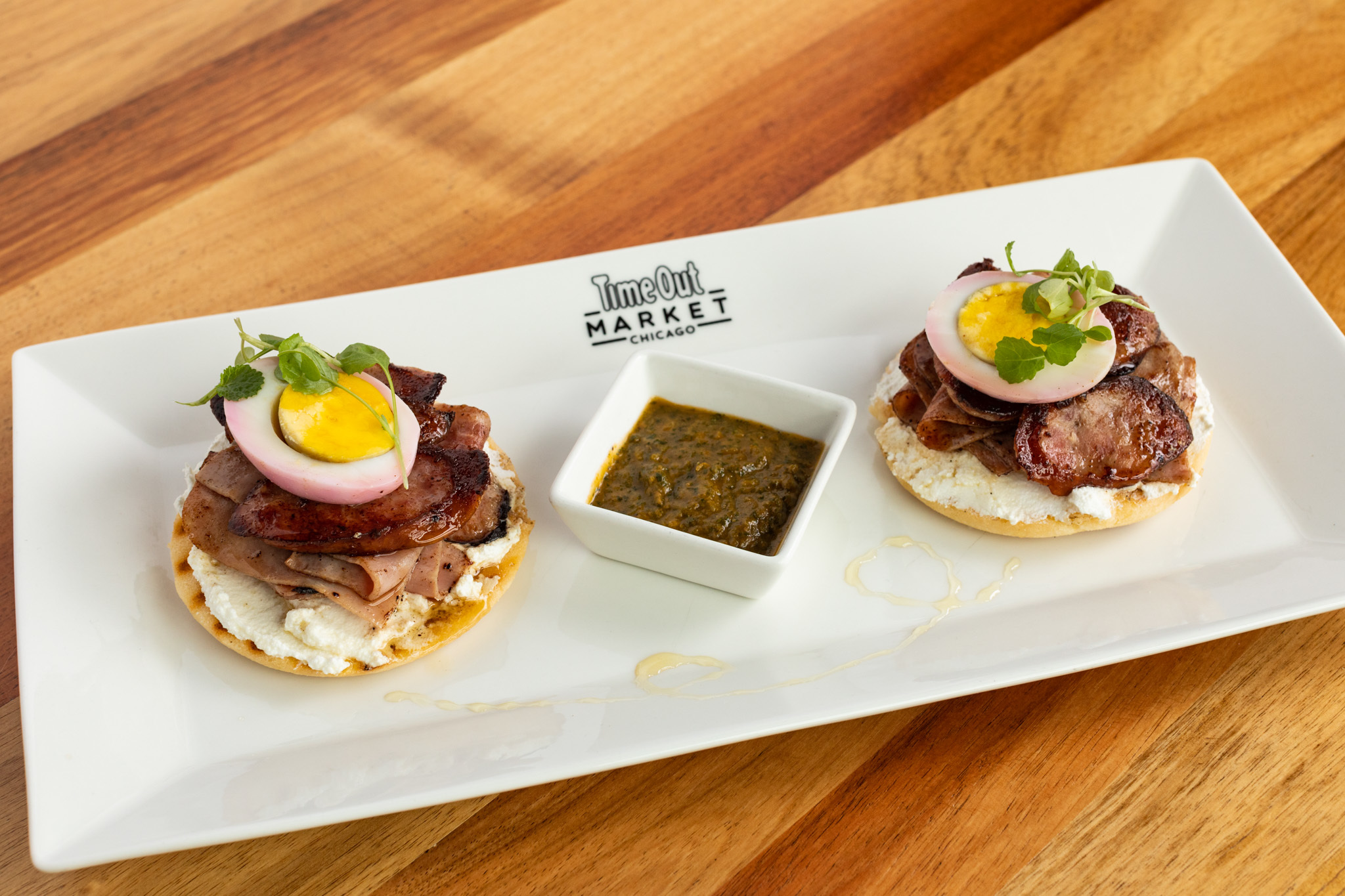 Breakfast Arepa from Polombia
Polish bacon, garlic honey ricotta, chorizo, pickled egg and microgreens served atop arepa cornmeal cakes. This one is also served meatless upon request.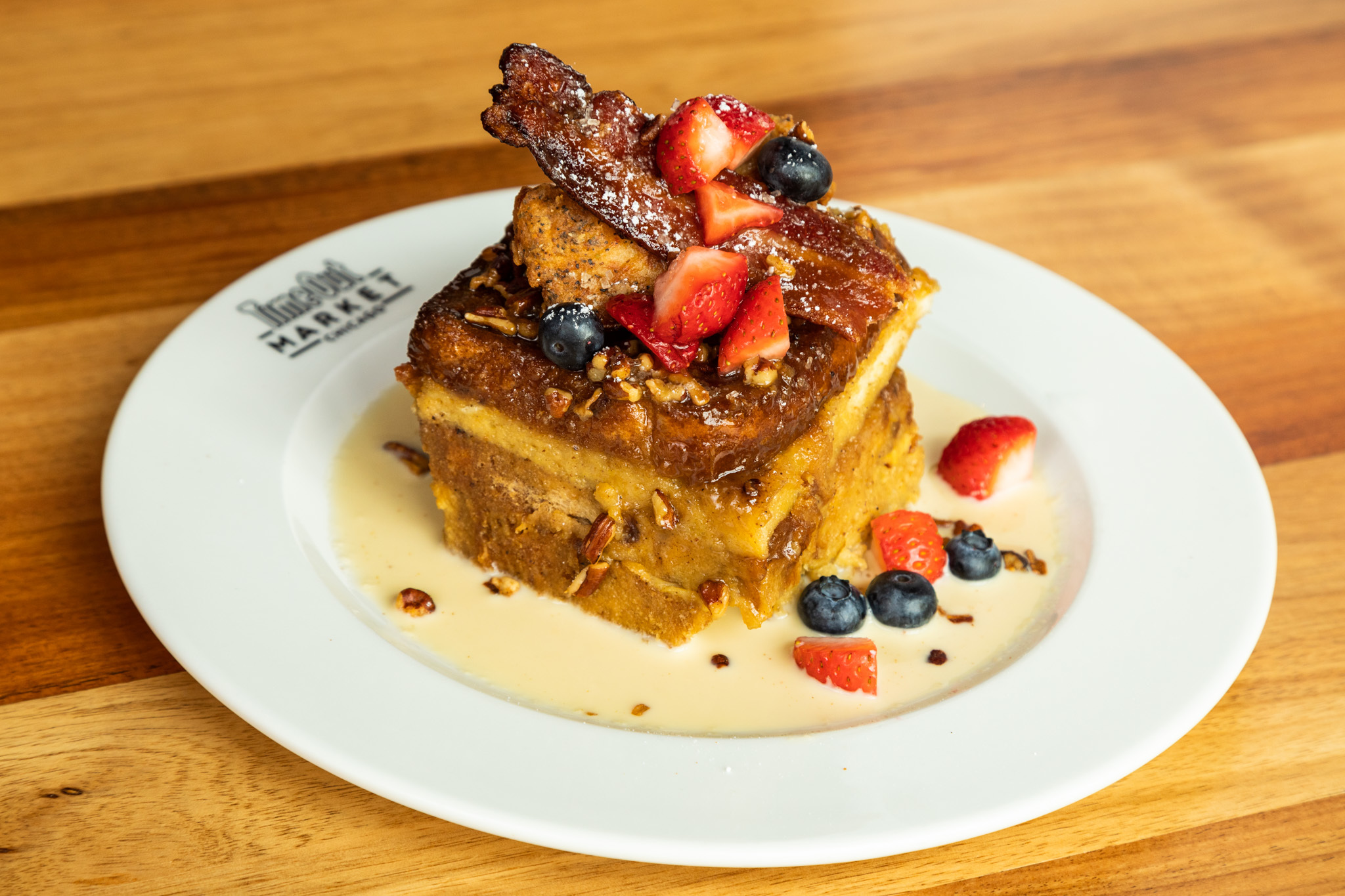 French Toast Soufflé from Cleo's Southern Cuisine
A thick slice of French toast soufflé topped with blueberries or strawberries, candied bacon, spiced pecans and a fried chicken tender.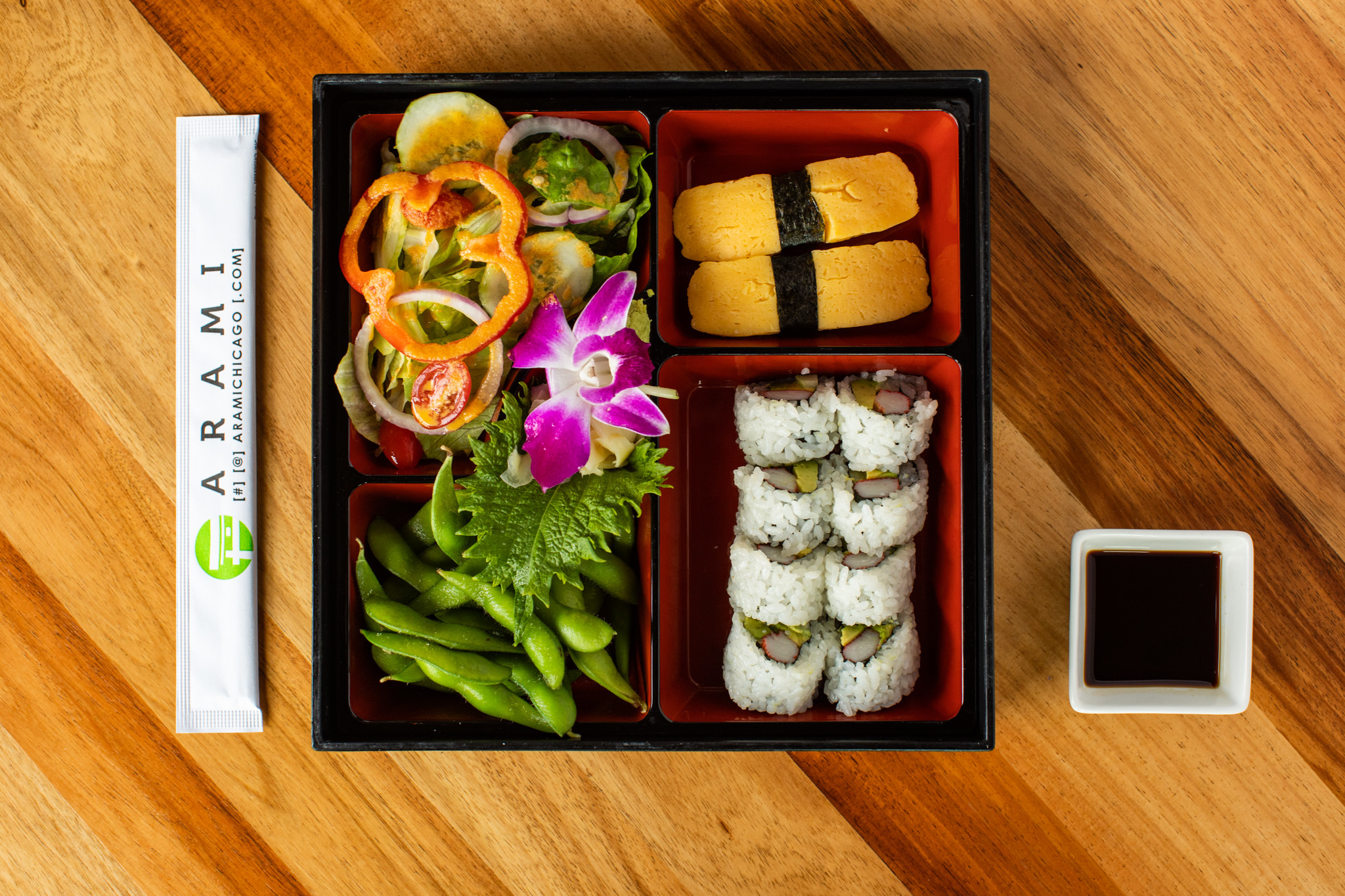 Brunch Bento Box from Arami
Begin your day with a bento box filled with green salad, a California roll, two tamago Japanese egg nigiri and edamame.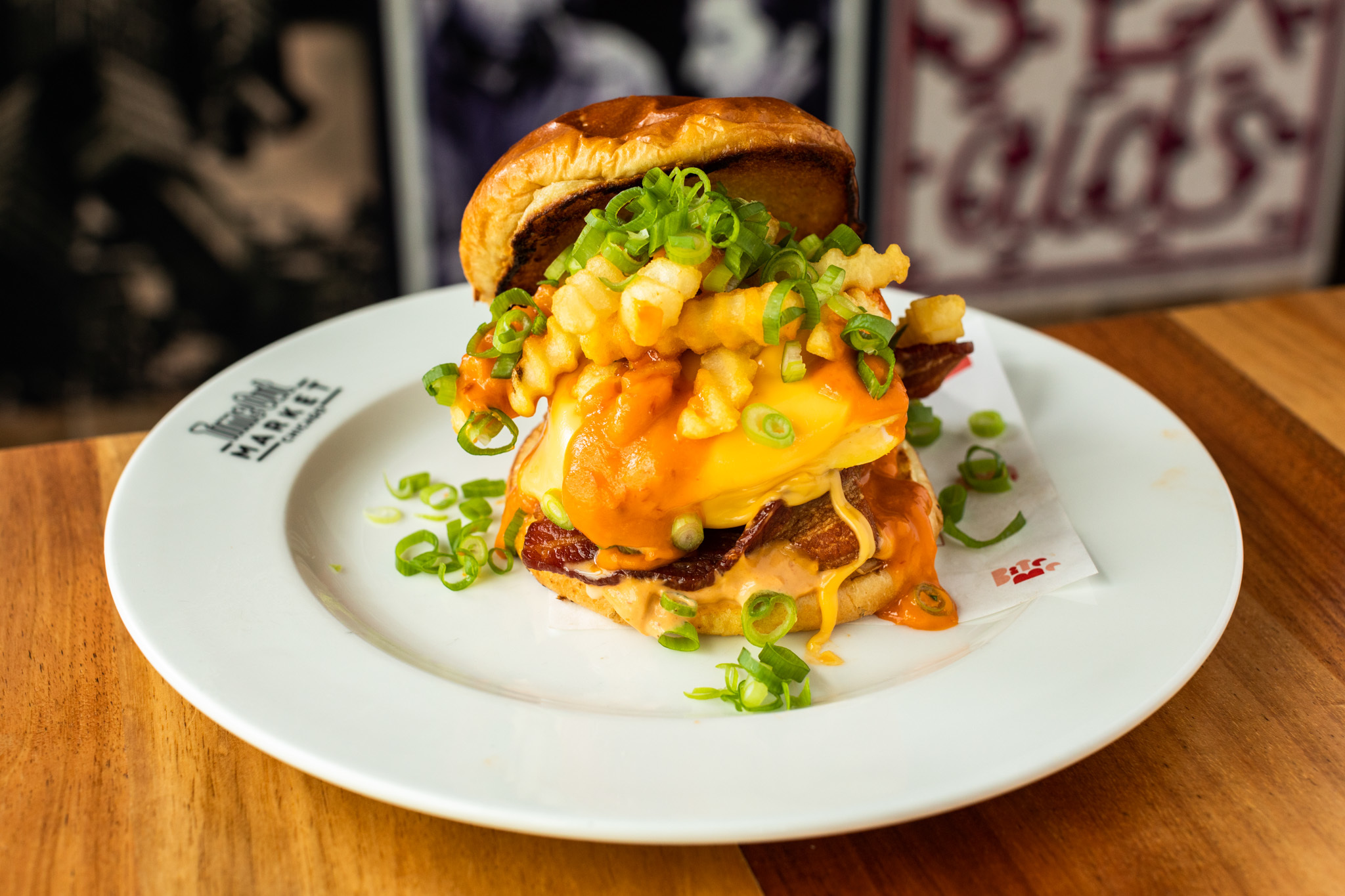 Bacon, Egg & Cheese Sandwich from Mini Mott
A hearty breakfast sandwich stacked with bacon, egg, melty cheese, chipotle aioli, furikake (seaweed and sesame), scallions and fries. Can also be served with jackfruit carnitas in place of the bacon.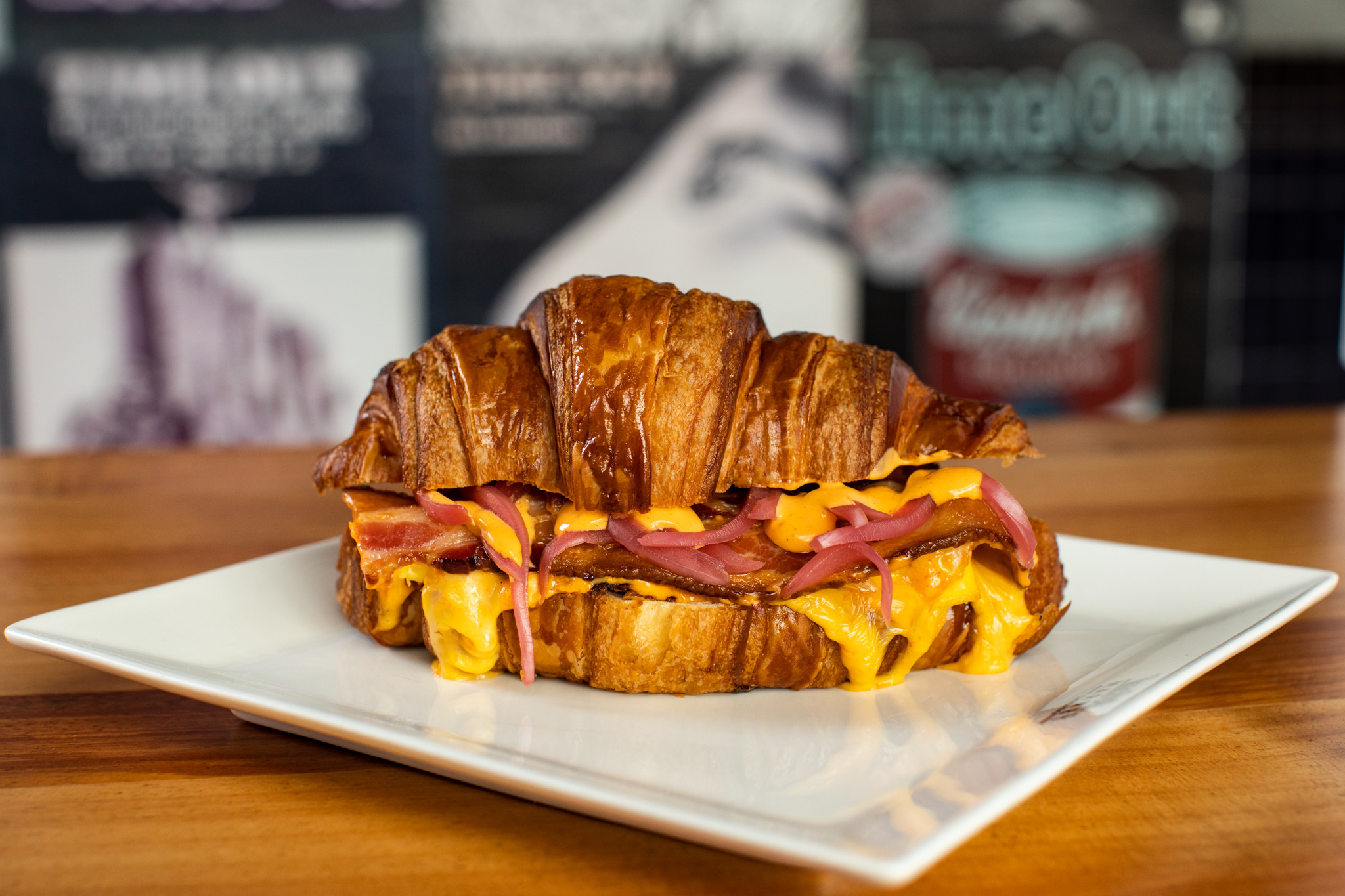 Bacon & Egg Croissant from Bittersweet
True to its name, this savory sando puts scrambled eggs, bacon, cheddar and spicy sauce on a croissant.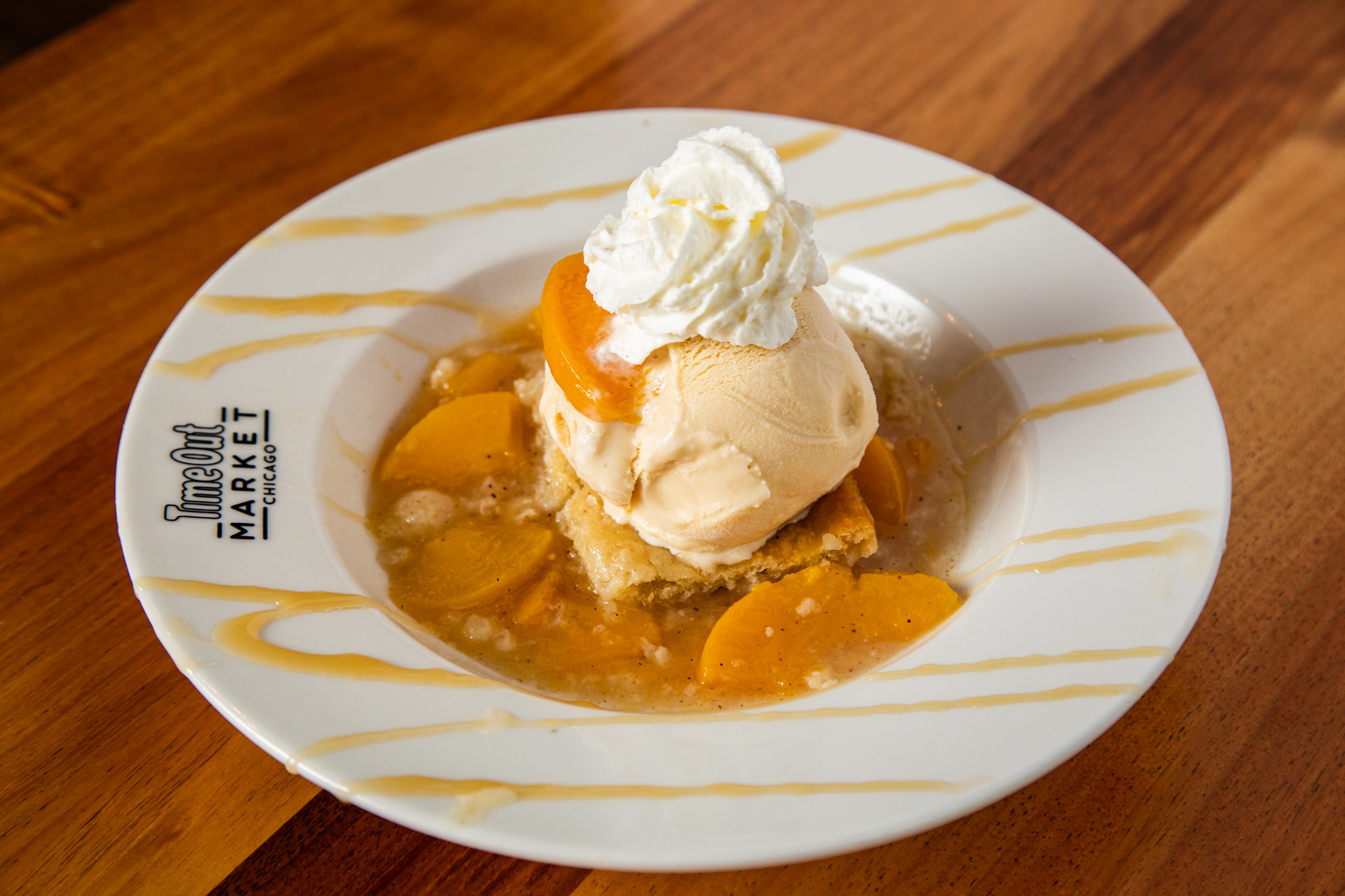 Peach Cobbler from Shawn Michelle's
A slice of homemade peach cobbler served with two scoops of One Night in Madagascar Vanilla ice cream and topped with whipped cream, caramel and waffle cone chips.
Buttermilk Pancakes from Pisolino
If you think Pisolino's pasta is great, wait until you try these pancakes layered with whipped mascarpone, candied orange maple syrup and cacao nibs.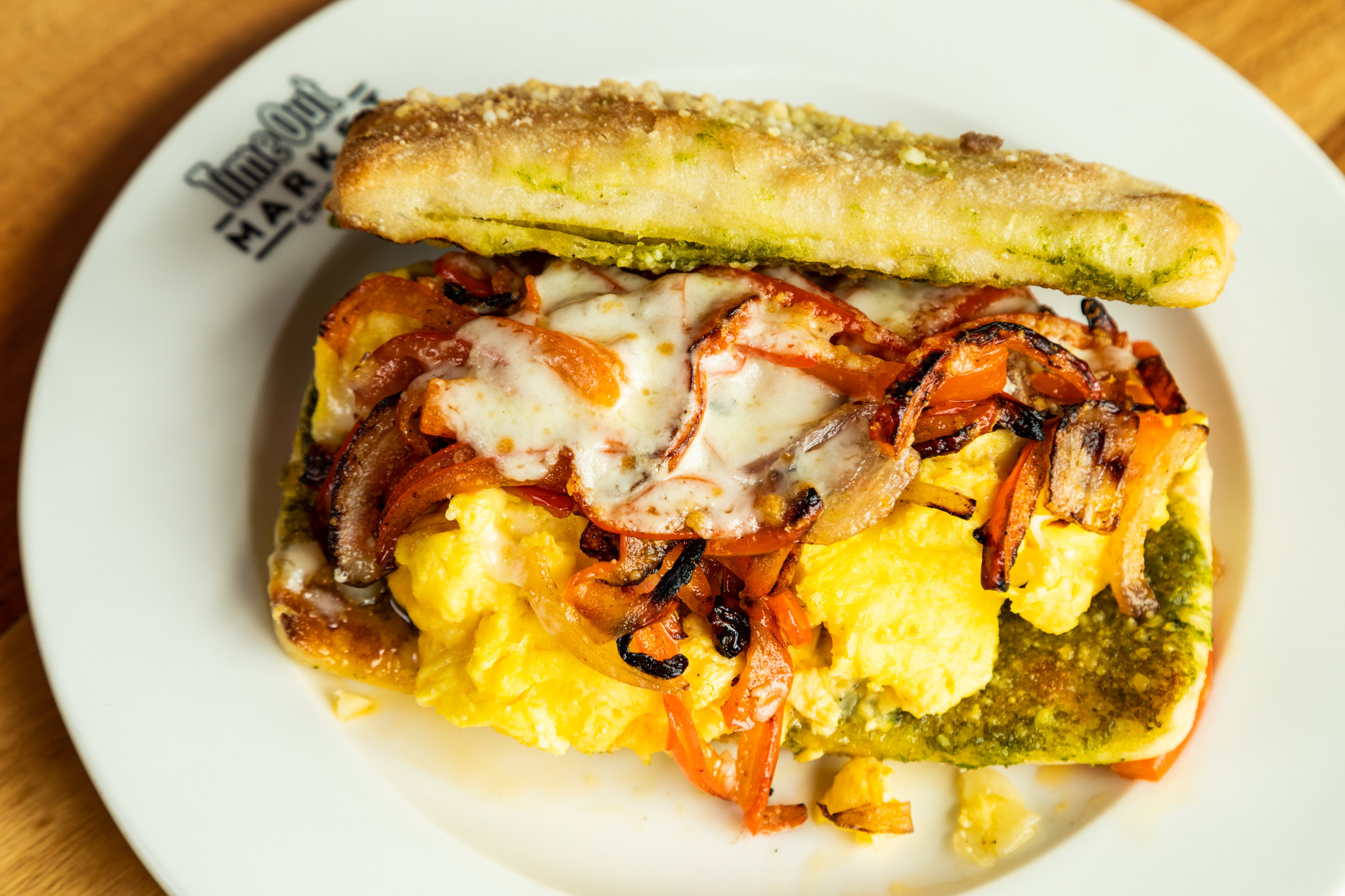 Pepper & Egg Sandwich from Pisolino
A classic combo of egg omelet, peperonata, giardiniera and provolone cheese served between grilled ciabatta bread.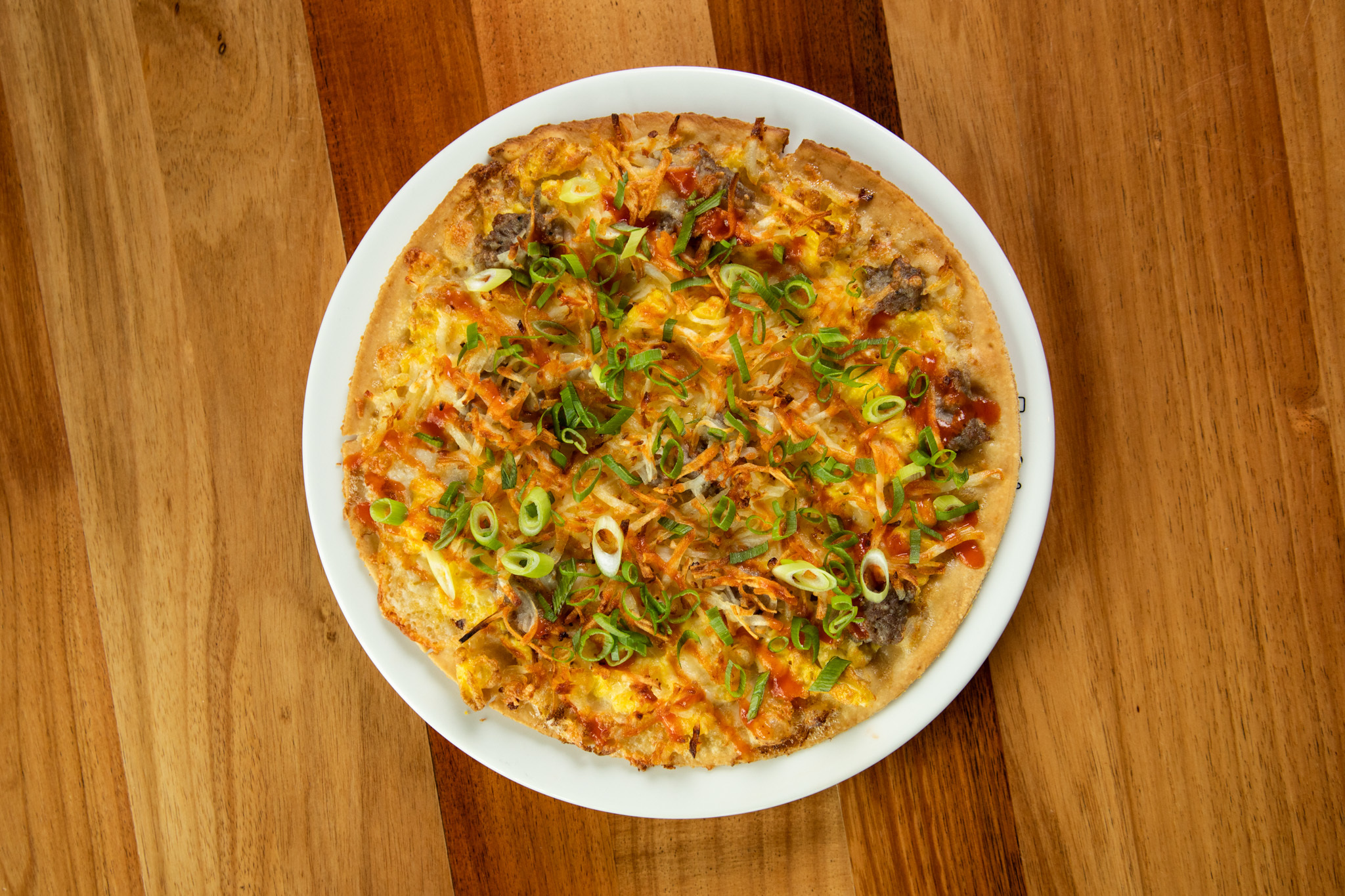 Breakfast Pizza from Candlelite
Scrambled eggs, mozzarella, hash browns, scallions, breakfast sausage and spicy ketchup with Hollandaise sauce on Candlelite's crispy tavern-style crust.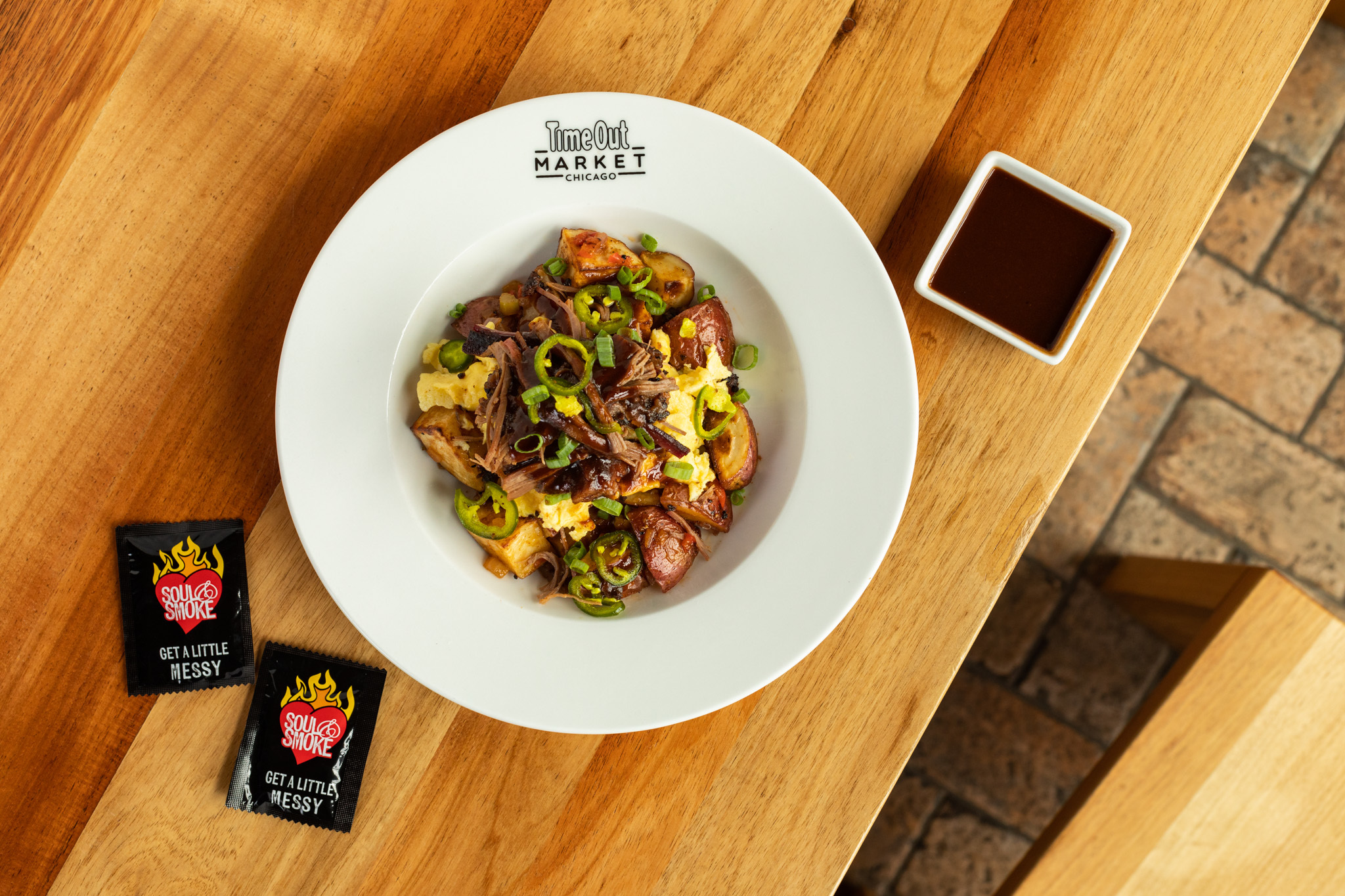 Brisket Hash from Soul & Smoke
Cajun roasted potatoes topped with scrambled eggs, BBQ smoked brisket, pickled jalapeños, scallions and Soul & Smoke BBQ sauce.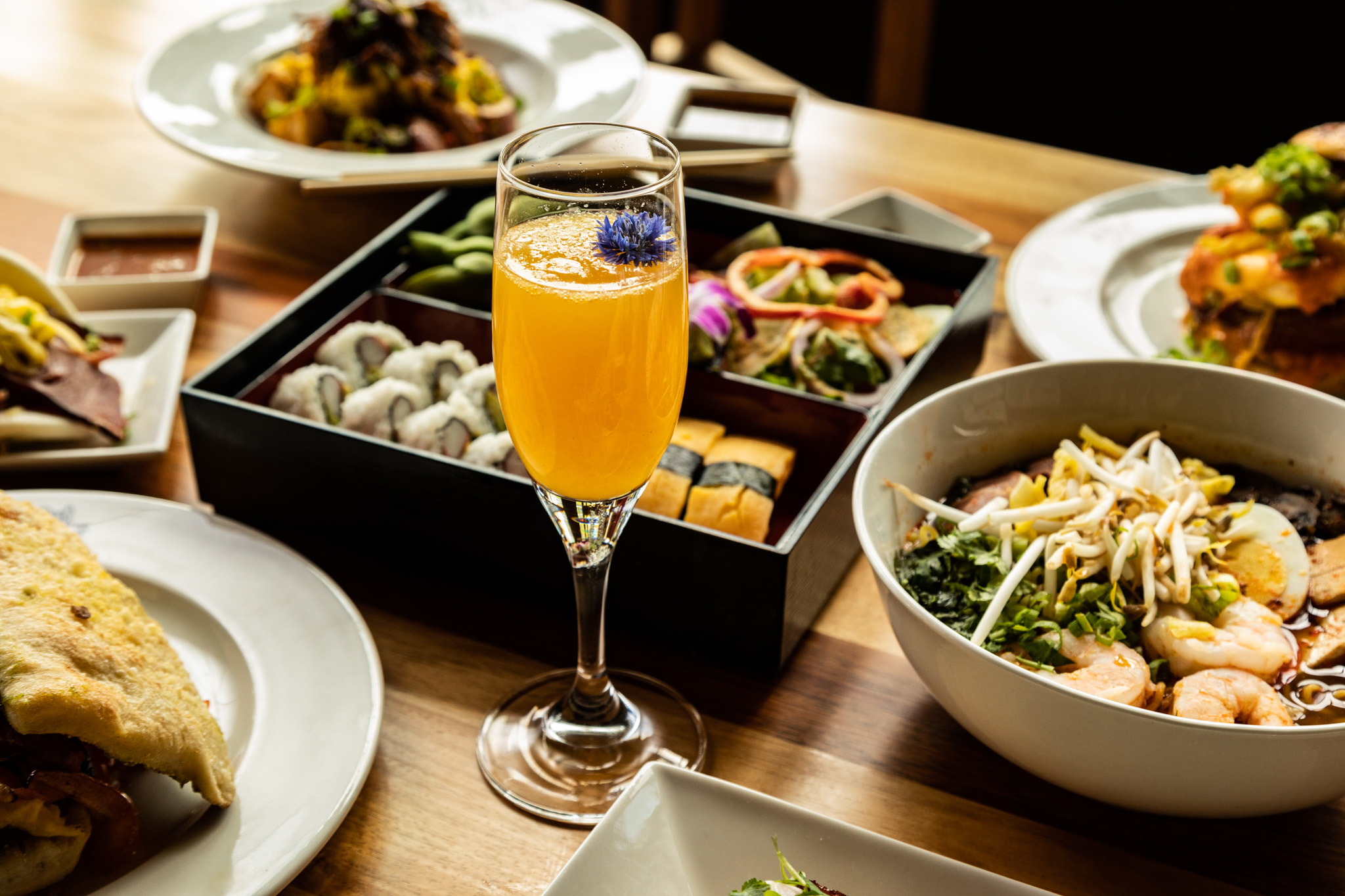 Classic Mimosa Pitcher
Orange juice, orange liqueur, JP Chenet sparkling wine
Bellini Mimosa Pitcher
Peach nectar, peach liqueur, JP Chenet sparkling wine, orange juice
Strawberry Elderflower Mimosa Pitcher
Strawberry nectar, elderflower liqueur, JP Chenet sparkling wine, orange juice