Lollapalooza took its festivities online over the weekend and the Huntington Bank Pavilion hasn't hosted a show this summer, but live music returned to Chicago's lakefront, thanks to a new pop-up venue. Hosted in a parking lot just west of the Adler Planetarium, Lakeshore Drive-In launched last week with a trio of concerts featuring local hip-hop artists like Mick Jenkins and Ric Wilson as well as EDM acts Peekaboo and Autograf. The makeshift venue is one of a handful of efforts to bring in-person concerts back to Chicago, with the safety of attendees, artists and employees in mind.
The temporary lakefront venue was spearheaded by Chicago-based artist management company AudisBliss, which worked with LEC Event Technology in Downers Grove to outfit the empty parking lot with a stage, lights and a sound system. "Lighting techs, video techs, people who would be working all summer at festivals and tours are not working," AudisBliss co-founder Adam Weiss told us. "We are putting on these event as a way to give back to industry professionals and give them a job."
Lakeshore Drive-In operates much like some of the drive-in movie theaters that have opened throughout Chicagoland this summer, giving attendees a 12-foot-by-8-foot parking spot that is distanced from other vehicles. Attendees don't have to watch the concert from inside their car—they're able to pop their trunk to take a seat or set up lawn chairs within their parking spot, as long as they stay within the boundaries of their assigned parking space. There are bathroom stations located on either side of the parking lot and an online system that allows guests to order food, beverages and artist merchandise that's delivered directly to their cars.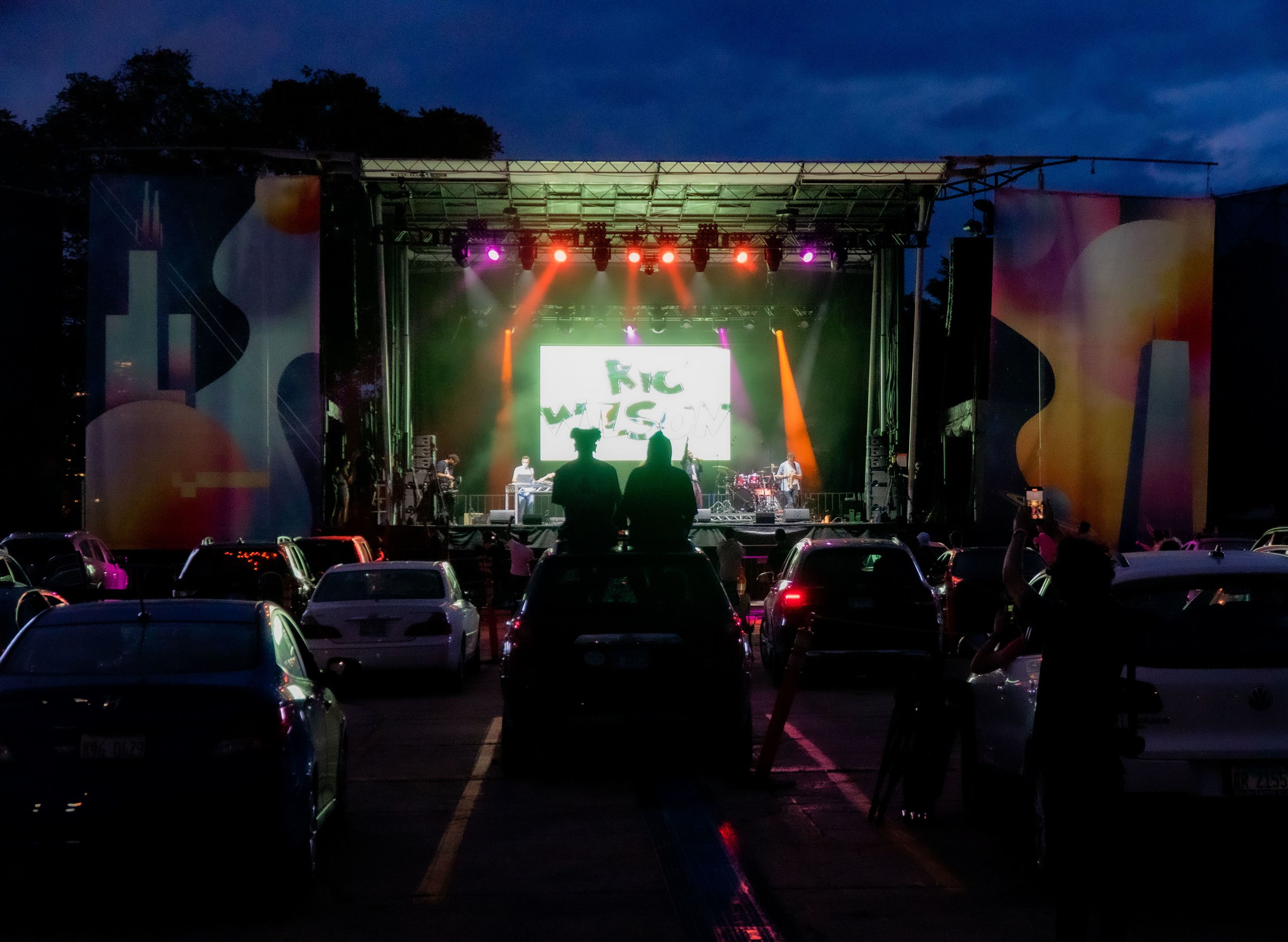 The gigantic video screens flanking the stage and the communal experience of seeing performers amidst a crowd make Lakeshore Drive-In comparable to outdoor concerts you've attended in the past, but guests may experience some sticker shock when purchasing tickets to a show at the pop-up venue. Pricing for most concerts begins at around $200 for a car with four passengers, and a pass for four to an upcoming show headlined by Lil Yachty will begin at around $300. According to Weiss, the pricing model helps keep the venture afloat and supports the on-site staff that make the show happen. "If you get four of your friends together, you're looking at a $50 or $60 ticket, which is the same cost as going to a show at the Aragon Ballroom," Weiss explained.
Currently, Lakeshore Drive-In plans on hosting concerts as well as comedy events and movie screenings in the Adler Planetarium parking lot through the end of August. The pop-up venue has been announcing its latest programming via its Facebook and Instagram, and tickets to all events are available for purchase via the Lakeshore Drive-In website. If you have access to a car and are starved for live music, there's no venue that we know of with a more picturesque view of the Chicago skyline.
Here's a quick look at what's coming up at Lakeshore Drive-In:
August 6: Sullivan King & Riot Ten + SubDocta
August 7: Riot Ten & Sullivan King
August 14: Lil Yachty
August 15: Houndmouth
Most popular on Time Out
- E-bikes are officially joining the Divvy fleet this week
- Chicago bars can now apply to open sidewalk patios
- Wisconsin joins Chicago's emergency travel quarantine order
- Chicago's newest pizzeria serves Sicilian-style slices from an alley in Ukrainian Village
- In-person concerts are returning to Constellation—here's how they're doing it safely