UPDATE (July 29): The complete schedule for Lollapalooza's four-day live stream is now available on its website. It looks like the majority of the programming will be highlights from archived Lollapalooza sets and new performances recorded for this stream, featuring acts like KAINA, the Era Footwork Crew and the Vixen. Each evening, the livestream will feature at least one full set, including Paul McCartney (2016), LCD Soundsystem (2016), Chance the Rapper (2017), OutKast (2014) and Arcade Fire (2010).
Like every other major music festival, the 2020 edition of Lollapalooza was canceled earlier this summer because social distancing is nearly impossible when you pack 100,000 into a public park. While there won't be any stages or crowds of fans in Grant Park this weekend, Lolla organizers have assembled a four-night streaming version of the festival, featuring lots of archival sets and few new performances.
Beginning at 5pm every evening from Thursday, July 30 through Sunday, August 2, Lolla2020 will stream sets from more than 135 artists on YouTube—and it's all free to watch, no wristband required. Though it's unclear which artists have recorded new content for the event and whether or not archival sets will be presented in their entirety, the lineup includes acts like Paul McCartney, Chance the Rapper, OutKast, Arcade Fire, Yeah Yeah Yeahs, Metallica, Lorde, LCD Soundsystem and Kaskade.
Throughout the weekend, the streaming event will also feature conversations with various individuals with ties to Lollapalooza, including the festival's founder Perry Farrell, Mayor Lori Lightfoot, former First Lady Michelle Obama and local photographer Paul Octavious. You can also expect some reminders to support Lolla2020's nonprofit partners Arts for Illinois Relief Fund, the Equal Justice Initiative and When We All Vote throughout the weekend—the festival will be matching up to $10,000 per organization in donation made via PayPal.
And just in case you can't imagine attending a festival without bringing back some swag, Lolla2020 has its own line of merch available via the online Lollapalooza store. You can snag a selection of Lolla-branded T-shirts, jerseys, hats and face masks, which you'll hopefully be able to show off next year at an in-person iteration of the festival.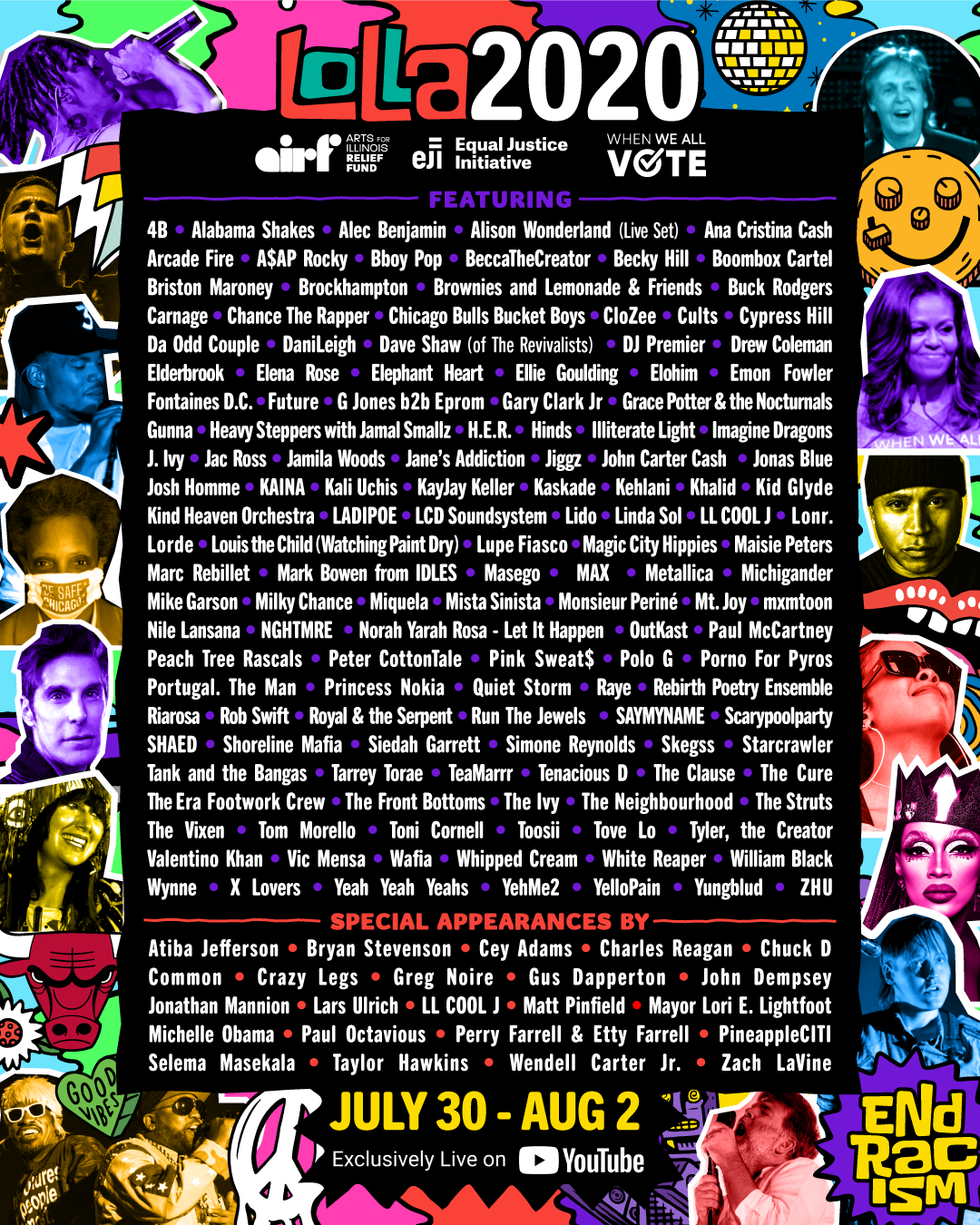 Most popular on Time Out
- Take a look at the cutouts that will fill the stands when the White Sox play at home
- Chicago's beloved Tamale Guy is opening a restaurant
- 13 hidden patios, rooftops and gardens for outdoor dining in Chicago
- 15 lakefront Airbnbs to rent for a summer getaway from Chicago
- The 4 most exhilarating things you can do at The Forge, a massive new outdoor adventure park