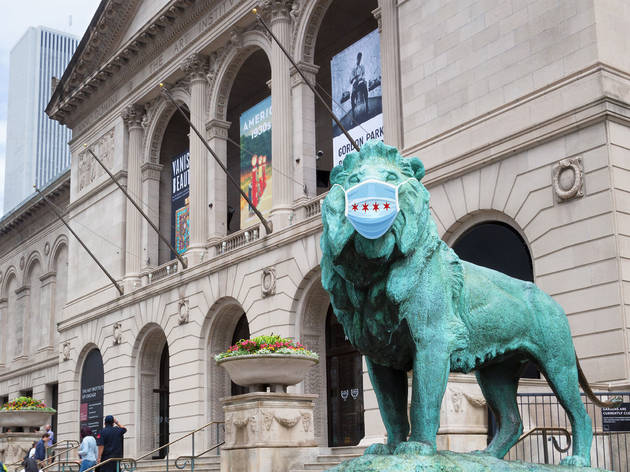 The Art Institute's lions and the Picasso statue are putting on masks in solidarity with Illinois
Some famous Chicago landmarks are getting custom face coverings throughout the month of May.
Posted: Thursday April 30 2020, 2:38pm
On May 1, the latest extension of the Illinois "stay-at-home" order goes into effect, accompanied by a brand-new requirement for residents venturing outside. When in public places where they cannot maintain six feet of distance from other individuals, Illinois residents over the age of 2 will be required to wear face coverings through May 30. The requirement is the state's latest attempt to maintain the progress it has made bending the curve, and some iconic Chicago landmarks are putting on their own masks in solidarity.
Today, crews installed custom masks on the two bronze lions that flank the entrance to the Art Institute of Chicago as well as the untitled Picasso sculpture located in Daley Plaza. According to the Chicago Tribune, the oversized face coverings (which bear the stripes and stars of the Chicago flag) were manufactured by Dimension Design in Glenview, Illinois, who posted mockups on Facebook before receiving the green light from the city. West Loop rigging firm Chicago Flyhouse installed the masks this morning.
Presumably the face coverings will remain on the lions and the amorphous Picasso sculpture for as long as the Illinois mask requirement is in place. If you're still looking for something to cover your face, we've gathered a list of local business selling face coverings. And if you're wondering about the finer points of the new requirement, we've found answers to commonly asked questions.
Most popular on Time Out
- 11 things you might not know about the face-covering requirement in Illinois
- How to buy face masks from local Chicago businesses
- Fat Rice closes its restaurant to transform into a marketplace
- The Shedd Aquarium's live cam is equal parts relaxing and mesmerizing
- Pretend you're on the Millennium Park lawn by streaming these archived summer concerts
Share the story