When's the last time you really slowed down and took a moment for yourself? And no, last night's Netflix binge doesn't count. In times like these, when so much is uncertain, mindfulness through meditation can be groundbreaking. The best part? It doesn't cost a dime.
RECOMMENDED: Discover more easy ways to practice self-care in Chicago this year
At first blush, meditation can seem really serious or intimidating, but it doesn't have to be. The practice revolves around the idea of training your awareness, observing your thoughts and doing away with self-judgment. Best of all, you can meditate just about anywhere. We reached out to the top meditation experts in Chicago to track down some especially relaxing locales—from Chicago's best gardens and parks to the vast expanse of the lakefront.
Bookmark these expert-recommended spots for a warm day when you can safely get outside and practice mindfulness in Chicago.
Judy Istock Butterfly Haven
"At the top of my list of favorite places to meditate in Chicago is the Peggy Notebaert Nature Museum's butterfly exhibit. Butterflies are everywhere. People have a misconception that you need to close your eyes when meditating, but this butterfly sanctuary provides a great place to focus on the present moment with nature. Another wonderful gem is the Garfield Park Conservatory. It's humid and lush and historic. A friend hosted a sound bath there before the pandemic; the ambiance was inspiring." —Laura Sage, CEO and co-founder of CHILL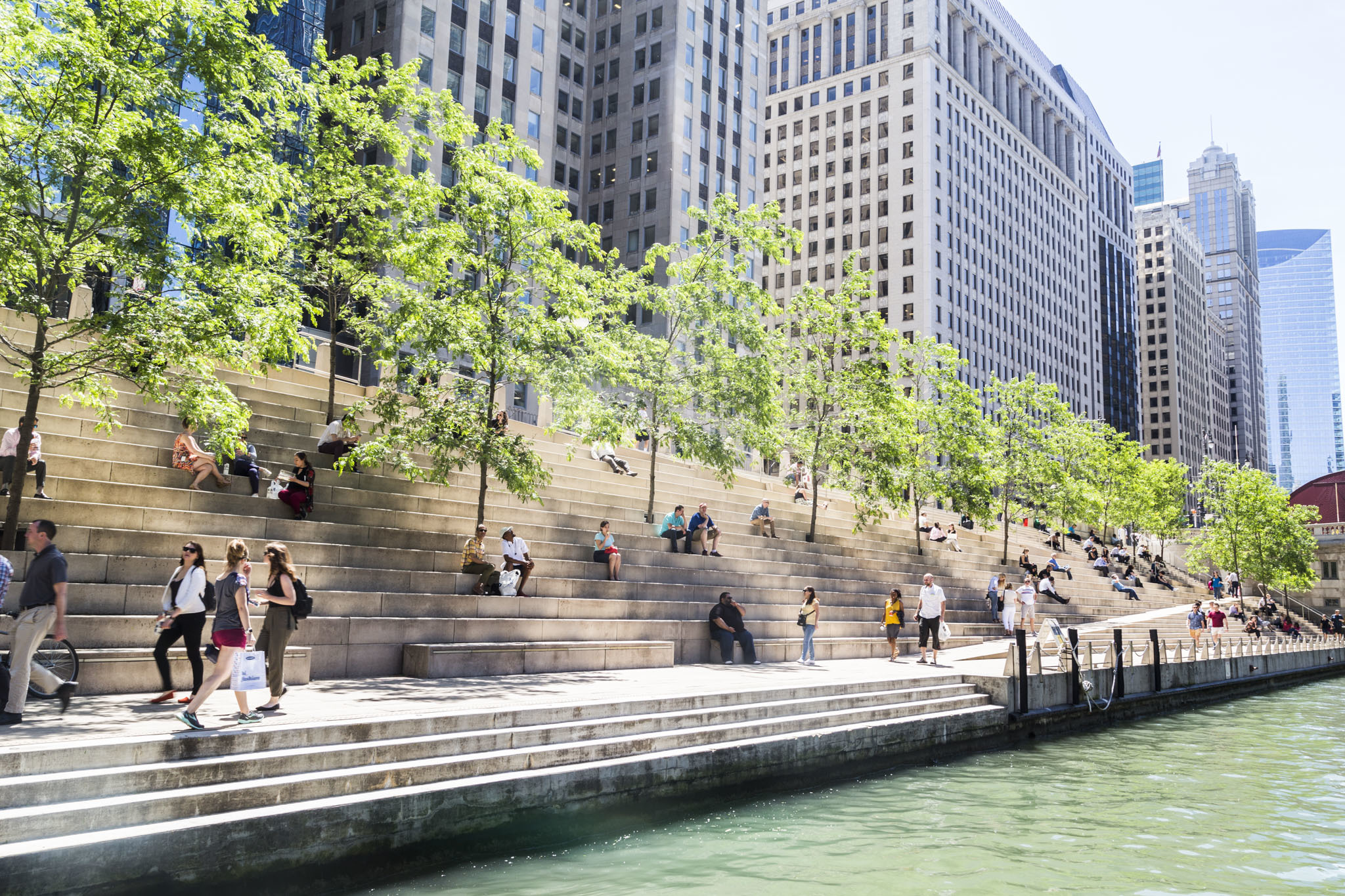 Chicago Riverwalk
"For me, walking along the Chicago Riverwalk is a potent meditation on the interdependency of city life. Whether admiring the iconic skyscrapers that line the river constructed by architectural legends of the past, or enjoying a warm drink crafted by a talented cafe barista, I'm continually reminded how everything I do and enjoy is utterly dependent upon the constant help I receive from complete strangers every day. I always finish my walk greatly inspired and connected to others." —Gen Kelsang Zamling, principal meditation teacher at Kadampa Meditation Center Chicago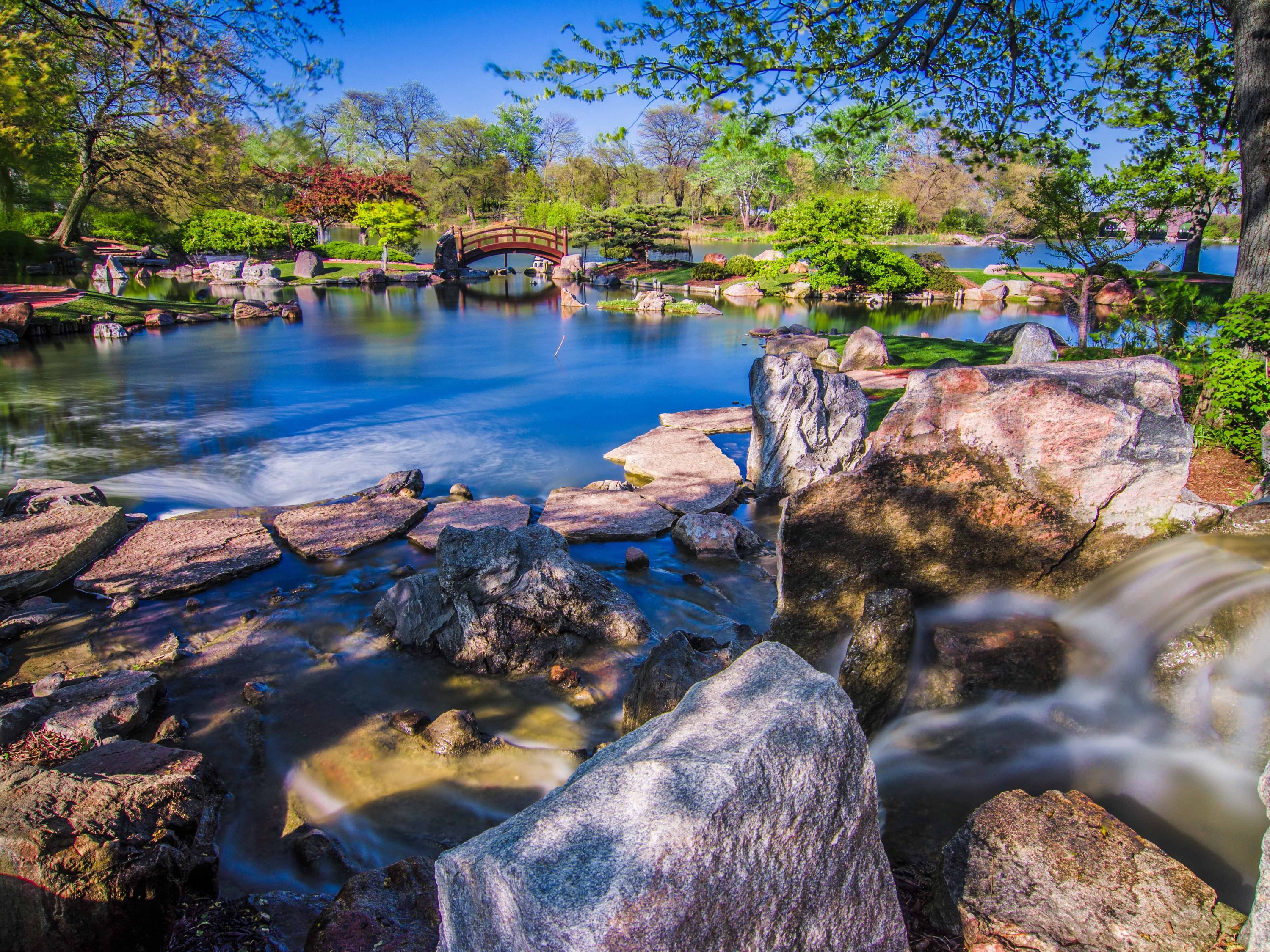 Garden of the Phoenix
"On the South Side of Chicago, there's a beautiful Japanese garden called the Garden of the Phoenix. Majestic landscaping, stone pathways, a moon bridge, and a small, peaceful waterfall make it an absolutely serene place to meditate. In the spring, there's even cherry blossoms. Dealing with a quarantine breakup? Close your eyes and breathe in the cherry blossoms' perfect shade of pastel pink into your heart space, this will call in love and radiance into your life." —Cat Aldana, founder of EAT STRETCH NAP
Maple Street Beach
"I'm fairly new to Illinois, so there are many more spots for me to check out. What I've discovered as my favorite place outdoors to meditate is on the large cement pier at Maple Beach on the North Shore. Gazing out into the teal-blue lake before closing my eyes for sitting meditation, my breath easily synchronizes with the waves—a purely delicious experience for the senses. A second place that welcomes stillness and the majesty of nature is the Chicago Botanical Gardens, which hosts a myriad of places to practice sitting, walking or standing meditation." —Dr. Angele Close, clinical psychologist and meditation teacher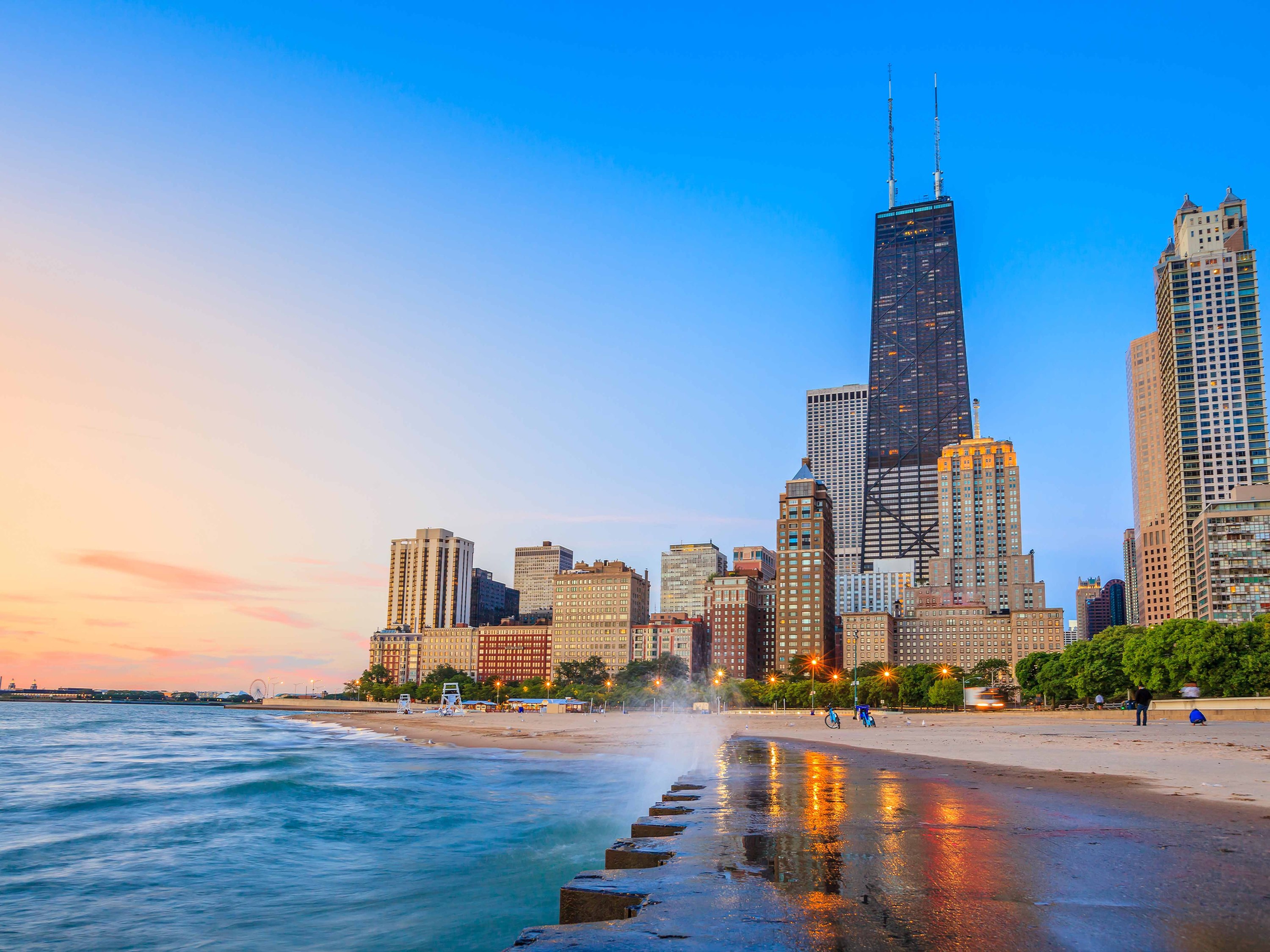 Lakefront
"I find the lakefront a tremendous meditation space. In this space I think of existence. Each day the sun rises over the lake and the waves come relentlessly. My thoughts are on my short life and how it is to be lived. I must love. I must learn to love the proud and the humble, love the poor and rich, the weak and the powerful. And pray that others learn to love also." —Rafael Valadez, teacher at Kadampa Meditation Center Chicago
Promontory Point
"When the weather is more salubrious, I like to practice on Promontory Point, the lakefront park at 55th Street in the Hyde Park neighborhood. If it's raining, you can head to the wraparound portico of the Park District's Iowa Building in the park just south of the easternmost end of 56th Street and just west of the 56th Street entrance to Promontory Point. There's also the pavilion in the Japanese-style Garden of the Phoenix, in Wooded Isle in the Jackson Park lagoon at 63rd Street." —Paul Baker, meditation teacher at Chaturanga Fitness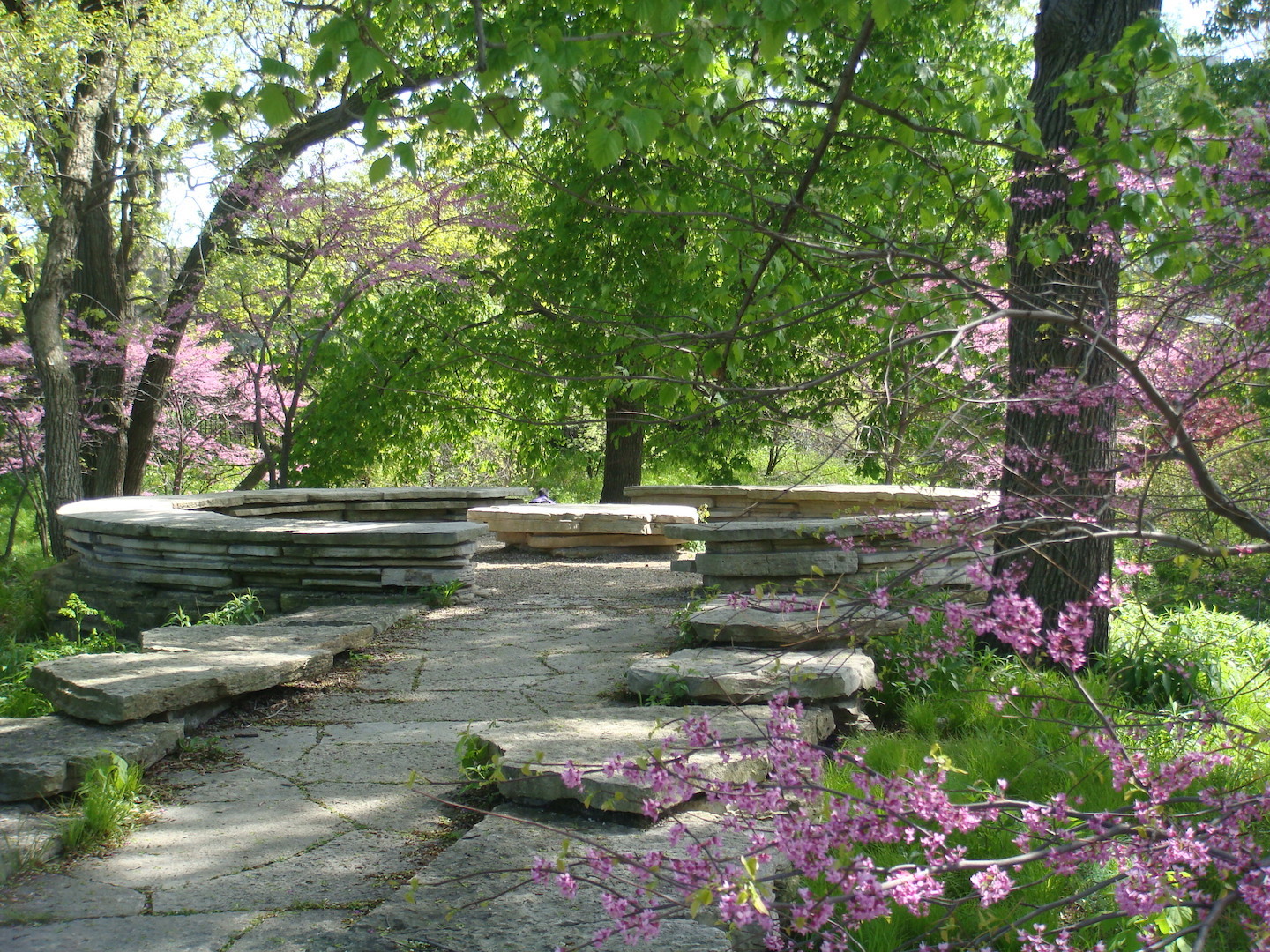 Alfred Caldwell Lily Pool
"My favorite outside places to meditate are the Alfred Caldwell Lily Pool in Lincoln Park, the bench at the Memorial Playlot Park in Bucktown, and by the water on any of the beautiful beaches of Evanston. The wonderful thing about meditation is that you can do it anywhere and it requires zero props or setup. Finding a tranquil place in nature to practice meditation is easy in Chicago." —Claire Mark, meditation and yoga guide and co-founder of CHILL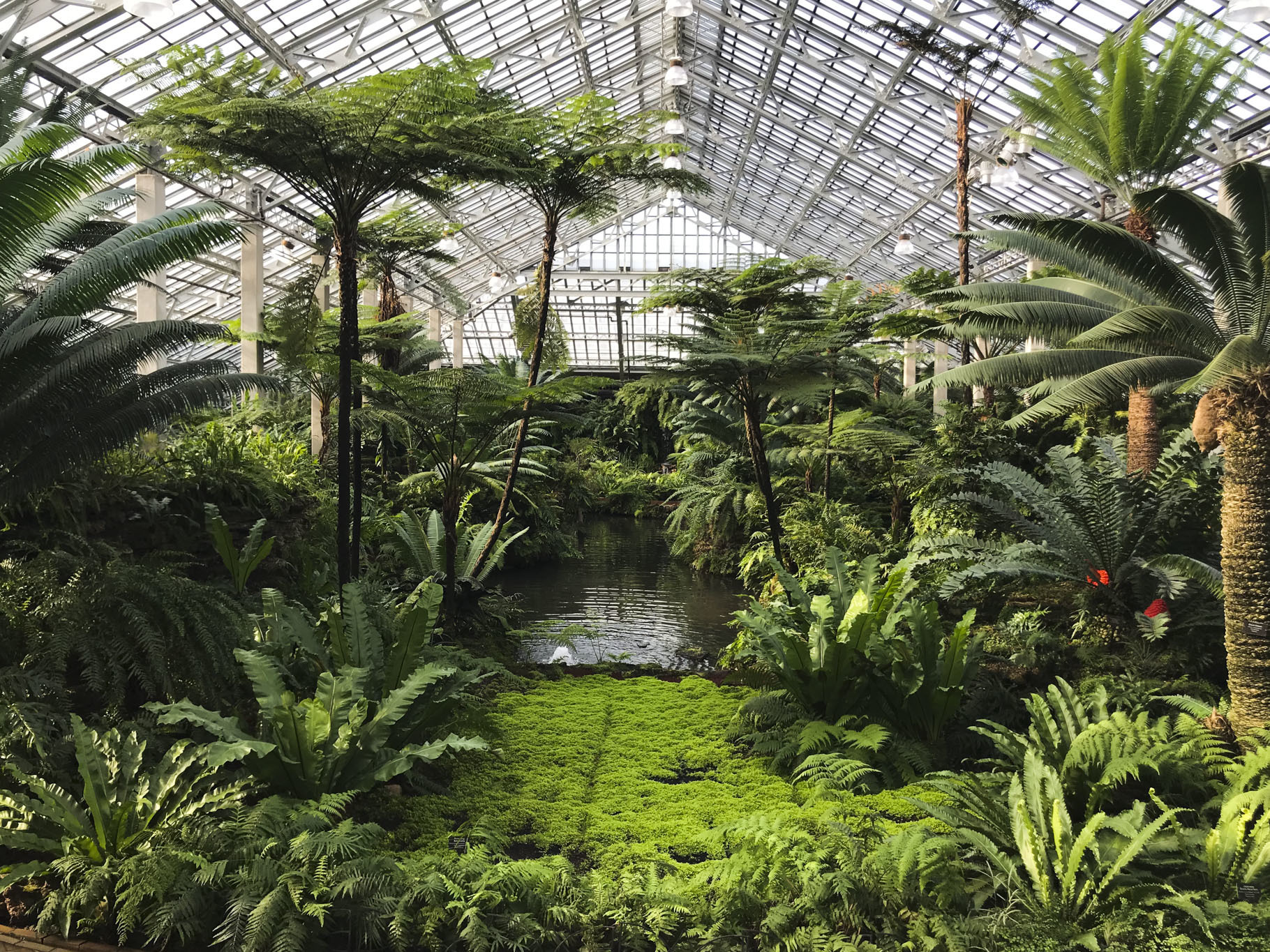 Garfield Park Conservatory
"The Garfield Park Conservatory is a great space to meditate. Do a walking meditation through the Palm House, tuck away in the Fern House and imagine your stress unfurling or sit outside in the gardens and soak up the sun. Let your senses have a rest." —Alma Omeralovic, founder of Tiny Space to Breathe
At home
"I love a home meditation practice. Personally, meditation is a practice that serves me best when I practice every morning after waking up and before coffee. The ritual of rolling out of bed, sitting on my cushion, lighting a candle, dropping into my breath and sitting in stillness, or listening to one of my favorite meditation guides allows me to start the day by first connecting to myself. When I start the day with a contemplative practice, it makes me feel confident to handle anything the day may send my way, and when I don't mediate there's a real difference—ask my wife! So, instead of waking up and wondering 'when' or 'if' I'll meditate today, I just do it, and it makes everything in my life richer and more enjoyable. It also makes the pandemic a lot easier to manage." —Lauren Goggins, founder of Bottom Line Yoga
Most popular on Time Out
- 13 romantic Airbnb homes you can rent near Chicago
- The 14 best Chicago dispensaries for buying marijuana
- 13 romantic things to do in Chicago
- Check out a stunning new public art installation at the foot of Willis Tower
- The 50 best gangster movies of all time