Late in 2018, Chicago hip-hop musician Christopher LeMark broke down in the middle of a Millennium Park Station Starbucks. A stressful work life and relationship issues—coupled with decades of unresolved childhood trauma—had finally bubbled up to the surface, leaving the usually stoic LeMark in tears and feeling "like he had hit a wall."
"I spent a long time trying to be cool, hiding the fact that I was struggling with heavy depression, PTSD and social anxiety," LeMark said. "In that moment I said, you know what, it's time for me to go to therapy."
Once in therapy, encouraged for the first time to talk through his issues with vulnerability, LeMark had a realization: Why couldn't these kinds of conversations happen more often in hip-hop, in his community? Through his music, he'd already been candid about the hardest realities of his childhood and teen years, what it was like to grow up facing abuse and homelessness. Why had it taken so long for him to reckon with the pain behind those experiences?
Fueled by this idea, he created Coffee, Hip-Hop and Mental Health (CHHAMH), an organization dedicated to normalizing therapy on the South Side through coffeehouse-style events and, with the help of an online database, connecting people in need to therapists. Normally, CHHAMH get-togethers go a little like this: For the first hour, a DJ plays music while attendees mingle, sipping coffee drinks and getting comfortable with one another, before LeMark and his band get onstage to perform a 20 to 30 minute set. Once they're finished, a group of counselors facilitate what's best described as a group therapy session, where attendees can ask questions and talk through their day-to-day struggles.
"We have a conversation about life, trauma, what it means to be broken as human beings," LeMark said. "We make the conversation the star so we can begin normalizing this conversation and the various forms of therapy."
The first iteration of the event attracted 20 attendees, a more modest turnout than LeMark had hoped for. But the next, amplified by a growing Instagram following, drew more than 130 people to The Promontory in Hyde Park—and the momentum kept building. Since 2019 he's hosted close to 20 bimonthly events with the help of community partners like the Bronzeville-based coffee shop Sip & Savor, and connected 87 people to therapists.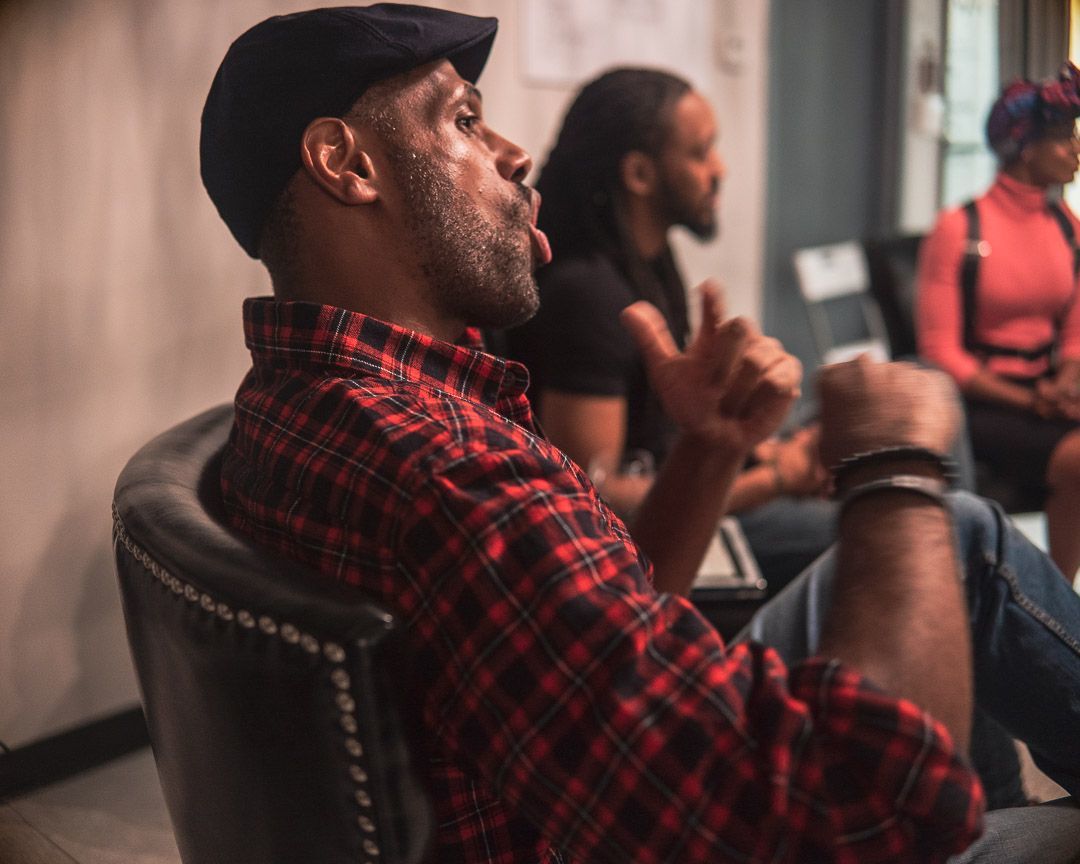 But just as everything else has changed over the past few months, so has CHHAMH. Lately, the dual community stressors of the pandemic and mass protests against police killings of Black Americans have led LeMark to zero in on the connections between poverty and mental health, particularly in resource-scarce neighborhoods on the South Side. So as he scales back the size and nature of community gatherings to meet social distancing standards—no more parties of 100-plus people crammed into a venue—he's pivoted the organization toward food drives.
"Food insecurity is poor mental health, that's how it all ties together," he said. "So if you're at home stressed or depressed because you can't afford to feed your family or feed yourself or your children, let us love on you."
CHHAMH launched The People's Food Drive in June, initially going door-to-door with bags of groceries to gift to families. Thanks to crowdsourced donations and a recent partnership with the grocery chain Mariano's, they've grown from feeding 100 to 1,000 families in a matter of months. Now LeMark is planning the organization's most ambitious project yet: Beginning August 28, CHHAMH will hold a three-day food drive event at the sprawling CSO Multiplex in Kenwood, where they aim to distribute a week's worth of groceries to 10,000 families. With an estimated three to five people per household, that totals anywhere from 40,000 to 50,000 people. LeMark calls it "Christmas in August."
Right now the organization is in the process of raising the $400,000 needed to make The People's Food Drive happen. Eventually, LeMark aims to take CHAAMH national, bringing the coffeehouse events on a tour across the country. But for now, his focus is on Chicago.
"My community took care of me when I was homeless, when I didn't have a place to stay," he said. "Now that I'm OK, I gotta take care of my people."
If you'd like to sponsor a family for $40 as part of The People's Food Drive, text donate.feedchi to 77948 or visit the CHHAMH website.
Most popular on Time Out
- E-bikes are officially joining the Divvy fleet this week
- Wisconsin joins Chicago's emergency travel quarantine order this week
- Chicago's newest pizzeria serves Sicilian-style slices from an alley in Ukrainian Village
- Lollapalooza's four-night virtual event features sets from Paul McCartney and OutKast
- 15 lakefront Airbnbs to rent for a summer getaway from Chicago