Heads up! We're working hard to be accurate – but these are unusual times, so please always check before heading out.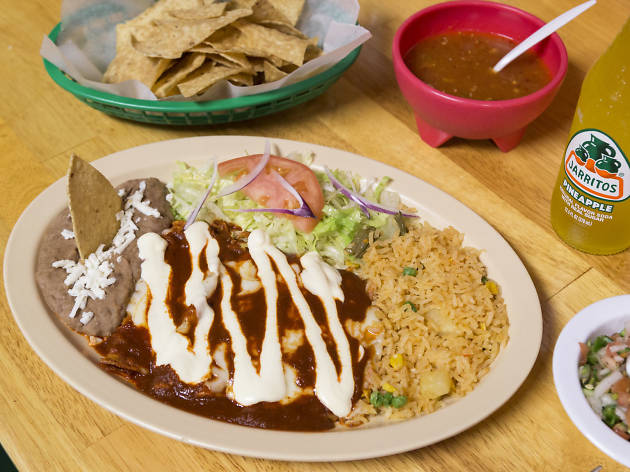 Chicago's most authentic and original Mexican food
From tacos to tamales, we tracked down some of our favorite Mexican dishes across Chicago
We don't ever need an excuse to gorge ourselves on the city's stellar Mexican offerings. (We'd happily scale a mountain of snow for 2am tamales!) And whether we're bundled up in our parkas or shedding our winter layers for some warmer weather, we're always in the mood for tacos, enchiladas and hard-hitting, ice-cold margaritas. We decided to check out the best—and most authentic—Mexican food in Chicago, dish by delicious dish.
Tacos
The taco list at this Little Village establishment ranges from the conventional (chicken, beef, carnitas) to a wide selection of offal. Our pick is the crispy carne asada with onions and cilantro. Douse it in salsa and lime juice from the complimentary toppings selection.
At this West Town taqueria with an itty-bitty seating area, the tacos come loaded with meat on two tortillas and are topped with onions and cilantro. The tender al pastor number is our pick of the litter, and you should definitely order three.
This popular chain may be best known for its cemitas, but it also churns out a bunch of great tacos. The arabe is our favorite, with juicy spit-roasted pork covered in chipotle sauce. Warning: It packs some heat.
Enchiladas
This taqueria is a part of the La Casa Del Pueblo grocery store next door and focuses on northern Mexican cuisine. We're fans of the chicken enchiladas wrapped with corn tortillas and topped with red sauce—expect some bite.
A glass of agua de jamaica (hibiscus tea) and these enchiladas are all we need. The juicy chicken enchiladas come as part of a mammoth plate served with beans and rice.
Vegetarians, rejoice: We have the enchiladas for you. This hearty dish come packed with green beans and onions and is covered with tomatillo sauce and melted Chihuahua cheese, plus a side of black beans.
Tamales
You'll have a hard time walking away from Doña Chela without a hefty bag full of its spicy chicken and tender pork tamales with red sauce. Don't worry, you didn't over do it: Our rule is four for now, four for later.
Head to this Hermosa spot early; it closes at 8pm. The chicken tamale is flavored with a mild red sauce and wrapped in tender corn masa. If there is one true comfort-food tamale in town, this is it.
Tamales get a chefy upgrade at this arty Logan Square joint. Pick the spicy pork tamale, with a kick courtesy of salsa verde, topped with Muenster cheese, chives, tomatoes and sour cream.
Margaritas
Del Toro's long list of margaritas can be overwhelming, so we'll make your choice easy: Get the Pepino. It's refreshing, with only a bit of jalapeño heat. On second thought, order three!
We love the perfect balance of sweetness and tartness with the bite of Cimarron tequila blanco, making this a margarita to throw back again and again.
One of the most popular margaritas in the city, Antique Taco's rosemary-tinged margarita puts a twist on the classic, adding just enough herbal and savory flavors to intrigue but not overwhelm. Pair it with the spot's quintessential fish tacos, or just down a carafe on its own—you'll be happy with your decision regardless.