Heads up! We're working hard to be accurate – but these are unusual times, so please always check before heading out.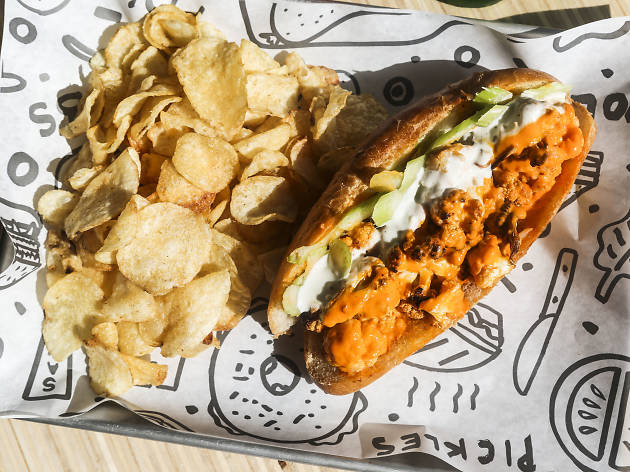 The 100 best dishes in Chicago 2017: Burgers and sandwiches
From an Indiana-style burger to a jibarito—and a few vegetarian-friendly sandwiches in between—these are our favorite handhelds of the year
We don't need an excuse to taste-test Chicago's most innovative burgers and sandwiches. This year, bars and restaurants had just as much fun with veggies as they did with beef. We found a killer PB&J, two twists on cauliflower, a happy hour steal and so much more. Take a look at the handheld meals that kept us full in 2017.
RECOMMENDED: The 100 best dishes and drinks in Chicago
Nicknaming yourself the Biscuit Man is serious business, and Zeeshan Shah doesn't take his title lightly. Grab his famous fried chicken sandwich next time you wander into Long Room looking for a hangover cure—it's juicy to its core and topped with arugula and pickles. $8.
You don't have to break the bank to dine at this upscale destination in the South Loop. Grab a seat at the bar and ask for the namesake burger, a thick, pink patty topped with salty bacon, "special sauce" and truffle cheese mornay. Those indulgent flavors are balanced out by zingy pickles and onion, creating an easy contender for Chicago's best burger. $16.
This burger's X factor is caramelized kimchi, which is cooked with rendered pork fat and topped with bacon, American cheese, red onions and a fried egg. It's an umami bomb waiting to explode in your mouth. $8.50.
Rick Bayless doesn't mess around when it comes to tortas, but this might just be his finest creation yet. Layers of crispy chicken and cheese are spruced up with pickled jalapeños, tomatillo-avocado salsa and black beans. $12.
We're big fans of the cheffy plates that this West Loop eatery is known for, but this year we discovered the more approachable happy hour menu, which includes a badass burger. It's topped with all the usual suspects (tomato, lettuce, American cheese and onions), but we're convinced the sesame-seed–speckled bun is the key ingredient. $11.
Can we all agree that buffalo sauce makes everything better? That includes this very special (and very vegetarian) sandwich: Cauliflower florets are tossed in a spicy glaze, drizzled with blue cheese dressing and stuffed inside a soft bun alongside crunchy celery. It's like eating a basket of wings—minus some of the guilt. $8.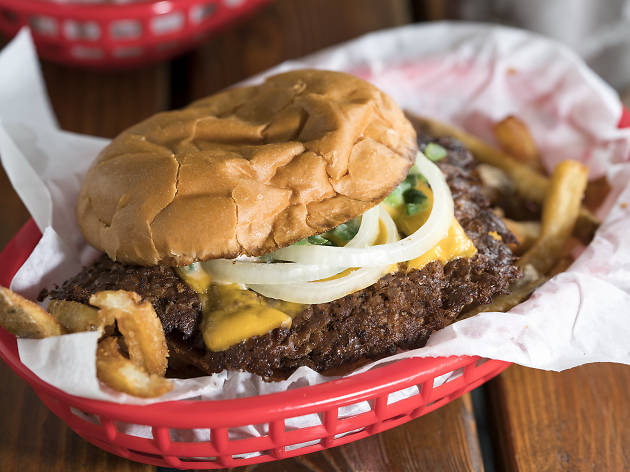 Photograph: Ben Macri
Single cheese at The Region
In March, Curtis Rund introduced Chicagoans to Northwest Indiana–style burgers through his Roscoe Village restaurant—and thank God for that. This little-known delicacy is all about the smashed patty, which results in crispy, caramelized edges that extend well past the bun. The beef is then topped with a slice of American cheese, mayo-based Region sauce, relish and raw onion. It's a messy good time that actually makes us want to visit Indiana. $8.50.
Chicago has no shortage of excellent fried chicken, but we found a new favorite at Lee Wolen's latest outpost in the Gold Coast. A fat filet of crispy poultry is topped with pickles, a tangle of cabbage and spicy aioli. $14.
If it's wrong to order a peanut butter and jelly sandwich at a calf-brain–touting French bistro, we don't want to be right. Two thick slices of flaky house-made brioche are sealed together with swaths of peanut butter and tangy apricot jam. This simple yet upgraded classic will slingshot you back to your lunchbox-toting days. $7.
There's no meat in this pita pocket, but we doubt you'll miss it when your mouth is full of grilled florets and toasted halloumi cheese doused in chili aioli. $14.
You simply can't call yourself a Chicagoan until you've had a jibarito, the Puerto Rican–inspired, Humboldt Park–born sandwich that ditches bread in favor of two flattened and fried plantains. The version at this Pilsen spot is slathered in buttery garlic and loaded with tender steak, tomatoes, mayo and Chihuahua cheese. The sweet caramelized plantains are a worthy match for all that meaty goodness. $6–$9.
It's a bold move to serve a burger this good so close to Au Cheval, but this West Loop wine bar pulls it off. Next time you find yourself waiting in line down the street, head over to the Lunatic, grab a seat at the bar and order this stacked patty that's oozing with Hook's cheddar and caramelized onions. $13.