Heads up! We're working hard to be accurate – but these are unusual times, so please always check before heading out.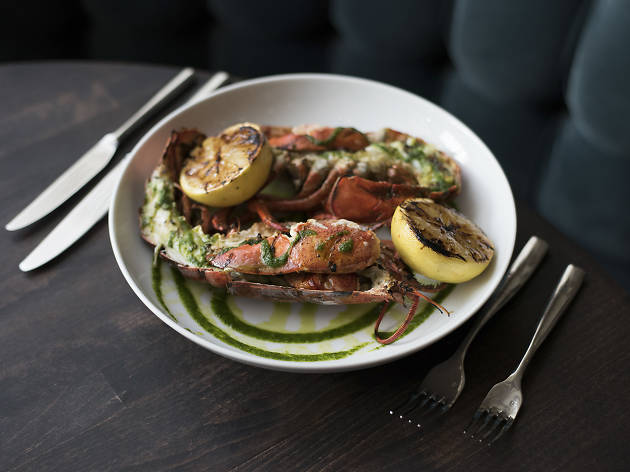 The 100 best dishes in Chicago 2015: entrees
The biggest dishes of the year, these pizzas, pastas and more stole our hearts with big flavors and perfect execution
Shrimp and grits, lobster, fish and chips—if there was one area where Chicago chefs excelled this year, it was with seafood. Whether it's pizza piled with shrimp (and sausage, naturally) or a huge helping of crabs at one of the city's best seafood restaurants, the options are wide ranging. Of course, seafood wasn't the only star this year—Hot Doug's returned in pizza form, chefs flexed their pasta-making skills and ramen continued its climb. These are the best entrees of the year.
RECOMMENDED: The 100 best dishes and drinks in Chicago
People say that Matt Troost is one of the best pasta makers in the city. His spicy black pepper rigatoni, bathed in a wild boar ragu, with crisp kale leaves and shaved Parmesan, makes a convincing case. $23, half portion $12.
Leave it to Irish native Sarah Jordan to teach Chicagoans a thing or two about fish-and-chips. In her superlative version, the fish stays flaky while enveloped in a light, crunchy golden batter. The crisp fries on the side are the ideal match. $12.
Some dishes at the Italian throwback are well-done classics. Others, like Formento's take on shrimp de jonghe (shrimp dotted with shrimp sausage and lemon bread crumbs, all luxuriating in buttery garlic sauce) are such improvements, diners will never want the original again. $28.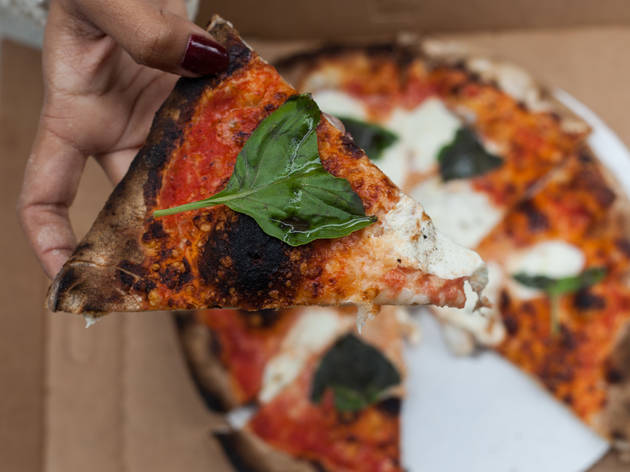 Photograph: Grace Allen
Margherita pizza from Pizza Boss
One of the best pizzas in Chicago isn't from a restaurant, but rather the giant Pizza Boss truck, painted like an Italian flag. The bubbly-crusted Neapolitan-style Margherita pizza is sprinkled with grated Parmesan and drizzled with olive oil. $11.
A heavy dish like pork schnitzel can prime you for a nap, but Jimmy Papadopoulos's take on the Czech classic, with tender planks of pork accented with a spritz of charred lemon, almost begs you to order a second round, which you promptly will. $23.
Our vote for underdog of the year: A simple grilled lobster, gently smoky from a turn on the parrilla and drenched with butter, manages to overshadow the meats at the Argentine steakhouse. $48, half portion $24.
A curry named after the Portuguese word for "devil" sounds daunting, but we're up for any challenge Fat Rice throws us. Take this huge, fiery, family-style mix of chicken, braised beef, fried pork chop, scorpion peppers and mustard seeds—sour, spicy and sweet. It's worth scraping the dish clean. $36.
The Peruvian newcomer serves one of the most soul-satisfying dishes in town: tender pulled chicken bathed in a thick sauce made from walnuts and ají amarillo, a vibrant yellow pepper. $19.
Yusho serves some special ramens for its Sunday Noodles deal, and the Wandering Ramen comes packed with pork, chicken, an egg and fiery nduja swirled in the broth for heat. $25 for ramen, dessert and drink.
The new refresh of Tony Mantuano's cafe means a few things, but mostly we just care that we can now eat this pasta, fat tangles of pasta coated with spicy nduja sauce. $15.
Show more