The best hot chocolate in Chicago
Defrost on chilly days with some of our favorite hot chocolates, included spiked and whipped cream-covered varieties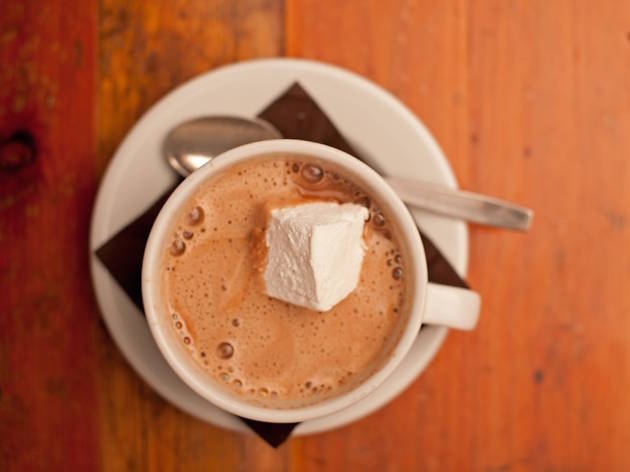 Despite the misery of Chicago's icy winters, there is a steady flow of holiday cheer amid all the holiday markets and seasonal decor. The city's coldest months are the perfect time to sample some of Chicago's 100 best dishes or embrace the winter freeze with December's best things to do. It's also an opportune time to warm up with a steaming mug of hot chocolate—check out some of our favorites.
Best hot chocolate in Chicago
Mindy's Hot Chocolate takes this beverage very seriously. If you're dreaming of wrapping your hands around a warm mug of decadent chocolate with homemade marshmellows, this is where you need to be. While you can definitely share a cup, we suggest keeping the perfectly sweet and slightly spicy Mexican Hot Chocolate all to yourself.
Book now
Read more
Here you'll find a cup of hot chocolate that's a little more in line with Mexican tradition. Rick Bayless' XOCO makes its hot chocolate simply, using ground chocolate and water—a little less decadent than it's creamy, sugary American counterpart, it is just as satisfying. Other options include the Almendrado, made with almond milk, and the Mexico City Thick, which is a traditional drink served around the holidays.
Read more
Escape from the holiday hustle at this progressive cocktail bar. The unusual Holiday Hot Chocolate combines pisco, Grand Marnier, NOLO Coffee Liqueur and creme de cacao, topped off with chocolate soy milk.
Book now
Read more
Duck in from the Chriskindlmarket crowd and warm up with a spiked hot chocolate at the Dearborn. This modern tavern serves up a mug of Jameson, Pierre Ferrand Dry Curacao and Regans' Orange bitters to keep you toasty all winter long.

Book now
Read more
This tiny, charming bakery offers a handful of pastries, tarts and croissants alongside a signature hot chocolate. Bittersweet's hot chocolate (it also comes iced) is a blend of fine chocolate, milk, cream and a scoop of whipped cream dusted with chocolate.
Read more
During the holiday season you may need a little bit more than chocolate to survive. The Un-Common Hot Chocolate is here to save the day with a boozy mix of Godiva chocolate and Fireball whisky, topped with whipped cream and a candy cane.
Read more
Caffe Umbria
Get a taste of Italian hot chocolate made with Pernigotti cocoa, milk and sugar. This rich, indulgent beverage topped with heaps of whipped cream is a cozy break worth taking on a frigid day.
High-quality haut chocolatier Vosges has a few shops where you can buy dreamy chocolate items like drinking chocolate mixes or bars of chocolate with coconut ash and banana. Stop in for a perfect cup of Peppermint Candy Cane Drinking Chocolate or, if you prefer, grab a few mixes and sip them under your favorite blanket at home.
Read more