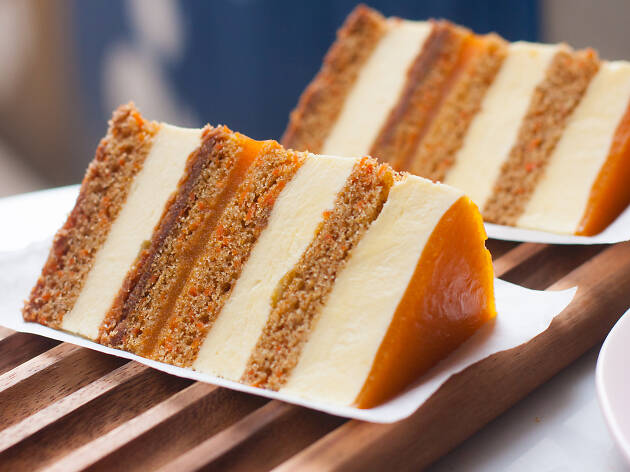 The 21 most amazing bakeries in Chicago
Satisfy your sweet tooth with sugary confections from the best bakeries in Chicago
Like many cities where diverse cultures have long met and melded, Chicago has a bakery scene that's sizeable and varied. The best bakeries in Chicago serve sugary confections from cultures close to home and far, far away. Whether you're looking for the ultimate chocolate chip cookie or a custardy egg tart that transports you to Portugal, sweet seekers can find some of the best desserts in Chicago in these humble storefronts. As an added bonus, some of the most beloved bakeries in Chicago double as the finest coffee shops Chicago has to offer, pouring piping-hot lattes and cappuccinos to accompany fresh-baked pastries, pies and cakes. Heck, we'd argue that these bakehouses are some of the best attractions in Chicago—but maybe that's the sugar talking. Give your sweet tooth what it wants at the 21 best bakeries in Chicago.
RECOMMENDED: Discover more of the best restaurants in Chicago
The best of the city under one roof
To really appreciate the wonders of this pastry case, we must tell you that chef-owner Bobby Schaffer mills his own flour and employs a tedious (but deeply worthwhile) fermentation process to craft cardamom-scented chocolate croissants, lingonberry-almond cakes and flaky cinnamon rolls. Backed by a résumé that includes a stint at the three-Michelin-starred Grace, Schaffer opened Lost Larson in Andersonville to reconnect with his heritage before being invited to join Time Out Market Chicago. The bakery pays homage to his grandfather's abandoned last name, Larson, which he lost when he immigrated to the U.S. and took his boss's surname.
Ready to get hit right in the sweet spot? Local industry vets Jason Chan (Juno, Butter, Urban Union) and Christine McCabe (Interurban Café, JoJo's Milk Bar, Charlie Trotter's) are cranking out a parade of classic, feel-good desserts that are packed with whimsical nostalgia. Sink your fork into a towering slice of layered confetti cake and let candy-colored, cloud-like meringues melt away in your mouth. While McCabe's creations have become Instagram darlings, one bite will convince you that they aren't just a feast for the eyes. At Sugar Cube, it's always a good time for dessert.
The best bakeries in Chicago