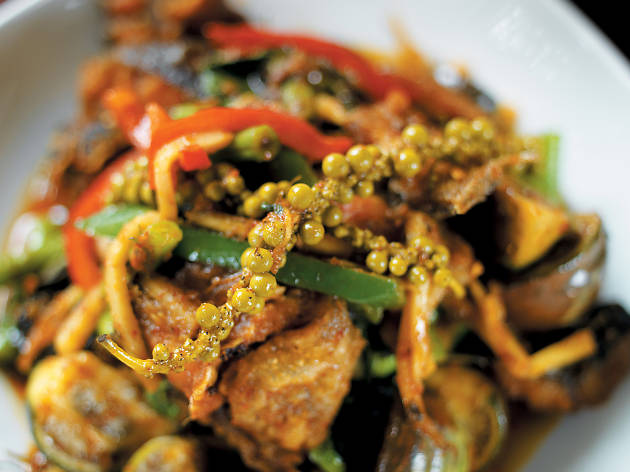 The 14 best Thai restaurants in Chicago
Let bold, spicy and complex flavors dominate your palate at the best Thai restaurants in Chicago
The best Thai restaurants in Chicago take diners on a sensory journey through Thailand with staples like green papaya salad, pandan-wrapped chicken, green curry, whole fried fish and yes, pad Thai. Many of our favorite dishes are laced with fish sauce, fresh basil, lemongrass and heaps of fresh produce, making the cuisine one of the most exciting in the world. The finest Thai restaurants in Chicago run the gamut from fine-dining establishments to some of the best cheap eats Chicago has to offer. As an added bonus, many of the spots that made the list double as the most adventurous vegetarian restaurants in Chicago, slinging tofu-laced delicacies and beautifully refreshing salads. Got a sweet tooth? Save room for treats like mango sticky rice, Thai jelly and mung bean candy—truly some of the best desserts in Chicago. Take your taste buds on a trip with the best Thai restaurants in Chicago.
RECOMMENDED: Explore more of the best restaurants in Chicago
Best Thai restaurants in Chicago
Andy Aroonrasameruang left his longtime perch at TAC Quick Thai Kitchen to open Andy's Thai Kitchen, where he crafts his own funky pork-and-rice sausages, spoons his spicy eggplant-studded green curry over omelettes, turns out a silky tom kha soup, pairs Chinese broccoli with crispy bites of fried pork belly and throws together a simultaneously fiery and cool minced chicken salad. This is what Thai food should taste like.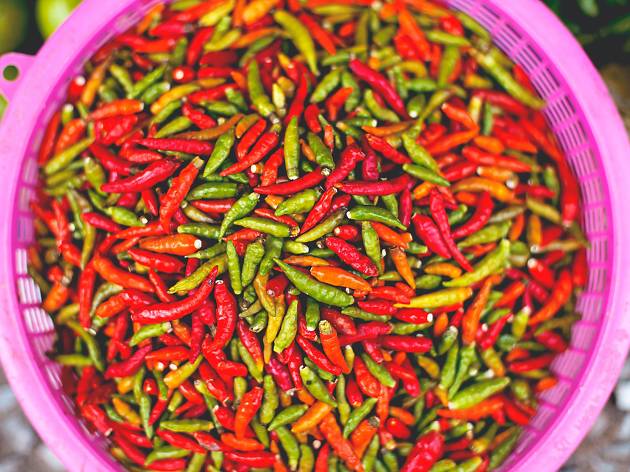 Photograph: Peter Hershey on Unsplash
As its name suggests, J.J.'s specializes in craveworthy street food from chef-owner Jiranya Thosatheppitak. The 28-seat, BYOB-friendly West Town storefront fills up fast most nights of the week, but their carryout game is strong. Save more delicate dishes, especially when it comes to rice dishes like khao mun gai tod, breaded fried chicken draped over ginger-garlic rice with sweet chili sauce on the side. Dine in for more delicate plates, such as the tender pla muk yang, grilled squid doused in spicy seafood sauce.
The curated menu appeases the masses that flood the simple, minimalist room at this top-notch Thai joint. But the true standouts can be found on the translated Thai language menu, with never-fail flavor explosions such as tart and smoky pork-and-rice sausage, ground chicken with crispy basil and preserved eggs, and warm sweet-and-sour beef jerky. Don't disregard the specials board—promising rotations have included basil duck stir-fried with garlic and mushrooms, and lettuce wrap–ready deep-fried mackerel with apples, cucumbers, fish sauce and chilies.
Most of the cuisine you'll eat in Thailand is street food. But at Arun's, chef Arun Sampanthavivat takes an fine-dining approach to dishes we're used to seeing in takeout containers. His pre-fixe menu comprises beautifully plated bites, like a namesake crab cake that's topped with a garden salad and sesame-soy vinaigrette. The cradled prawn—with red curry, kaffir lime leaf, sweet basil and a cucumber salad—is as delightful to look at as it is to eat. It's a must-try experience for Thai food fanatics.
What we love most about this colorful and bustling storefront is that it keeps our interest with new concoctions every couple of weeks. Check the tiny chalkboard for specials, but supplement with tried-and-true favorites such as stir-fried sole fish with ginger; the best gang hung lay (pork in sweet, garlicky, ginger-laden curry) in town; and khua kae, a stir-fry of chicken, baby corn, eggplant, shredded lime leaves and roasted rice powder that has a gingery citrus tang. Vegetarian options abound.
This hidden gem in Lincoln Square serves traditional Thai food—like fiery naem khao tod, a funky rice salad with chunks of ham—in a no-frills setting. The noodle menu here is exhaustive, with 14 dishes spanning the familiar (pad Thai) to the exciting (bamee moo dang hang, which is topped with barbecue pork, garlic and green onions). Sticky rice stuffed with banana is the best way to end the meal.
If you stick to the basics in this simple but pleasant dining room, you'll miss out on the best bites. Get adventurous with sai krog ie-sarn, a delightful fermented pork and rice sausage that's deep-fried and topped with peanuts and sliced ginger. The kanom jeep (steamed shrimp dumplings) are downright addictive—and priced at $1 each, it's an easy habit to maintain. Curry fans should try the duck, where the meat bathes in spicy red curry that's crafted with coconut milk and studded with tomatoes, pineapples, and bell peppers.
This West Loop Thai spot looks a bit shinier than the stalwart Thai restaurants you're probably used to—but it still churns out some pretty great options. From the same folks who brought us Saigon Sisters, this restaurant focuses on iconic Thai dishes that pack heat similar to what you'd find in Northern Thailand. At this small BYOB spot, you'll nosh on laab, a great pad see eiw and hearty chicken tom kha.
With hundreds of tin robots, wind-up toys and other kitschy knick-knacks covering every inch of wall space in this tiny Wrigleyville restaurant, your short wait for lunch here will be spent giggling about Pez dispensers you had as a kid. Entrées typically zoom out of the kitchen, especially on busy weekend nights. Start with the spring rolls, which are light and crisp enough that you'll have plenty of room for a heaping plate of the bamee noodles, topped with barbecue pork, crab meat, bean sprouts, peanuts and a fried wonton.
Take one step inside this Thai gem hiding under the Brown Line tracks and you're hit with a full-color poster provided by LTHForum endorsing the authentic eats lurking on the "classics" menu. Sure, you'll find the sour Isaan-style sausage and sweet beef jerky that other real-deal Thai joints traffic in, but take advantage of the less common items as well. Our picks include ground pork simmered in curried coconut milk then plopped over a crispy omelette, meatballs floating in sour broth that smacks of star anise, and a beautiful mess of bamboo slivers slicked with green chili paste.
For some reason, Thai restaurants in Logan Square are a rarity, and good ones are even harder to come by. Owned and operated by the same folks who run Nori Sushi restaurants around Chicago, Trike offers typical Thai fare that goes easy on your wallet. While the sushi is perfectly good, you're better off saving room for the savory Bangkok beef noodle soup or the spicy crispy noodles, served with wide rice pasta that's fried until it's golden brown and perfectly crispy.
Named for a popular district of Bangkok, Silom makes a strong case for dining in over delivery with its BYOB-friendly policy. Grab a bottle of chenin blanc or dry riesling to pair with ginger-scented tilapia, deep-fried soft shell crab and crispy pork shank. As you're contemplating the menu, you'll realize that repeat trips are necessary to even scratch the surface of Silom's offerings. End the meal on a sweet note with the playful pineapple ravioli, served with whipped cream and vanilla ice cream.
Located in the bustle of downtown, this Thai restaurant delivers in many ways—flavor, affordability, speed and comfort. It also has our favorite Thai iced tea in the city; the drink is rich and full of flavor with swirls of sweetened condensed milk. For starters, dip gyoza into a spicy sweet and sour sauce, then move on to a rich entree of panang or massaman curry. Another personal favorite is the chicken rice soup, a Thai-style chicken noodle soup with rice and a dash of sesame on top. Don't forget to save room for banana in sweet sticky rice.
Decades old and still bustling, this Thai stalwart thumbs its nose at the chowhounds running around town for ant eggs and crispy caterpillars. No need for secret menus here—a broad range of staples is done well and at a good price. Wine-toting couples swap forkfuls of sweet-and-sour mee krob (a heap of crunchy noodle threads with sautéed shrimp), tart nam sod (minced chicken tossed in a limey dressing with peanuts and raw ginger) and a filling and flavorful rendition of pad ped pla dook (hunks of crispy catfish sautéed in red curry paste with green beans and eggplant).
Find more of the best restaurants in Chicago
Chicago is a town that cares as much about Grant Achatz's newest concept as where to find the best burgers. Hence it's with an equal passion for worthwhile splurges and cheap eats that we present our picks for the best restaurants in Chicago. (Tip: Begin or end your culinary adventures at one of Chicago's best cocktail bars.)
Best selling Time Out Offers