Restaurants and bars for before a United Center game
Going to see the Blawkhawks or Bulls play? Pregame with great food and drink before hitting the United Center.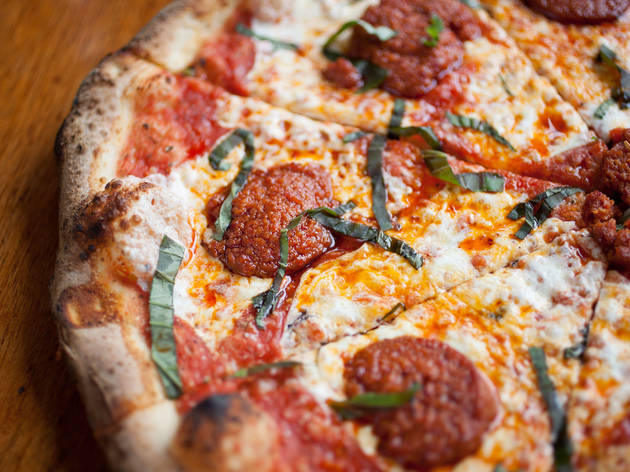 Before a Blackhawks or Bulls game, you'll need to fuel up—cheering on the home team requires energy and a pregame drink will be much cheaper outside the United Center. Whether you're looking for a sports bar, a place for a quick craft beer or cocktail or a fast dinner, you'll find it at these restaurants.
RECOMMENDED: Our complete guide to the Chicago Blackhawks
Where to eat before a game
The massive outdoor patio with a close-up view of the city skyline is the main draw of this Greektown spot in the warmer months, but there are reasons to dine inside, too, such as creamy taramasalata (fish roe spread), charbroiled octopus and well-seasoned gyros. Opt for the dreamy galaktobouriko, lemon custard in honey-coated phyllo dough, for dessert.
Book now
Read more
If you're looking to grab a pint or two or three before the game, the sleek taproom at Goose Island's Fulton & Wood Brewery will do the trick. They have a variety of Goose Island mainstays like their IPA, but also tap a selection of taproom exclusive and cask-conditioned beers.
Read more
For juicy, flavorful burgers and terrific fries, Grange Hall is a spot for a casual meal before the game. Leave room for ice cream, as the shakes and sundaes are perhaps the best things on the menu.
Read more
If Ron Swanson opened a restaurant, it would be the Kaiser Tiger. The specialty is the Bacon Bomb, a five-pound, bacon-covered meatloaf made with beef, pork and more bacon. Kaiser Tiger also features beer and sausage on its menu, plus a wide variety of craft beers, perfect for filling up before heading to the game.
Book now
Read more
By selling beer and being in the direct path of the throngs of people coming to and from the United Center, this slick sports bar has the hard part of its job covered. Completing the task are super bright TVs on every surface, including in the booths; a surprisingly good beer selection; and a hell of a burger.
Read more
Even on non-game days, the Palace Grill feels like an offshoot of the United Center. The space is bedecked with Blackhawks paraphernalia, and the patrons wear it as well (the diner is open late on Blackhawks game nights). It's a classic diner, which means it serves all-day breakfast and a menu of sandwiches, salads and burgers, including a superlative patty melt, layered with grilled onions.
Read more
Paul Kahan's butcher/sandwich shop is one of the best spots for a fast meal in town. There's the deeply flavorful ribollita soup, ideal for freezing days, and a constantly rotating list of sandwiches packed with hits.
Read more
Bill Kim's casual counter spot is fast, so place your order then grab a seat. Start with dumplings, then move onto rice bowls or ramen to fill you up before the game starts.
Read more
Show more