Heads up! We're working hard to be accurate – but these are unusual times, so please always check before heading out.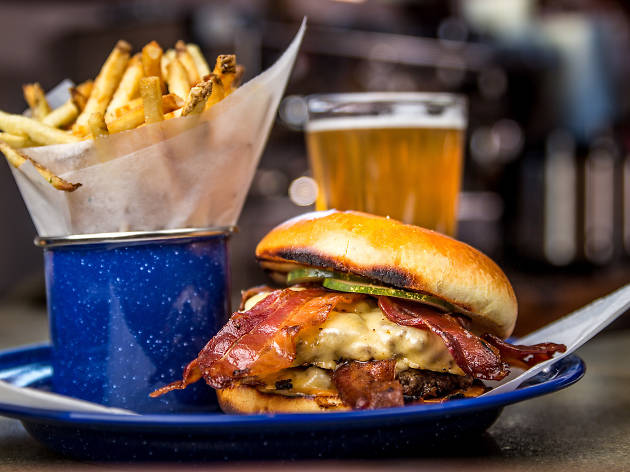 The 15 best new restaurants of 2015
The 15 best new restaurants of the year range from high-end French fare to burgers and late-night snacks
If dining in Chicago in 2015 can be summed up with one cuisine, it's steak. But the new restaurants this year challenged our idea of what a steakhouse is, and four of them made our year-end best list. Beef wasn't the only thing we ate and loved this year, though—we fell hard for an elegant French restaurant and two new Italian spots. And not every great new restaurant even required a fork and knife—we devoured lobster rolls from a food truck, ate some tasty new bar food and got messy (and had fun!) digging into spicy seafood and tacos in bags. Here are our picks for the 15 best new restaurants of 2015.
RECOMMENDED: The best of 2015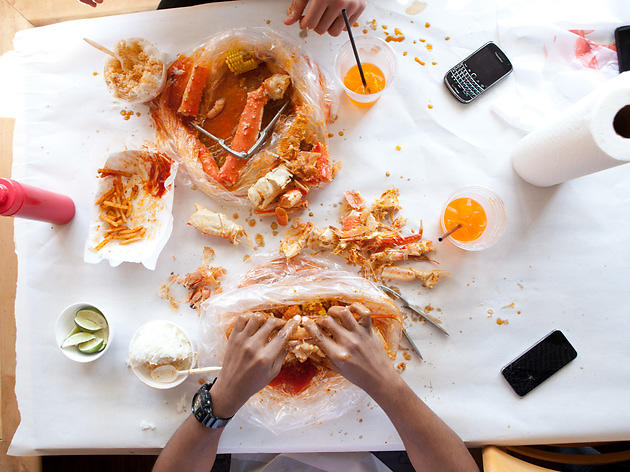 There aren't many restaurants where we'd wait in line for hours—now that Hot Doug's is gone, Angry Crab is the only one. Bring some wine or beer for the line, because this seafood—clams, crabs, lobsters and shrimp sold by the pound and tossed with lemon pepper, garlic butter, Cajun spice or all three mixed together—is worth the wait. The luxurious garlic butter and spunky Cajun spice are the best, and they're worth the mess you'll make eating them.
The Blanchard reminded us why we love French food so much, particularly Dover sole, foie gras and classic French desserts. The team of chef Jason Paskewitz, sommelier Anthony Mathieu, bartender Arunas Bruzas and pastry chef Marjorie Easley is among the city's most talented, and the Blanchard has rocketed to the top of our list for celebratory fancy dinners. Tip: Start in the bar with a perfectly crafted cocktail and end with Easley's pistachio bombe.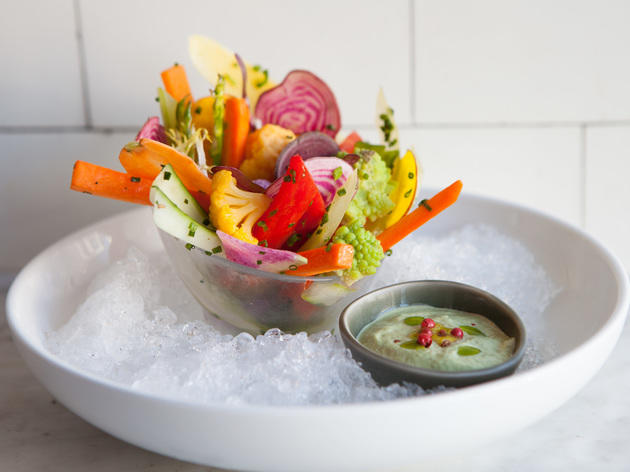 The most low-key new steakhouse, Boeufhaus opened quietly in Humboldt Park in April but began attracting a following almost immediately for its excellent food (try the cheesesteak at lunch or colorful crudites and dry-aged ribeye at dinner), warm service and total lack of pretension. Chef

Brian Ahern incorporates French and German ingredients and techniques into his dishes.
The main restaurant at the Chicago Athletic Association, Cherry Circle Room was the original dining room for club members. Chef Peter Coenen and beverage director Paul McGee evoke that old-school feel while updating the food and drink offerings. Think shrimp cocktail with Bloody Mary-spiced cocktail sauce, escargot with burrata and lacquered duck with wheatberries. End with an ice cream drink served in a milk jar.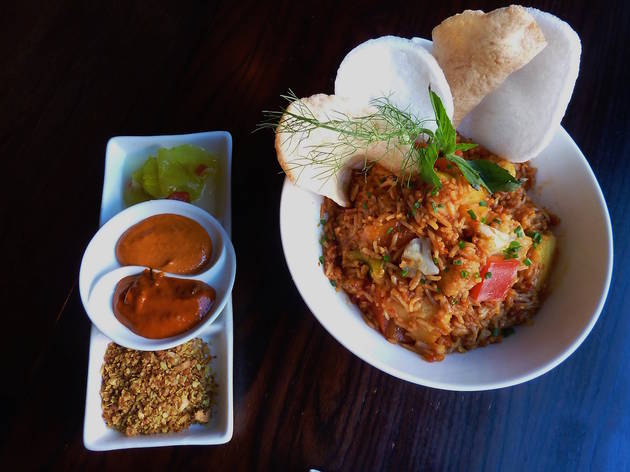 We spent one of the most delightful evenings of the year at de Quay, where chef David de Quay serves Dutch-Indonesian cuisine, with black pepper-Gouda dumplings to start, a grilled pork chop with rookworst for the main course, and stroopwafel, a warm house-pressed caramel waffle cookie served with vanilla ice cream, for dessert. General manager/wine director Terry McNeese provides spot-on wine recommendations and warm service, and Noel Catrambone contributes a list of terrific cocktails. Add in a cozy space, and there's no better place to be this winter.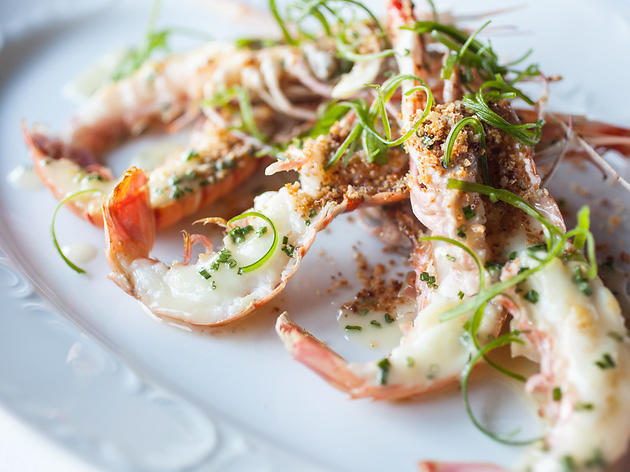 B Hospitality Co.'s Formento's opened in January and immediately became a welcome addition to Chicago's Italian restaurant scene. Under chef Tony Quartaro, the menu offers elevated takes on classic Italian-American dishes, like fettuccine alfredo and chicken Parmesan, which are perfectly executed. The space has red leather booths and white tablecloths, so it feels like a throwback, but flavors, particularly quail saltimbocca and
tutti-frutti spumoni, are anything but.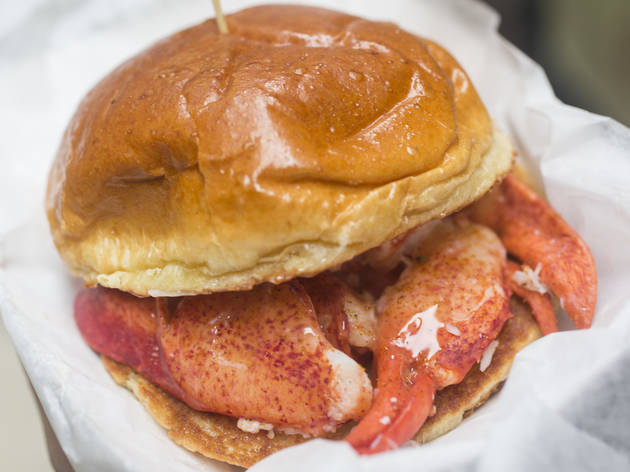 Photograph: Jaclyn Rivas
Great lobster rolls are hard to come by in Chicago, but one of the city's best rolled into town this year. The Happy Lobster, a food truck that roves downtown and occasionally sets up shop at the Garage in the West Loop, serves an exceptional version. Get it "happy," with just mayo, butter and spices, or "angry," with spicy giardiniera. The meat is perfectly cooked and dressing is restrained, which lets the lobster shine through. Get them in whole or half sizes, but be sure to save space for whoopie pies for dessert.
When L2O closed at the end of 2014, it reconcepted into Intro, a restaurant with rotating themes, menus, decor—even chefs. The first year has brought stellar talent, including CJ Jacobson, an LA chef best known for two stints on Top Chef, and Erik Anderson, a Chicago native last at Nashville's Catbird Seat. Currently, Stephen Gillanders serves an a la carte menu that includes potato leek soup with decadent black truffle croquettes, scallops in a luxurious brown butter dashi and a play on beef and broccoli, with glazed planks of steak paired with broccoli five ways. There's much to look forward to next year as well—Jessica Largey (Manresa) will be the first new chef in 2016.
The Gold Coast steakhouse feels wonderfully tongue-in-cheek—a chef's choice option is called "I Don't Give a Fuck"—while still serving up classics like surf and turf, creamed spinach and martinis. The latter gets a whole section in Cristiana DeLucca's drink list, which features both classic martinis and updated versions. With sommelier Belinda Chang handling the wine program, expect well-selected wines and knowledgeable service—requesting a pairing for a steak resulted in sampling three different wines, all of which would have been perfect.
When we last saw Sarah Grueneberg, she was manning Spiaggia, and doing a darn good job with fancy Italian food. In November, she opened Monteverde, which offers a modern take on the cuisine. Pasta is made in-house behind the bar and it appears in dishes like a super peppery cacio e pepe, made with ricotta whey; winter-squash tortelloni and an egg-yolk filled ravioli. Start with 'nduja-filled arancini and artichoke-topped crostini, and you'll leave stuffed but happy.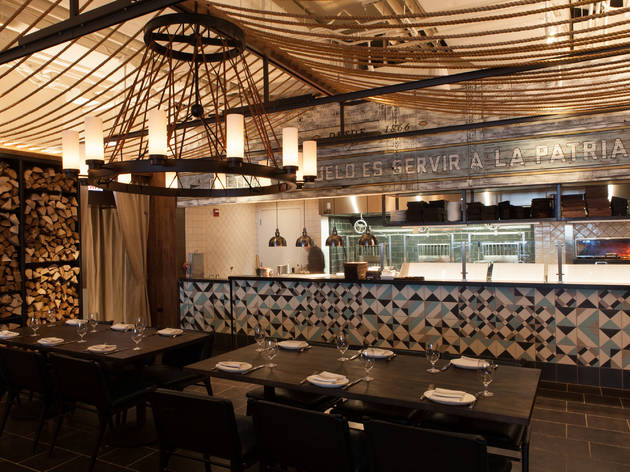 For an Argentine take on a steakhouse, try Philadelphia chef Jose Garces's Rural Society, located in the new Loews Hotel, where grilled meats and seafood (try the lobster soaking in butter) share menu space with empanadas and housemade sausages. The menu is wide-ranging, but pick and choose from different categories—everything goes well together and is completely delicious.

The reincarnation of Flipside Café (the winter pop-up in the Miko's Italian Ice Bucktown space from 2010-2013), Same Day Cafe is a charming spot to spend a couple of hours working over coffee or for lunch dates with grilled cheese on thick house-made rosemary bread and chicken pot pies. The ambitious house soda program includes the refreshing tart Michigan cherry, and in the evenings, feel free to bring along booze to spike them.
Sidecar at LR could have two separate entries on this list, since the Long Room kitchen hosts two separate concepts, both terrific. The day is divided into breakfast/lunch, when Biscuit Man Zeeshan Shah serves biscuits with goat cheese and tomato jam and house-made naan sandwiches, and dinner/late-night when Beard & Belly chefs Kyle Schrage and Jim Torres serve grilled cheese, chili, poutine and diner-style burgers with butterkase cheese.
The collaboration between Boka Group (Momotaro, etc.) and B. Hospitality (Formento's, etc.) delivers a spin on a steakhouse. Expect a hot platter, with oysters in bonito butter; surf and turf with a cap steak and citrus-poached lobster; and a perfect grapefruit sorbet for dessert—it's the kind of forward-thinking steakhouse we want in 2015.
We like Taco in a Bag's food quite a bit, but even more than that, we like how fun it is. The restaurant, from two competitive eaters, serves house-made nachos piled into silver bags with all manner of toppings. The standout is the Cheeseburger Nachos, with
beer-braised ground beef, cheese sauce and special sauce

. While Taco In A Bag is great at any time of day, it's open until 2am Sunday-Thursday and 3am Friday-Saturday, which makes it an ideal last stop on an evening out.