The best grilled cheese sandwiches in Chicago
With ingredients like fig jam, arugula, truffles and even craft beer, the best grilled cheese sandwiches in Chicago are all grown up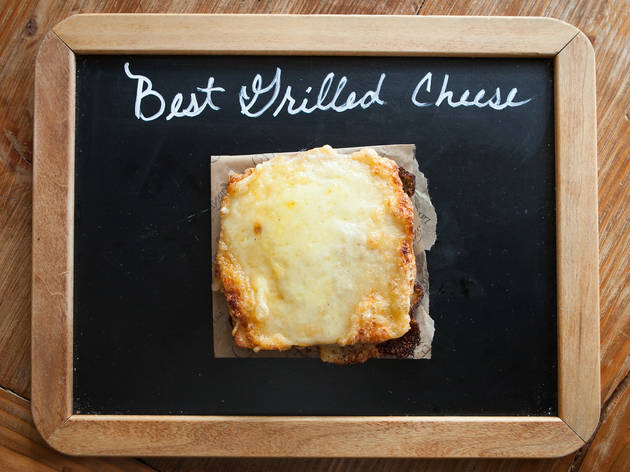 National Grilled Cheese Day comes but once a year (April 12, to be exact), but Chicago's myriad takes on this classic sandwich could keep you occupied for weeks. To find out who makes the best grilled cheese in Chicago, we tasted our way through gooey sandwiches at some of the best Chicago restaurants. Our favorites range from a super-traditional version that tastes like childhood to one soaked in craft beer to a sweet sandwich that uses farmers' market ingredients and will challenge your idea of what grilled cheese can be.
The best grilled cheese in Chicago
If you're not into the Cap'n Crunch effect that super-crispy grilled cheese can have on the roof of your mouth, this one's for you. It's served on amply buttered, Texas Toast–like white bread, cooked until it shows just the barest suggestion of grill marks, and filled with an oozy mixture of Irish cheddar, raclette and taleggio cheeses dusted with black truffle. A ramekin of biting tomato soup staves off food comas by countering the sandwich's dairy-heavy richness.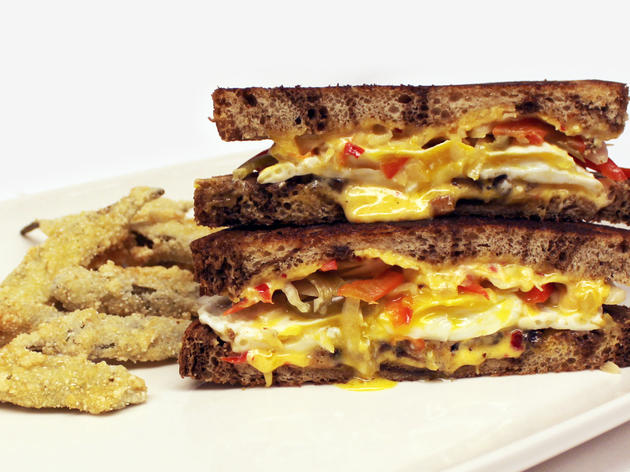 Restaurants, Soul and southern American
Sticklers will accuse us of taking liberties in classing this rather non-melty toasted sandwich (available during lunch) as a grilled cheese. We say it's delicious, so just go with it. At its center is a generous layer of pimento cheese, surely one of the South's greatest exports. To cut through all that creaminess, Paul Fehribach wisely lays down a layer of vinegar-bright chow chow relish (another Southern staple). The thick-sliced rye bread that frames these strata threatens to steal the show, though; it's not the accustomed diner-grade rye, speckled with nose-prickling caraway, but rather a nourishing, malty, almost crumbly loaf that's something like a cousin to Boston brown and Baltic black breads.
Sometimes you crave fancy, novel flavors, and other times you just want a taste of home. Of all the grilled cheeses profiled here, Bite's comes closest to the sort so many of us ate as children, comprising just cheese (a mild and melty fusion of cheddar, provolone and Gruyere), sliced tomato, and simple sandwich bread griddled in butter and oil to produce a delicately crisp, just-slightly-greasy external matrix. It's served, naturally, with its boon companion, tomato soup—this one pureed to a pleasant veloute consistency.
Leave it to a spot that has salvaged wood and gently filtered sunlight in spades to turn out an assortment of grilled cheeses that approach something like wholesomeness. There are six on offer here, all save one (the tortilla-wrapped, vegged-out Kale-a-dilla) built on sturdy multigrain bread from local baker Red Hen. Of these, our favorite is the fig & arugula; in addition to its eponymous ingredients, it features four cheeses (Gruyere, havarti, Swiss and goat), but is dominated, flavor-wise, by the latter, lending a deliciously tangy counterpoint to the fig's jammy sweetness. Crisped up in a broiler rather than on a griddle, the exterior is free from the buttery shellac that characterizes most grilled cheeses, making for a sandwich that's only marginally indulgent but majorly tasty.
Grilled cheese purists, be warned: Fountainhead's take (available during weekend brunch) flies in the face of sacred sandwich maxims, from its unorthodox ingredient list down to its heretical open-faced form. Once your indignation has burned away, we think you'll find Cleetus Friedman has a pretty super dish here, comprising two thick slices of flaky, butter-rich challah spread with sweet squash purée, overlaid with cheese (one with cheddar, the other with creamy butterkase), and then broiled to bubbling meltiness. The finishing touch is a crown of lacy fried eggs, the yolks of which intensify an already-gooey situation.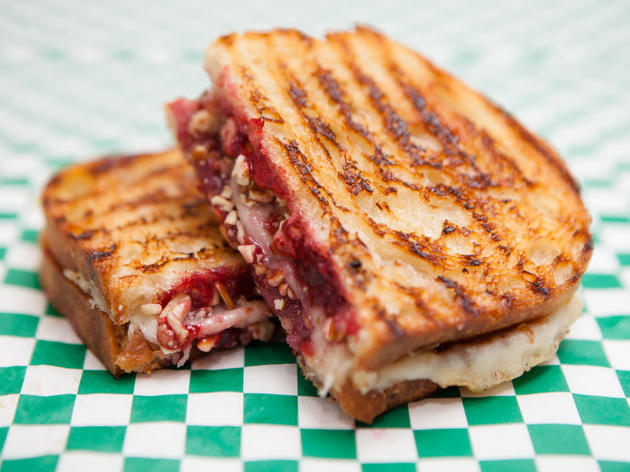 Photograph: Martha Williams
The Sweetie Pie from Gayle's Best Ever Grilled Cheese
That the city's food markets (Green City, as well as the Logan Square Farmers' Market, the Nosh, and additional summer locations to be announced as the weather warms up) serve as home base to Gayle Voss's fantastic grilled cheese stand is a form-follows-function–type situation. Voss takes inspiration for her rotating menu of six-plus sandwiches from the markets' locally sourced bounty, using, for instance, only Prairie Pure cheese and Nordic Creamery butter. Tops among the offerings in our book is the Sweetie Pie, which takes a familiar sandwich format to an unexpectedly dessert-y place. It's a combo of super-mild Swiss cheese, raspberry jam and Three Sisters pecans (which shouldn't work on a sandwich, but by god, do they) pressed between Bennison's bread. The effect recalls the taste of a linzer cookie.
This supremely crisp, pan-fried sandwich has long been a crowd favorite at Andersonville's Belgian beer mecca, and with good reason. In a case of unlikely-but-ultimately-magical combos, Hopleaf's CB&J merges oozing raclette and fragrant fig jam with a grilled cheese outlier: rich house-made cashew butter. You'll think it sounds weird, and then you'll take a bite and instantly resolve to slather all future sandwiches with nut butter. It's served with stilton mac and cheese and a pile of freshly fried and highly addictive potato chips.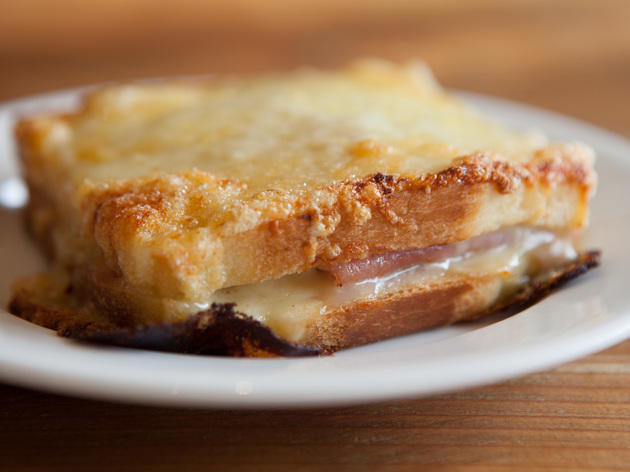 Paul Zimmermann's take on this iconic Parisian cafe snack is available for dinner, lunch and, if you're feeling saucy, breakfast. (Hey, if the French do it­­—well, at brunch at least—why shouldn't you?) The World Baking Champion's pain de mie is the foundation of his croque; it's filled with salty, mildly funky wet-cured ham and nutty Gruyere, topped off with rich bechamel and more Gruyere, and then baked, setting the sauce bubbling and ringing the bread with a halo of crunchy cheese. It's a knife-and-forker for sure, a comforting treat that will fill you up and leave you feeling satisfied for hours.
A four-cheese (Gruyere, aged cheddar, brie and mozzarella) interior freckled with sweet fried shallots, salty bits of bacon, and diced tomatoes for a hit of acidic clarity, generous wedges of pillowy white bread crusted with nutty griddled Parmesan (oh, that nutty griddled Parmesan): For grilled cheese fanatics, we daresay this one's kind of everything. On its face, it's big, unsubtle (a half order, served with a cup of soup, will satisfy most appetites)—and yet it stops short of gut-bomb territory thanks to a perfect balance of flavors that will keep your palate happy till the last bite.
Without its headline feature—a quick bread bath in a pool of Three Floyds' popular Scottish ale—this would be a good grilled cheese; with it, it's a great one. The cheeses (a mix of cheddar and fontina) are pleasantly gooey, if not particularly flavorful. But the pre-griddle beer dip does wonderful things to the sourdough bread, not only enhancing its yeasty aroma, but also locking moisture into its interior, giving each slice a custardy texture that calls to mind savory French toast. The rich tomato bisque served alongside it makes for good dipping.