Heads up! We're working hard to be accurate – but these are unusual times, so please always check before heading out.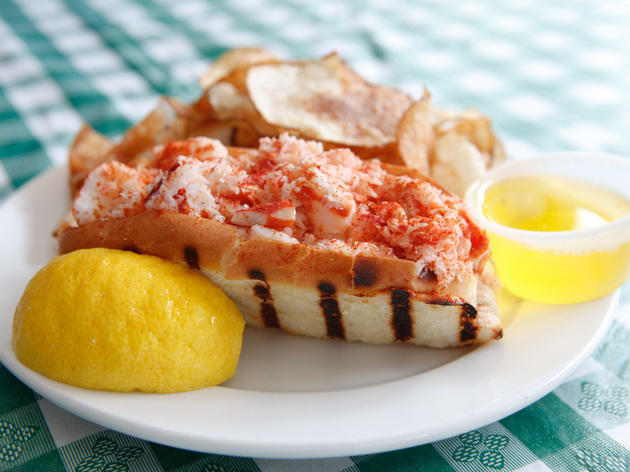 The best lobster rolls in Chicago
There are dozens of lobster rolls in Chicago, but these are the closest thing to eating in New England
Eating my way through Chicago's lobster rolls was part pleasure, part pain. I'm always up for eating lobster, but it seems like many Chicago restaurants serve it in ways that mask the crustacean's flavor. I don't want to find chunks of lobster in my mac and cheese, topping pizza or in tacos—lobster should be served simply or not at all.
When it comes to lobster rolls, since I grew up closer to Long Island Sound than to Maine, I am in the Connecticut-style camp, which means I prefer my lobster rolls to be served warm with butter on a toasted bun. That's not to say that I don't love a good Maine lobster roll, when the meat is bound with just a hint of mayo and maybe a little spice.
Over the past couple years, Chicago has embraced lobster rolls. Today there are dozens. So when it came time to assess Chicago's lobster rolls, I needed a plan. I ate every lobster roll I could find at seafood restaurants, plus other versions I found especially promising. I order one whenever I spot one on a menu on town, and in all, I've eaten more than 20.
While I was impressed, on the whole, with the buns that restaurants were using, the majority of the lobster rolls had too much going on. I ate lobster swimming in drippy mayo. I ate what can only be called lobster salad, which had more vegetables than meat. I ate lobster rolls with shriveled, desiccated meat, doused in butter to cover it up, and some that were too large to pick up and eat—to eat lobster rolls, you use your hands. And I even ate a lobster roll topped with a whole claw, in which the hard cartilage was still present.
"I am eating a lobster roll topped with shredded lettuce," I texted my mother at one point.

She told my dad, and he called me.
"I hear you aren't having very good lobster rolls," he said. "Don't they know they just need butter or a little mayo?"
He's right, and the lobster rolls that make my list are the simplest versions out there. While some of have extra, unexpected ingredients, they never overwhelm the lobster, which is the main event in all of them. No, there's nothing as good as eating a lobster roll right on the ocean in New England, but if you can't be there, these are the next best thing.
Best lobster rolls in Chicago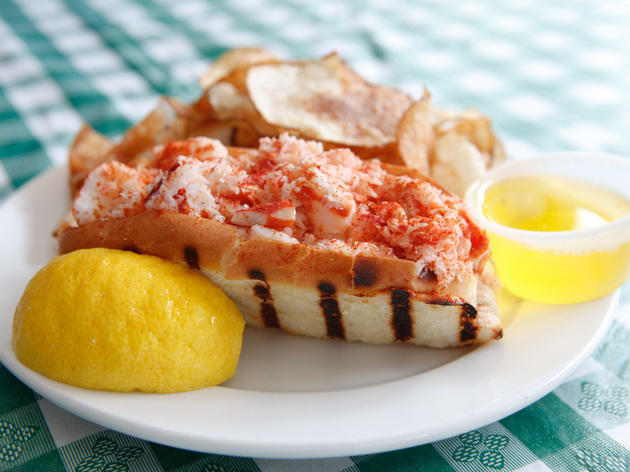 New England Seafood Company's lobster roll ($17.95) turned out to be my favorite, and the kind of roll I grew up eating. There's the barest trace of mayo on the bun and a hefty sprinkling of paprika. A lemon wedge and cup of warm butter are served on the side, and I used both liberally. While the split-top bun cries out for a little more butter, the chilled lobster is so sweet, I'll give them a pass.
Chef and owner Ryan McCaskey spent summers in Maine, and it's clear the man has had good lobster rolls in his life. Take the meat: It's cool, perfectly cooked and lightly dressed with a little mayo and paprika, plus butter. And the bun: It comes in from Maine and it's warm and incredibly buttery. The whole roll is almost too buttery—it's the richest offering, for sure. But at $18, it's also one of the most affordable lobster rolls in Chicago.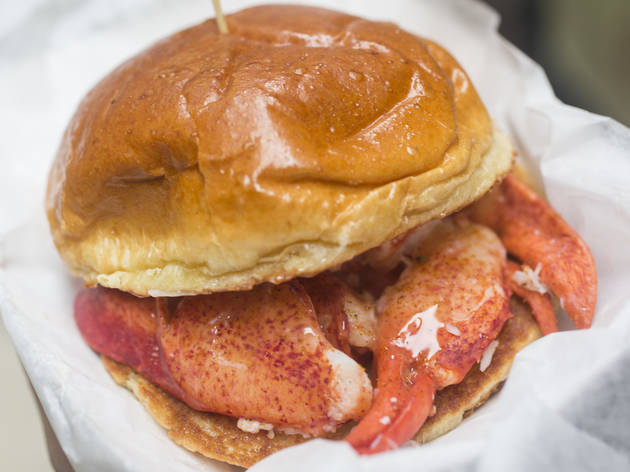 Photograph: Jaclyn Rivas
The cheerful truck launched in the summer of 2015 and instantly began serving one of Chicago's best lobster rolls, with sweet, tender lobster slicked with mayo and butter and served on a burger bun for easy eating. It's $15, and you can get it Happy, with traditional toppings, or Angry, by adding giardiniera. Half rolls are also available, so you can try each style.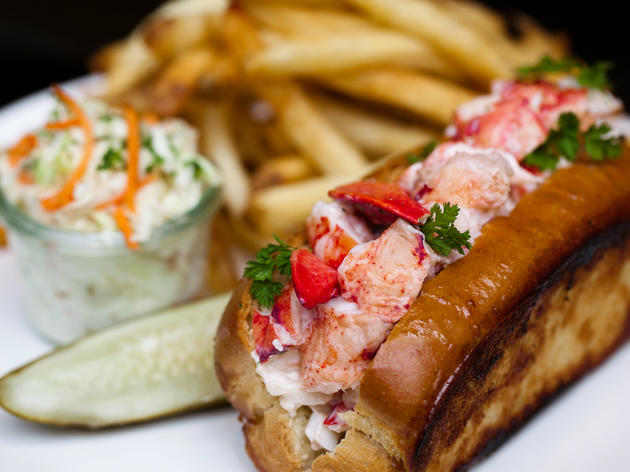 I appreciate the lack of pretension with Shaw's excellent lobster roll ($29). Big chunks of sweet lobster are dressed with Hellman's mayo, mixed with celery and chives, and tucked into a housemade buttery bun. Get it in the main dining room during lunch or at the oyster bar at any time.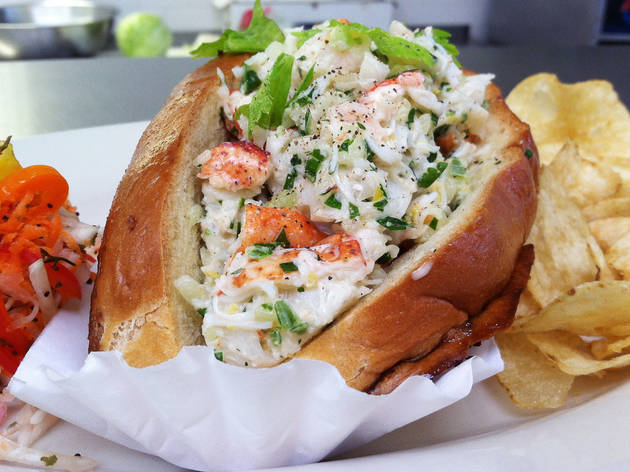 The lobster roll ($19) at the tiny fish market is an excellent version—there's just a hint of mayo to bind it all together, and lemon peel, cucumber, parsley and other herbs and spices are also added. The meat is served cold, but the bun is grilled in a ton of butter right in front of you. The result is glorious.
GT's lobster roll (sold at market price) perfects the meat to bun ratio (which doomed many of the other rolls I tried). The buttery bun is large enough to hold the sandwich together, but there's so much cool, well-seasoned lobster that it's still primarily what you're tasting. Add in celery for crunch and a variety of herbs and you've got a killer lobster roll.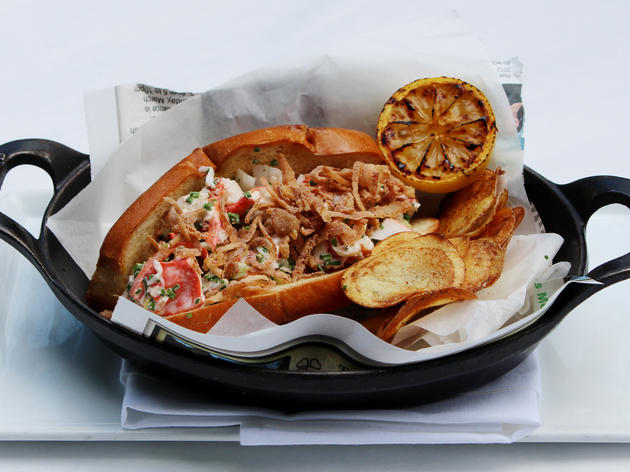 The Gage's lobster roll ($23) is topped with fried onions, which I expected to immediately disqualify it. But the meat is chilled, bright and lemony (there's a grilled half lemon to squeeze over the roll), the bun is perfectly buttered, and the onions add more texture and salt. I had one with a housemade blueberry soda, and couldn't imagine a better lunch.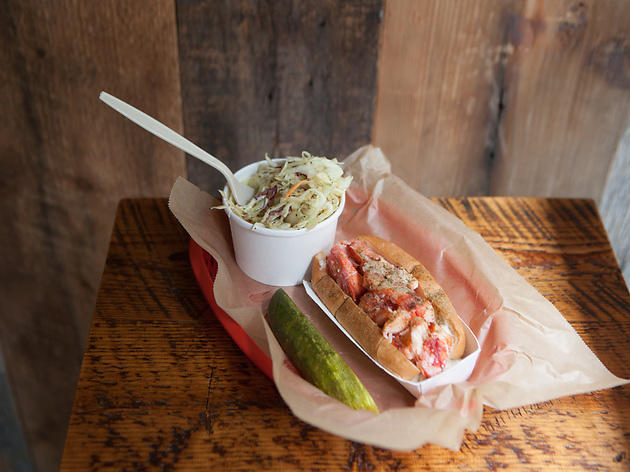 Luke's opened its first Chicago location in spring 2015, and they serve up a pretty solid lobster roll for $15. The meat is lightly dressed with both butter and mayonnaise, then sprinkled with spices, including thyme and celery salt, then tucked into a well-buttered bun. The meat is just a bit too cold, so let it sit for a few minutes before digging in.