The best pizza restaurants in Chicago that aren't pizzerias
These Chicago pizza restaurants aren't strictly pizzerias, but they're serving up excellent pies alongside other dishes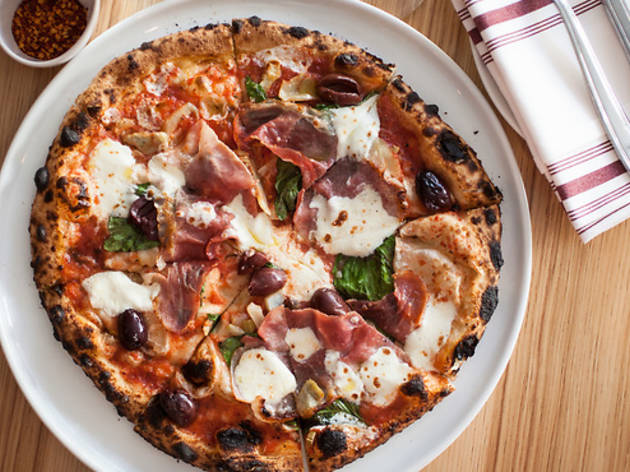 Chicago has plenty of great pizzerias serving up thin crust, deep dlsh and pizza slices, but they're not the only ones making excellent pies. While these restaurants offer much more than pizza—you'll also find pastas, seafood, even bagels—we don't want to go to any of them without getting (at least) one pizza to split with the table.
RECOMMENDED: Find more of the best pizza in Chicago
Best restaurants for pizza
One of my favorite places in Chicago is Balena's bar, where I like to order an amaro cocktail and a pizza, which has a fantastic chewy crust and toppings that range from classic (pepperoni, fennel sausage) to surprising (mortadella and pistachio pesto). The pizzas are big enough to split, especially if you're also getting an order of pasta (which you probably are).
Read more
Adding a wood-burning pizza oven to the new Ceres' Table location was an idea even smarter than changing addresses. That pizza oven, located smack in the middle of the restaurant, is the star of Ceres' Table. The lightly charred crust is thin, nicely chewy and well-salted, and most are topped with fior di latte, a lovely mozzarella, plus combinations like sausage meatballs and crimini mushrooms. The pizzas are simple, but at $11–$14 apiece, they're perfectly sized for one person to have with a glass of wine while sitting at the bar.
Book now
Read more
The Italian restaurant, which has locations in both River North and Taylor Street, has some excellent Italian small plates—and a solid pizza that's very thin in the center, with a puffy, chewy edge. Of the five available pizzas, which includes a margherita, I gravitate toward the soppressata e caciocavallo, which picks up heat from slices of soppressata.

Book now
Read more
Reno excels at baked goods and its pizza crust is no exception—the edges are chewy, and toppings include butternut squash with gouda, sage brown butter and walnuts (an entrant on our 100 Best Dishes & Drinks of 2014 list) and the T.O. with smoked chicken, arbol peanut salsa, green onion and smoked onion.
Read more
You can order pizza from any seat at Siena Tavern, but at the pizza bar, you'll see them make it in front of you and and you can peer into the oven as it cooks. It doesn't take long to make the pizzas, which have a pleasantly chewy edge and crisp base that holds up well to toppings like caramelized Brussels sprouts and fingerling potatoes.
Book now
Read more
The crisp, chewy pies at Tre Soldi are among the best things on the menu, and they're also available in a gluten-free version. There are more than a dozen combinations of toppings, like kale and caramelized onions, but the 'nudja, with dollops of soft, spicy sausage, tomatoes and a fried egg, is rich and satisfying.
Read more
Best pizza places in America
Who bakes the best pizza in America? For top wafer-thin pies and deep-dish slices, we say it's these pizza restaurants.
Read more