Heads up! We're working hard to be accurate – but these are unusual times, so please always check before heading out.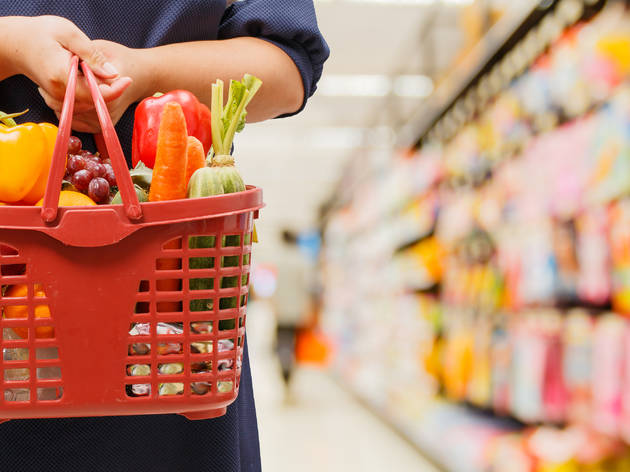 The best grocery delivery services in Chicago
The best grocery delivery services in Chicago bring all your food-related needs directly to your doorstep
Sure, some people have the good fortune of living right around the corner from their local Aldi or Jewel-Osco, but not all of us are lucky enough to have scooped such prime grocery real estate. Even so, why schlepp your granny cart around on crowded CTA cars and potholed streets when you could order groceries from the comfort of your apartment instead? From plain old Whole Foods delivery to specialty services that let you nab gourmet supplies used in the kitchens of the best restaurants in Chicago, here are the best ways to get groceries and other home goods sent right to your doorstep.
RECOMMENDED: The best alcohol delivery services in Chicago
The best grocery delivery in Chicago
This tech startup has become the answer to city dwellers' prayers (especially of the non-vehicle–owning variety). Dubbed the "Uber for Groceries," InstaCart delivers any goods of your choosing from your favorite Chicago grocery stores—Mariano's, Jewel-Osco, Whole Foods, Costco, Eataly, Plum Market, Pete's Fresh Market, even Petco, CVS and Binny's. Prices are also the same as in-store for many retailers, and delivery usually ranges between $3.99 and $7.99.
As if Amazon Prime could get any more convenient, it turns out they also deliver groceries. For free. Yes, those with an Amazon Prime subscription living in Chicago can take advantage of free on-demand, same-day grocery delivery. While the company's local grocer partnership list is limited to Whole Foods and Fresh Thyme Farmers Market—plus Amazon's online marketplace—the beauty is that you can get the bulk of the goods you'd typically buy at good ole Jewel directly through Amazon.
Photograph: Courtesy Postmates/Sonya Yu
Though most people use Postmates for late-night Shake Shack deliveries, the on-demand service will also stop by stores like Mariano's and Jewel-Osco to pick up your everyday groceries. The best part? A friendly fleet member will be at your door fast—often between 45 and 60 minutes.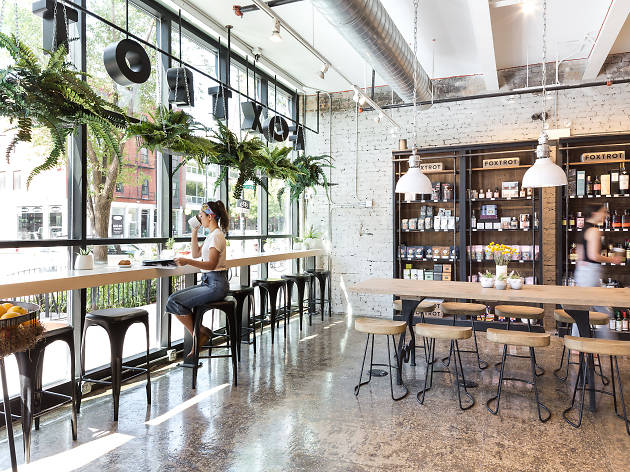 Photograph: Eric Kleinberg for Foxtrot
If you're looking for craft goodies and Chicago-made products—like Bang Bang Pie, Metric coffee, Lagunitas beer and Letherbee gin, to name a few—shop the curated selection at Foxtrot Market. The local company has brick-and-mortar locations in the West Loop, Lincoln Park, River North, Old Town, Lakeview and Wicker Park but will happily deliver all kinds of funky goods to your door.
If you're OK with the occasional blemish on your produce—a lumpy grapefruit, for example, or a weird-looking carrot—Imperfect Foods can net you up to 30 percent savings on your grocery deliveries compared to regular stores. The service collects food rejected from traditional grocery stores for trivial reasons, like being cosmetically unappealing or surplus, and delivers it to users in a weekly bundle. You can visit their website to take a quick questionnaire to help you figure out which bundle is right for you—delivery fees start at $4.99.
Looking for an especially discerning personal shopper? For an annual membership fee of $99, Shipt will bring you your groceries hand-selected for little details (like top-notch, non-soggy produce), with no delivery charges for orders over $35. You can also keep in touch with the shopper with an in-app messaging service for any last-minute order changes. The company's owned by Target, and in Chicago, they deliver goods from stores like Target, CVS and Petco.
Until 2019, you could order groceries from a dedicated delivery service called Google Express, which has since been folded under the larger umbrella of Google Shopping. If you're looking to bulk up on non-perishables, Google Shopping is a sure-fire bet for basics and snacks (think canned beans, big jars of trail mix, nut milk, etc.) from stores like Costco and Target—plus, you can order goods from other retailers like Best Buy, Nike and Wayfair. Delivery costs and times vary by store; visit the Google Shopping website for more info.
The best flower delivery services in Chicago
These companies deliver quality arrangements, fast and without hassle