The 10 best things to do during the holidays in Chicago
Experience the holidays in Chicago with festive theater productions, steaming beverages and a giant German market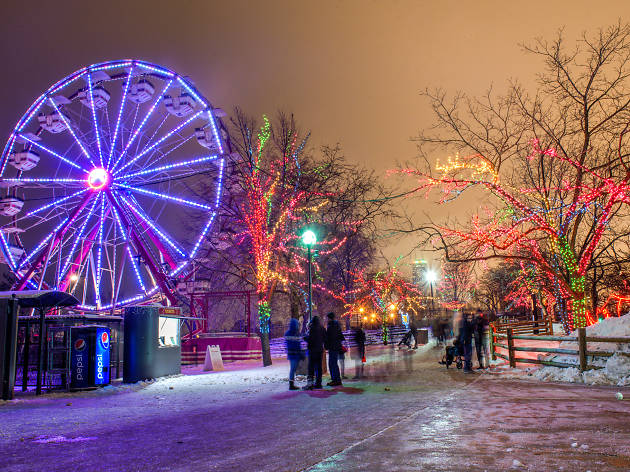 If you've ever spent the holidays in Chicago, you know that the city morphs into a magical winter wonderland as the year begins to wind down. With so many festive things to do and much cheer to spare, it's not hard to find things to do for Christmas in Chicago. Join in on the fun by getting a ticket to one of the season's top theater productions, sipping spiced wine at Christkindlmarket or admiring the dazzling holiday lights around town. Mix these 10 essential holiday activities with your own seasonal traditions for a winter you won't soon forget.
RECOMMENDED: Our complete guide to Christmas in Chicago
Things to do during Christmastime
1
The Great Tree at Macy's Walnut Room
You'll have to wait quite a while to get a table next to the tree in the Walnut Room, the seventh-floor restaurant inside Macy's (formerly known as Marshall Fields). But the 45-foot-tall tree, which sparkles with 3,000 ornaments and 6,000 LED lights, can be viewed from outside the restaurant, which means that you won't have to splurge for a chicken pot pie simply to experience one of the most spectacular holiday displays in the city.
Look for the glowing neon fish sign hanging over this classic Andersonville dive, where locals and visitors have been pumping quarters into the jukebox for more than 80 years. When the holiday season arrives, you'll want to order the bar's cold-weather specialty: a warm mug of a Swedish variation of spiced wine called glögg, served with an authentic ginger pepparkakor cookie.