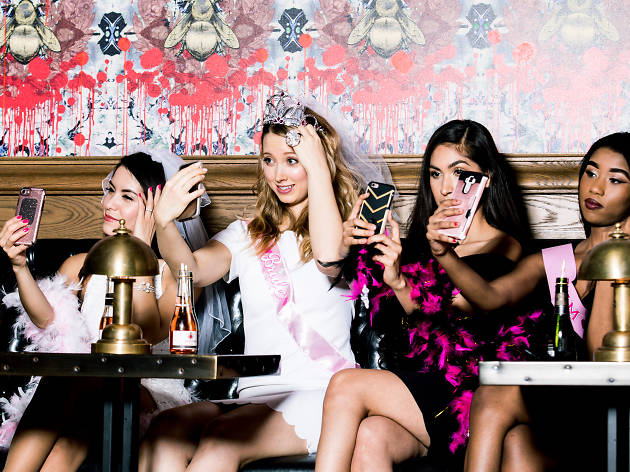 16 bachelorette party ideas in Chicago that don't suck
These clever bachelorette party ideas for Chicago brides-to-be put your standard girls' night out to shame
It's a universal truth that no one—not even the bride-to-be—really wants to spend a bachelorette weekend waiting in line at an overpriced club. Why, then, do so many veil-clad groups get stuck in that exact scenario? Because planning a bachelorette party in Chicago is tough, and getting everyone in your group to agree is next to impossible. Allow us to do the heavy lifting with some of the best things to do in Chicago right now. Flip the script when you hit the water on one of the top boat tours of Chicago, snuggle up for a hotel staycation or swing from the ceiling at an aerial yoga class. Follow our lead to plan an epic bachelorette party in Chicago that will have the whole group playing hooky on Monday.
RECOMMENDED: Check out the best bars in Chicago
The best bachelorette party ideas in Chicago
Whether your group is going out or staying in, getting the glam treatment is always a good idea. The staff at Goldplaited at Lakeview is here to help: The salon offers primping party packages for groups as large as 40. Each guest will get a dry blowout and makeup application, but you can tack on party lashes, airbrush foundation and braids, too.
Photograph: Aleks Eva Photography
One of the first things you'll have to figure out when planning a bachelorette party is where everyone will stay. Hotel rooms can get expensive and aren't always ideal for big groups. Instead, turn to Chicago's vast short-term rental market, which offers one-of-a-kind homes that are filled with funky touches. Cruise Airbnb or check out BANGTEL, a boutique company offering a selection of party-friendly Chicago homes that suit groups of 10–37. Each apartment is decorated in cheeky neon signs, bright artwork, high-end finishes and plenty of common space—perfect for a party. The company also offers bachelorette add-ons including decorations, dinner with a private chef, hair and makeup, yoga sessions and more.
Reopens August 2, 2021.
If bottle service at a bumpin' club isn't the bride's cup of tea, consider an evening at the Chicago Magic Lounge, where you can catch a show every night of the week. Between card tricks and awe-inspiring illusions, sip cocktails like the Smoke and Mirrors, a blend of mezcal, amaro and fernet. On Friday and Saturday evenings, magicians hit the stage at 7:30 and 10pm, and tickets go for $45–$60. Just be sure to book early to ensure your whole group can sit together.
Brunch is a bachelorette weekend necessity, and at the Social Table, you and your crew will take over the kitchen to whip up a family-style feast. Choose from dishes like breakfast strata, fluffy Japanese-style pancakes and chorizo-pepper potato hash, and then work with a chef instructor to pull it all together. The kitchen and cozy dining room are yours for the morning. Priced at $85 per person, each menu offers the option of batched breakfast cocktails for an additional cost, but the kitchen is also BYOB-friendly if you prefer to stock up on your own bubbly before you go.
Working with a small group? Go all in at AIRE Ancient Baths, a wildly different spa experience in Chicago. The stunning subterranean space, which is built inside an old factory in River West, looks like a hidden bunker designed for peaceful retreats. Once inside—and with an appointment—guests can enjoy numerous baths of different temperatures and indulge in spa treatments called "rituals." Detox in the relaxation area, rest on warm marble stones, go swimming in hot and cold tubs and finish your afternoon with a relaxing massage.
If you're looking for a one-stop shop to keep your group entertained for an entire evening, check in at the Chicago Athletic Association, a stunning hotel in the Loop. Start with an upscale dinner at the Cherry Circle Room, where you'll find oysters by the half-dozen, beef tartare, risotto and a stacked cheeseburger. From there, loosen things up with frozen cocktails and a rousing round of shuffleboard in the Game Room. End the night with a round of drinks at Cindy's, the hotel's rooftop bar, which offers prime outdoor space, sweeping views of the city and cozy fireplaces.
Does the bachelorette have a competitive streak? Face off at AceBounce, a sprawling underground ping-pong lounge in River North where your group can grab a table and paddles, dance to music provided by rotating DJs and indulge in fried chicken sliders, crab rangoon dumplings, green goddess hummus and a menu of boozy beverages. Plus, AceBounce puts you within walking distances of River North's finest late-night bars if the party continues into the wee hours of the morning.
Detox before an indulgent night out with a trip to AIR Aerial Fitness, with locations in River North, Lincoln Park and South Loop. The classes here utilize long, colorful silks that hang from the ceiling, allowing you get upside down in ways you didn't know possible. It's just as fun as it looks, but be forewarned: You'll be sore the next day. Call ahead to book your bachelorette party; beginner-friendly workshops start at $395.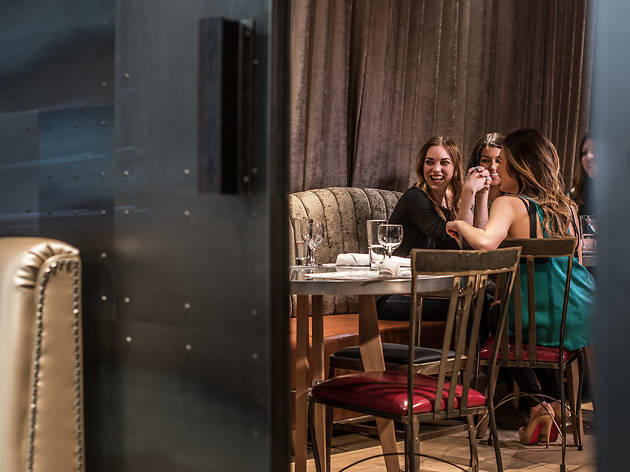 Photograph: Courtesy Virgin Hotels
Why not plan the ultimate staycation for the bride-to-be and her best friends? Virgin Hotels Chicago rolls out the red carpet with comfortable rooms, excellent food and drink options and a beautiful, DJ-equipped rooftop. We recommend grabbing a dinner reservation at Commons Club, the hotel's flagship concept which offers creative takes on American cuisine. And if you feel like getting outside, Virgin is located within walking distance of Millennium Park, the Art Institute and the Chicago Riverwalk.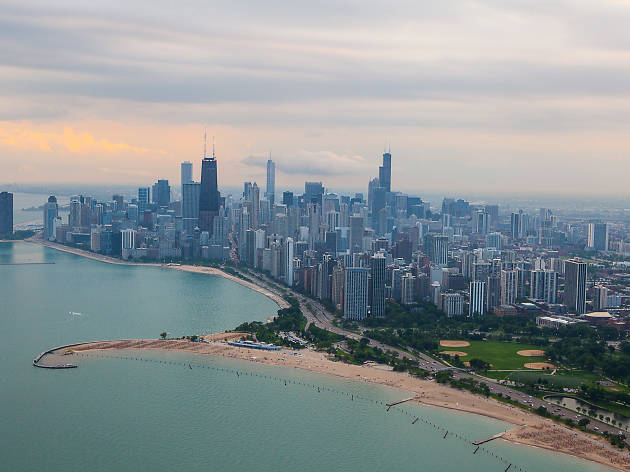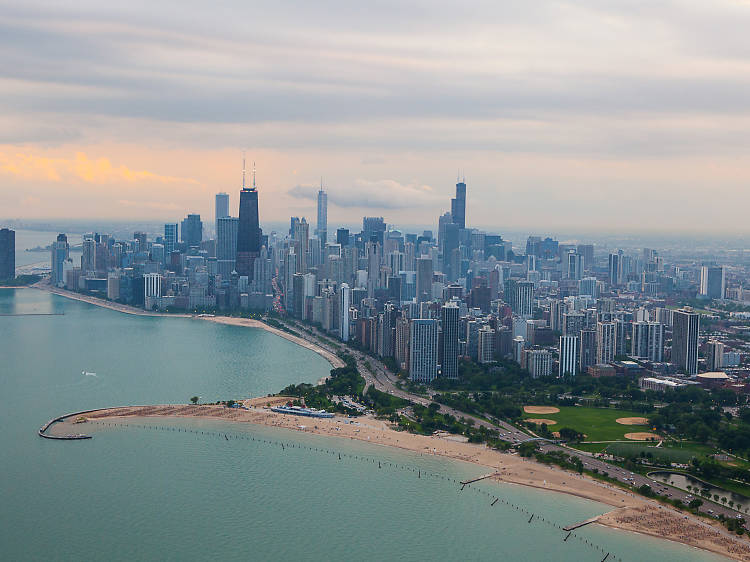 Photograph: Martha Williams
If you're a Chicagoan, you've probably been on countless tours with friends and family visiting from out of town. Maybe you even think you've seen the city from every possible angle. But have you been on one of Chicago's helicopter tours? Talk about a highlight of your weekend. Fly high over the city, then come down—just a bit—for fancy drinks at one of the top rooftop bars in town.
For groups that prefer Donkey Kong and Frogger to strippers and penis straws, Emporium Arcade Bar is a safe bet. With locations in Wicker Park, Logan Square and Fulton Market, these massive arcades are used to hosting groups big and small; plus, for parties under 30 people, they'll usually let you reserve a table free of charge. The bring-your-own-food policy means you can nosh on pizza, Chinese food, Taco Bell or whatever else the bride is craving. Stock up on tokens and let the fun begin.
Chicago is the city of big shoulders and historic buildings, so why not make your bachelorette party an opportunity to explore the city's innumerable architectural highlights? The Chicago Architecture Center offers more than 85 tours—focusing on everything from Art Deco skyscrapers to the modernist influence of Mies van der Rohe—for the bride and her architecturally inclined gal pals to choose from. For parties of six or fewer people, a docent will work with your group to create a custom experience.
Want to flex your creative muscles? Whether you're curious about ceramics, screenprinting, jewelry making or some other kind of crafty pursuit, Lillstreet Art Center workshops allow bachelorette party-goers—both artistically gifted and otherwise—to take home more than just memories. For $65 each, attendees get a hands-on lesson from a professional studio instructor that culminates with the creation of an art object. Remember to BYOB (and food) to add extra fun.
Get your hands dirty at this build-your-own-terrarium workshop, where you'll work with instructors to design and assemble a little pot of plants. Black-thumbed participants need not fret: The folks at Sprout Home will dole out advice on which plants cohabitate best together as well as care and maintenance tips for when you take your new creation home.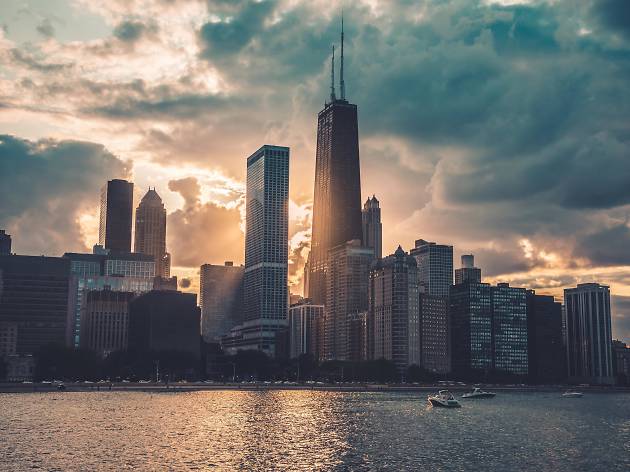 Photograph: Unspash/Max Bender
Wendella Chicago Sunset Cruise
In a city chock-full of boat cruises, it's tricky to choose which one fits the right vibe for your bachelorette party—but when in doubt, you can't go wrong with a sunset cruise. Climb aboard as golden hour sets in and watch from Lake Michigan as the skyline turns from orangey-pink to glittering darkness. You and your friends will be able to order wine, beer and cocktails on the 90-minute trip before you're dropped back off at the Michigan Avenue Bridge at the foot of the Wrigley Building.
Find the best attractions in Chicago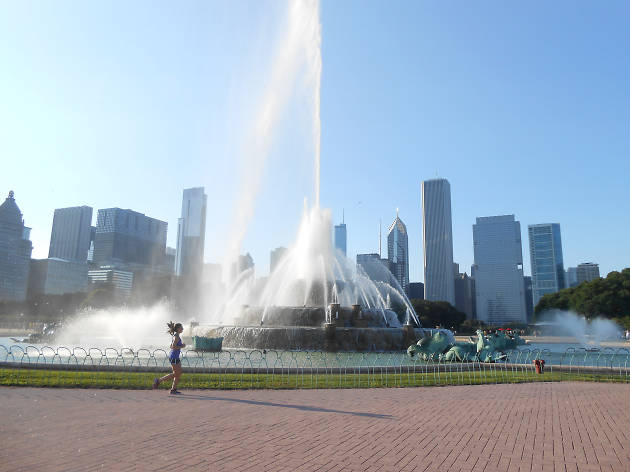 Photograph: CC/Flickr/Marlin Keesler
The 25 best Chicago attractions
Whether you're entertaining out-of-town guests or simply want to act like a tourist in your hometown by revisiting the best Chicago attractions, iconic venues and historical spots, make sightseeing a lot easier by consulting Time Out's definitive guide to the best sights, top attractions and things to do in Chicago. We've compiled our favorite popular sights in the city, featuring the best Chicago beaches, best Chicago museums and hubs of arts and culture.
Best selling Time Out Offers