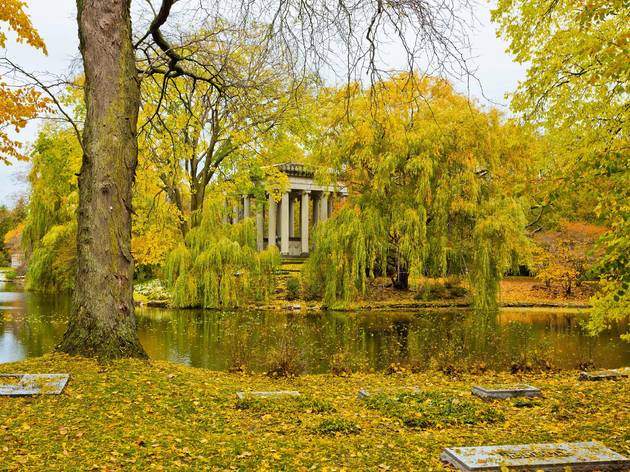 The most hauntingly beautiful cemeteries in Chicago
Immerse yourself in history, architecture and maybe even a bit of haunted lore at these local cemeteries.
If you're angling to spend an afternoon soaking in quiet natural settings, classic architecture and plenty of historical lore, look no further than Chicago's cemeteries. These contemplative locales, some of which date back to the 19th century, serve as the final resting spots of countless famous Chicagoans—so many, in fact, that you could spend hours getting lost among the stately tombstones and crypts studding their manicured grounds, which rival the even the most scenic Chicago parks. Unsurprisingly, many of these spots also number among the most haunted places in Chicago, so try not get too scared when you visit the most beautiful cemeteries in Chicago.
RECOMMENDED: The best haunted houses near Chicago
Beautiful cemeteries in Chicago
Spread across a whopping 350 acres in Lincoln Square, Rosehill is Chicago's largest cemetery, so set aside a few hours to explore its storied grounds. Enter through the Rosehill entrance on Ravenswood Avenue, where you'll pass beneath a stately, castle-like entrance gate (designed by William Boyington, who also worked on the Chicago Water Tower pumping station); once inside, you'll find winding paths, stunning crypts and the burial sites of famous folks like hot dog titan Oscar Mayer and John G. Shedd. Don't miss the cemetery's intricate mausoleum and lore-steeped statues, like the glass-encased sculpture above the gravesite of Frances Pearce and her infant daughter, said to fill with spooky mist on the anniversary of the young woman's death.
This 184-acre cemetery in Greater Grand Crossing has been around since 1854 and serves as the final resting place for dozens of famous Americans, from professional athletes to pioneering civil rights activists. For an afternoon of history, wander among quiet lakes and tree-studded grounds to check out the burial sites of journalist Ida B. Wells, former Chicago Mayor Harold Washington, Olympic athlete Jesse Owens and other familiar names. Notably (and controversially), the cemetery is also home to the Confederate Mound, a mass grave and memorial paying tribute to Confederate POWs from the Civil War era.
Since 1860, Uptown's Graceland Cemetery has served as the final resting place for countless famous Chicagoans, from pioneering architect Daniel Burnham to Bauhaus giant Ludwig Mies van der Rohe, and is filled with commensurately gorgeous obelisks and tombs. Aside from its historic value, Graceland is also just an especially beautiful green space—it's a certified arboretum with more than 2,000 trees spread across 121 acres. Take a walk among its lush grounds to admire natural beauty, stunning burial monuments and a reflective lake while paying respect to some of the city's most influential figures.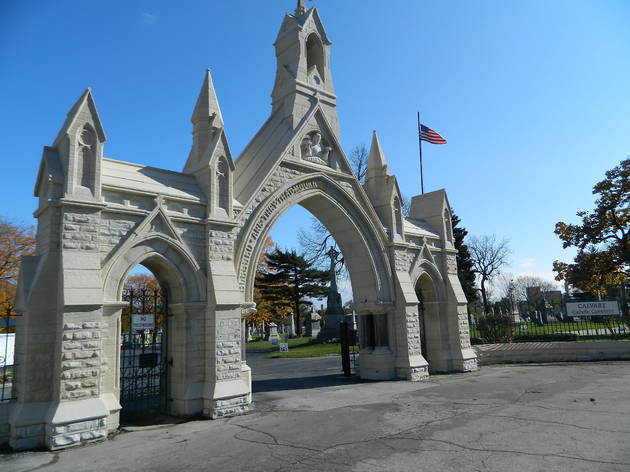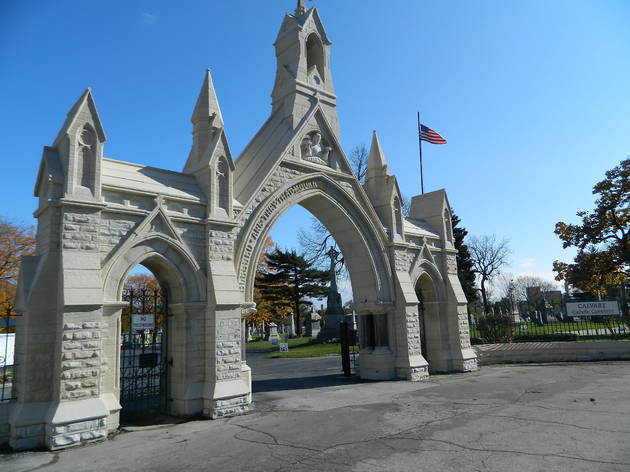 Photograph: Courtesy of the Chicago Architecture Center
Calvary Catholic Cemetery
Opened back in 1859, Calvary Cemetery is the oldest of its kind established by the Archdiocese of Chicago. City dwellers will find it tucked along the lakefront between Chicago and Evanston, just a few blocks north of the Howard Red Line stop. Like its name suggests, the manicured grounds are dotted with religious symbols, including crosses and statues of saints. And though it may not have the same name recognition as Graceland, Calvary is home to some noteworthy Chicagoans, particularly politicians. Five former mayors are buried here, including Jane Bryne, the city's first female mayor. White Sox fans will want to seek out the final resting place of founding owner Charles Comiskey. And when you're done roaming the grounds, the waterfront makes a nice backdrop to reflect: Head north to South Boulevard Beach or south to Rogers Beach Park.
Guarded by a stately, castle-like limestone gatehouse, Bohemian National Cemetery is a peaceful 126-acre expanse that's situated between Albany Park and Brynford Park on Chicago's North Side. Established by the city's Czech community in 1877 to accommodate one of their own who was denied burial elsewhere, the cemetery is home to some notable residents and fantastic architecture. Visitors can find the graves of former Chicago Mayor Anton Cermak as well as many of the victims of the SS Eastland shipwreck, which left 844 passengers dead in 1915. Before you go, it's worth seeking out "Beyond the Vines," a Wrigley Field-inspired brick wall covered in ivy that doubles as a final resting place for devoted Cubs fans.
View this post on Instagram
The 10-mile trek to Forest Park is worth it to stroll the grounds of Forest Home Cemetery, which is actually the site of two graveyards that merged in 1969. Long before that, land was the site of a Potawatomi village and burial ground. Visitors will spot the graves of baseball player Billy Sunday, radio announcer Paul Harvey and serial killer Belle Gunness, but the most noteworthy plot is the Haymarket Memorial. The National Historic Landmark memorializes the lives and executions of the five Haymarket martyrs; at the time, it was the only cemetery that would accept their remains. The monument, pictured above, features a 16-foot-tall granite pillar as well as two bronze figures: a fallen worker and a cloaked woman standing over him.
Craving more fresh air?
With more than 600 facilities throughout the city, the Chicago Parks District boasts something for everyone, whether you're looking for a tiny neighborhood playlot for the kids or a vast swath of green space.