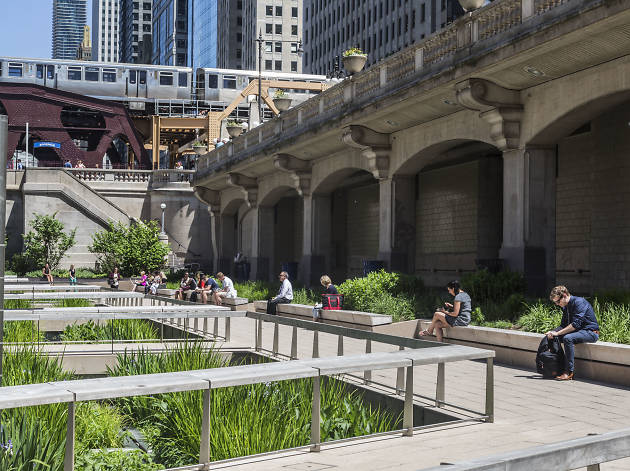 The best free things to do in Chicago
Immerse yourself in the city without breaking the bank with some of the best free things to do in Chicago
In a city filled with delicious food, amazing attractions and exciting events, it's not exactly difficult to blow through your budget while enjoying all of the amazing things to do in Chicago. Even if you're focusing on cheap things to do in Chicago, your expenses can add up quickly. Thankfully, there are plenty of free things to do in Chicago, including Chicago museums that don't charge admission and gorgeous parks that you can roam through. While some gratis attractions have temporarily closed or reduced capacity to encourage social distancing, there are still many great options throughout the city—especially if you love spending time outdoors. We've rounded up some of our favorite free things to do in Chicago, so that you can to out without having to reach for your wallet.
RECOMMENDED: Our complete guide to the best things to do in Chicago
Best free things to do in Chicago
Reservation via Lincoln Park Zoo website required.
See some 1,200 animals—from apes to zebras to flamingos—at one of the last free zoos in the country. The 35-acre attraction connects visitors with animals from all over the world and houses a variety of creatures, big and small, including mammals (beavers, lions, otters and bears), birds (penguins, eagles and parrots) and reptiles (snakes, crocodiles and turtles).
Visitors must enter Millennium Park at Michigan Avenue and Madison Street and to exit at Michigan Avenue and Washington Street. Capacity is limited.
This 24.5-acre park is where you'll find the Frank Gehry-designed Jay Pritzker Pavilion, the Cloud Gate sculpture (a.k.a. "The Bean") and the Crown Fountain. While Millennium Park's usual slate of summer events (Chicago Blues Fest, Millennium Park Summer Music Series, Chicago Jazz Festival) are on hold for the moment, you can take a seat inside one of the social distancing circles on the Great Lawn and soak in the skyline views.
Admission is free through August 31 with reservation via the MCA's website.
The Museum of Contemporary Art houses one of the largest collections of contemporary works in the nation and frequently hosts major touring exhibits, displaying work by the likes of Doris Salcedo, Takashi Murakami and Daniel Clowes. The museum's regular Chicago Works series presents works by local artists, showcasing rising talent and hosting workshops and discussion.
Dubbed "Chicago's front yard," Grant Park's 319-acre expanse is home to the Art Institute of Chicago, Buckingham Fountain, various public art installations and Museum Campus. Sections of the park are usually dominated by events and festivals (such as Lollapalooza and Taste of Chicago) during the summer, but cancelations of large gatherings mean that there's more access to one of the city's most prominent green spaces. Take a stroll through the North Rose Gardens, visit the seated statue of Abraham Lincoln or walk among Magdalena Abakanowicz's Agora sculptures on the south end of the park.
It's certainly possible to spend a bunch of money at this tourist hot spot, which is packed with restaurants, bars, departing boat tours and a gigantic Ferris wheel. But visitors can also come and simply enjoy the sights from Navy Pier, including some epic views of the Chicago skyline and the waters of Lake Michigan. This summer, Navy Pier is also hosting a packed schedule of outdoor cultural programming, including concerts and movie screenings.
Reservation via Garfield Park Conservatory website required.
Described as "landscape art under glass" when it opened in 1908, the Garfield Park Conservatory is one of the largest buildings of its kind in the world. About 120,000 plants representing some 600 species occupy the gigantic greenhouse, which is divided into areas such as the cactus-filled Desert House and the lush green Fern Room. Currently, only the Conservatory's outdoor gardens are open to the public, including the lily pools of the City Garden.
Most of Chicago's regular summer events have been canceled this year, but there's one tradition that seems to work in the age of social distancing. Chicago's fan-favorite Movies in the Parks series forges ahead with an abbreviated lineup and plenty of precaution. The schedule is filled with kid-approved hits—Aladdin (2019), Frozen II and The Lion King (2019)—and capacity at each screening is limited to 100 people.
The main branch of the Chicago Public Library boasts nine floors of books, computer labs, meeting rooms and more. Head up to the ninth floor to see art displayed in the library's exhibit space, gaze up at the skylights that enclose the library's Winter Garden or view the small Harold Washington museum, where memorabilia related to the building's namesake is collected.
Winding along the riverfront from Lake Street to Lake Shore Drive, the Chicago Riverwalk is packed with restaurants, bars and amazing views of the towering architecture which surrounds the Chicago River. Guests can walk, run and bike on the Riverwalk from 5am to 10am, at which point the path closes for a quick cleaning. From 11am to 9pm, the businesses and restaurants lining the Riverwalk welcome guests to enjoy a meal or cocktail by the water.
One of the latest additions to the Chicago Park District, Maggie Daley Park offers 20 acres of recreational opportunity. While the expansive playground and the towering climbing wall are currently closed, visitors can still enjoy the park's green spaces, go putting at City Mini Golf or rent a pair of skates and roll around the skating ribbon.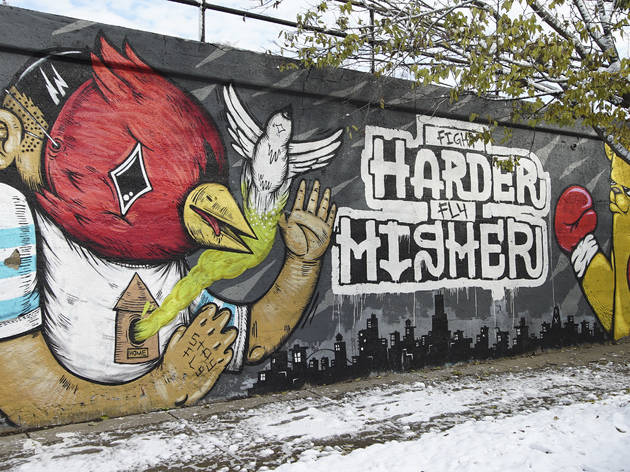 Photograph: Time Out/Zach long
Stretching from the Chicago River to Western Avenue, the walls of an old railroad embankment host a vibrant and evolving outdoor gallery of murals by prominent and emerging artists. Take a stroll along 16th Street to spot murals by revered local artists like JC Rivera and Hebru Brantley, as well as an infamous painting of a severed possum by Belgian street artist ROA.
Humboldt Park was once the nation's greatest public park, boasting acres of Prairie-style gardens, grazing livestock and a meandering river scene. Though the animals are long gone, the park is still a gem among Chicago's public green spaces, filled with lagoons, tennis courts, an inland beach, a fieldhouse, baseball fields and bike paths. If you wander through the area long enough, you'll probably come across the Humboldt Park Boathouse, where you can admire the scenery and pay your respects to the former home of Chance the Snapper.
As long as you're 21 years of age or older (sorry, kids), you can enjoy all the free arcade games you can handle at Replay Lincoln Park. Everything from the NBA Jam cabinet to the Lord of the Rings pinball table is set to free play, which means that you won't be pumping any quarters or tokens into the machines. You can spend all of the money you save on a craft beer or a cocktail at one of Replay's bars. Don't worry—the bar has a large stockpile of disposable gloves and sanitizer available for use during your visit.
Registration via the Chicago Botanic Garden website required for visitors arriving by car.
Admission to the Chicago Botanic Garden is totally free, but if you're driving to the suburban attraction, be prepared to pay for parking (we recommend taking the Metra to Braeside and walking over). Once you arrive, stroll through dozens of wildly different landscapes, including areas devoted to aquatic flowers, fruits and veggies, roses, prairie plants and woodland vegetation. Some areas are restricted, but there's still an abundance of space to practice social distancing and admire nature.
If you want to take a 2.7-mile jaunt through Logan Square, Humboldt Park, Wicker Park and Bucktown, this elevated path is the best way to get around. Built on an abandoned railroad line, the 606 is connected to parks and thoroughfares in some of the busiest neighborhoods on the North Side of Chicago. On a particularly nice day, you'll probably have to dodge cyclists and people pushing strollers, but the trail still provides one of the most relaxing and scenic ways to traverse the city.
Jackson Park once hosted the World's Columbian Exposition of 1893, but these days the 600-acre park offers golf, baseball, a fitness center, a playground, tennis courts and a network of paths for walking, running or biking. We recommend venturing to the Japanese-inspired Garden of the Phoenix to see Yoko Ono's permanent art installation, Skylanding.
Best selling Time Out Offers