The best public art in Chicago
Paint the town red—find everything from a perplexing Picasso to a stark red Calder to eye-opening murals in Chicago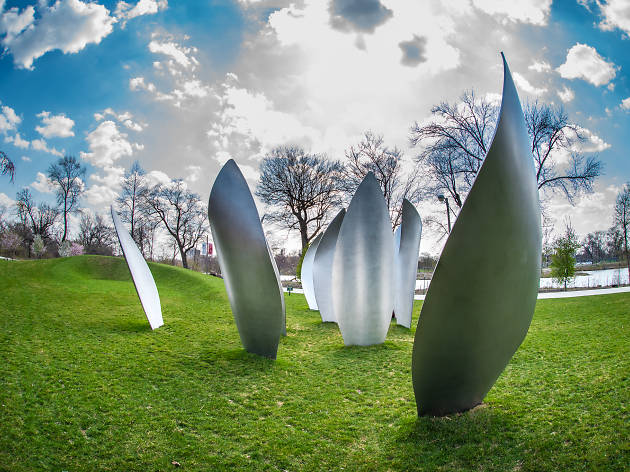 You can (and should!) see some of the amazing art that fills the halls of Chicago's best museums, but your exploration of the city's cultural offerings shouldn't end there. Take a walk through the streets and you'll come across sculptures by Picasso and Calder in the Loop, an ever-changing collection of murals in Pilsen and Hebru Brantley's Flyboy zooming across billboards and walls throughout the city. There's more public art in Chicago than you'll be able to see in a day, so we narrowed down a list of the most essential pieces that you can enjoy almost every day of the year, free of charge.
RECOMMENDED: The best things to do in Chicago
Chicago's best public art
1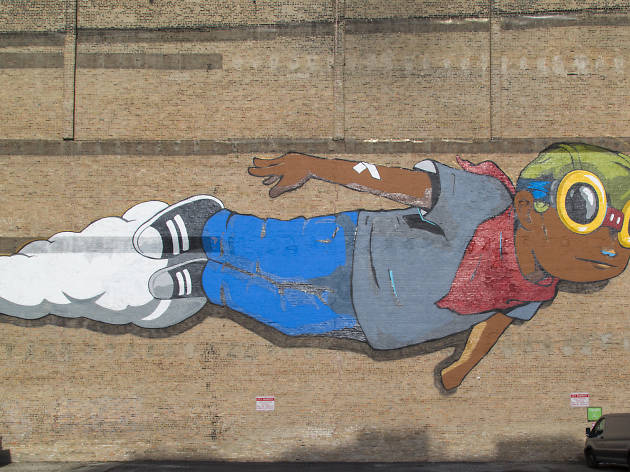 Photograph: Jaclyn Rivas
If Chicago is looking for an official mascot, the city might as well award the title to Flyboy, the creation of Bronzeville artist Hebru Brantley. In Uptown, you'll find a gigantic Flyboy zooming by the Broadway Bank Building. In the South Loop, he's on a wall that overlooks the Roosevelt station. In the McCormick Place Green Line station, multiple versions of the character line the platform. Brantley likes to refer to Flyboy as his version of Mickey Mouse—in Chicago, he's nearly as ubiquitous.
2
Photograph: Pixabay
Anish Kapoor's iconic sculpture (better known as "The Bean") has provided a backdrop for dance parties, been the subject of hundreds of Facebook memes and provided countless reflective selfies. Located in Millennium Park, Cloud Gate is typically surrounded by crowds of people marveling at its shiny surface and snapping photos of the distorted skyline. Its popularity is justified—even locals who've visited the sculpture countless times can't resist walking beneath it to see their kaleidoscopic reflections.
3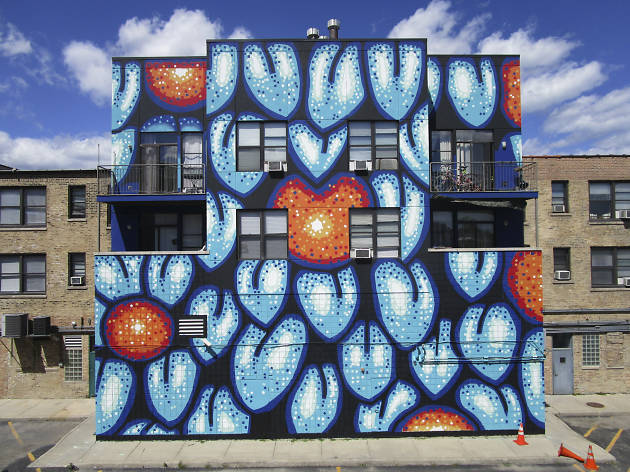 Photograph: Courtesy Sick Fisher
The intricate, glowing designs of local artist Nick Fisher (better known as Sick Fisher) adorn the facades of many local businesses, including Crown Liquors and Bric-a-Brac Records. The Florida-born muralist likes working on a large (preferably outdoor) canvas, much like the back of Sol Cafe in Rogers Park, visible from the Howard Red Line station. Featuring bright orange fruit amid a sea of blue leaves, Fisher's "Big Fruit" mural is the kind of striking visual that every neighborhood should welcome visitors with.
4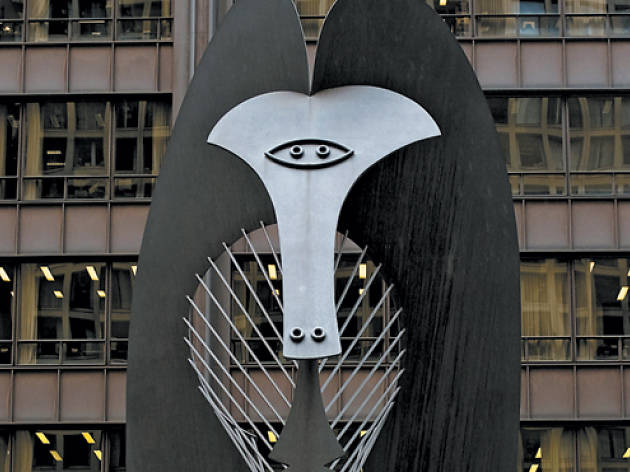 Photograph: Vanessa Valdovinos
It's anyone's guess as to what Pablo Picasso was trying to depict when he created this untitled sculpture, but his work has become a prominent part of the Chicago's cultural fabric. Commissioned by the architects of the nearby Daley Center, the sculpture was completed as a gift to the people of Chicago and placed in Daley Plaza. It quickly became one of the most popular public slides in the city—you'll usually see kids (and adults) scooting down its slanted base.
5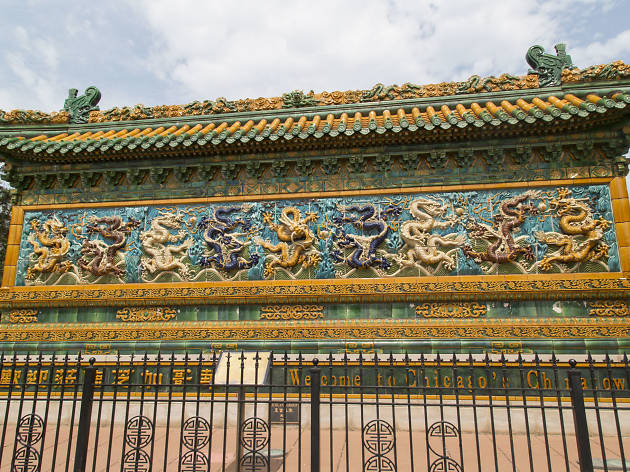 Photograph: Jaclyn Rivas
Across the street from the iconic Chinatown Gate, the Nine-Dragon Wall is modeled after a similar piece of public art in Beijing, China. Adorned with nine large dragons and more than 500 smaller ones, the brightly colored wall is meant to serve as a symbol of good fortune. The Chinese-American Museum of Chicago claims the wall also boosts the area's feng shui, warding off the bad energy created by the nearby I-55 highway.
6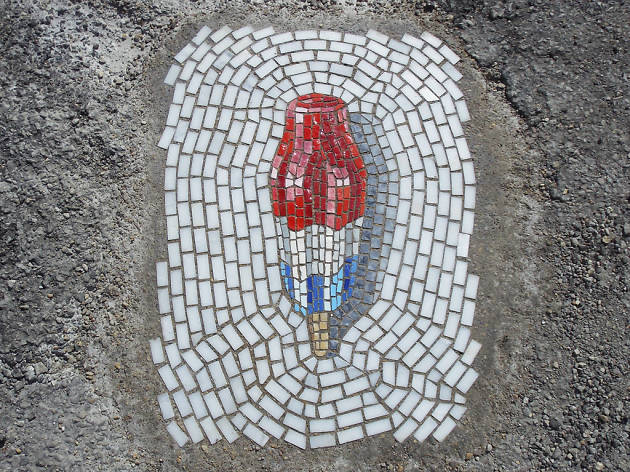 Photograph: Courtesy Jim Bachor
Jim Bachor's pothole installations
Touring a new city often means craning your neck to look up at skyscrapers, but depending on the street, visitors in Chicago can be caught looking toward their feet. Mosaic artist Jim Bachor has been bringing cheer to some of the city's saddest potholes since 2013, filling the ugly voids with his take on the Chicago flag, flowers or, everyone's favorite, colorful ice cream treats. You'll never curse a pothole quite the same way again.
7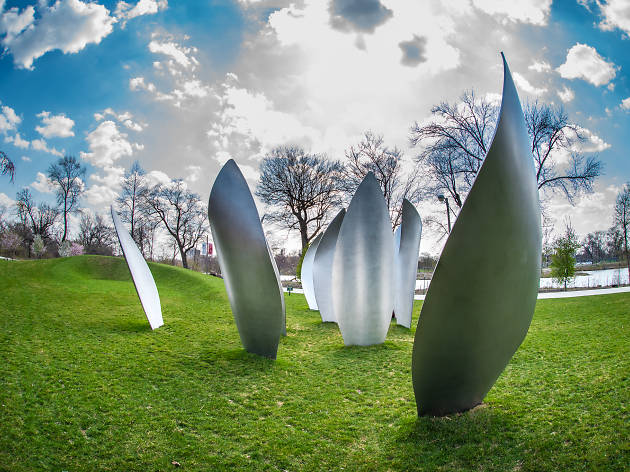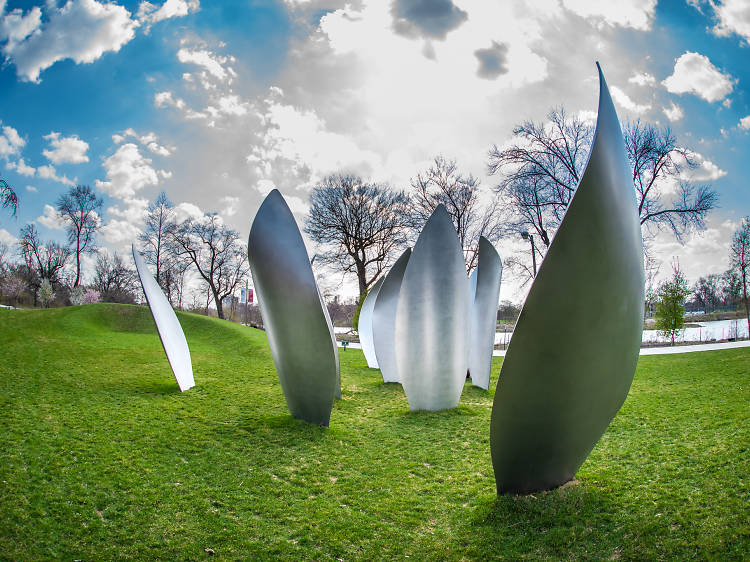 Photograph: Neal O'Bryan
Erected on the site of a former pavilion built by the Japanese government for the 1893 World's Columbian Exposition (which was destroyed by a fire in 1946), Skylanding was designed by activist and artist Yoko Ono. Comprising 12 metallic pedals in Jackson Park's Garden of the Phoenix, the sculpture is meant to be a symbol of peace. The installation is accompanied by a custom website, where visitors can record wishes for the future.
8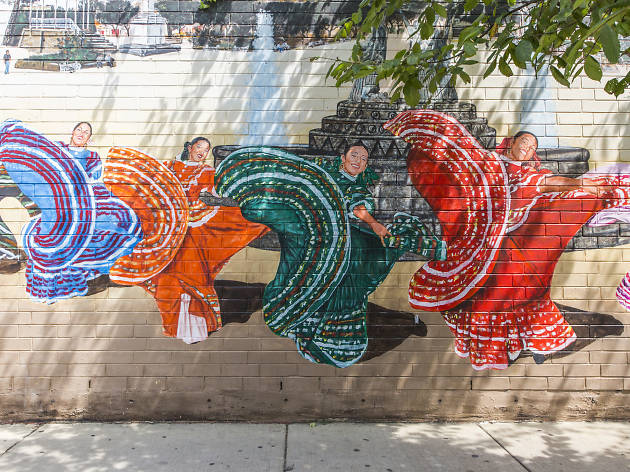 Photograph: Jaclyn Rivas
It's impossible to walk through Pilsen without encountering a massive mural gracing the side of a building, a train platform or a railway embankment. The near South Side neighborhood is brimming with notable outdoor paintings, including a large piece by local artists Hector Duarte and Francisco Mendoza. Walk along 16th Street (between Ashland Avenue and Halsted Street) and you'll be treated to an ever-changing array of murals, which cover a Metra railway embankment—a veritable outdoor art gallery.
9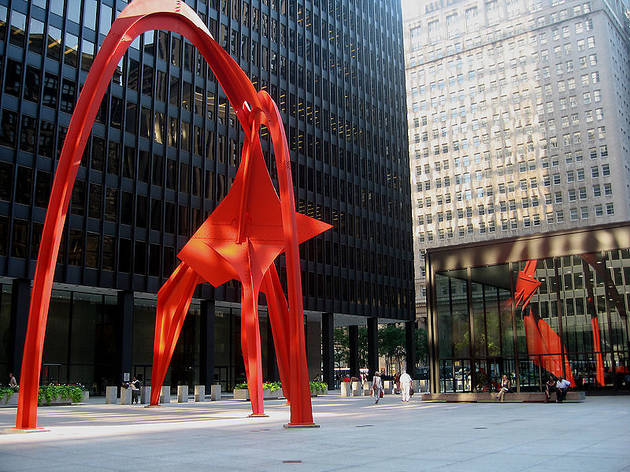 Alexander Calder's Flamingo
Weighing 50 tons and painted a striking shade of red, the undulating form of Alexander Calder's Flamingo is often visible from blocks away. The arching sculpture was installed in Federal Plaza (at Adams and Dearborn streets) in 1974 and was designed to allow viewers to walk beneath it, accentuating its 53-foot height. The splash of color (a shade called "Calder Red") sticks out against the muted tones of the surrounding buildings.
10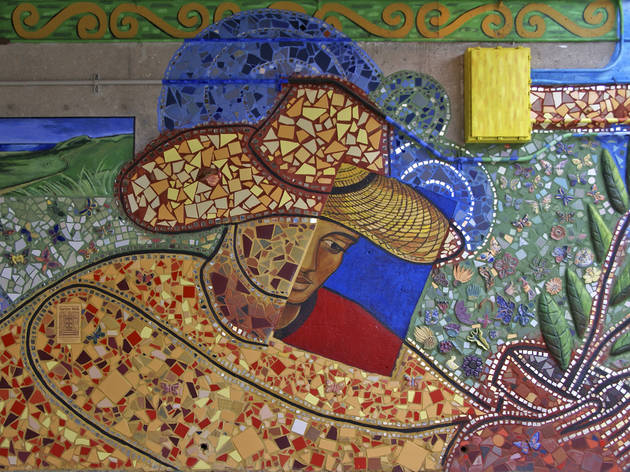 Photograph: Terence Faircloth/Flickr
Bryn Mawr mosaic on Lake Shore Drive
On what would normally be a dark stretch of road, the Lake Shore Drive overpass above Bryn Mawr Avenue is brought to life with a vibrant collage of bricolage murals on both sides. Nearly 400 local volunteers worked to create this sprawling piece using materials like colored tiles, clay, mirror shards and concrete. This work of art is so large that one mural on the northern wall rises to a height of 15 feet and stretches a staggering 185 feet.
11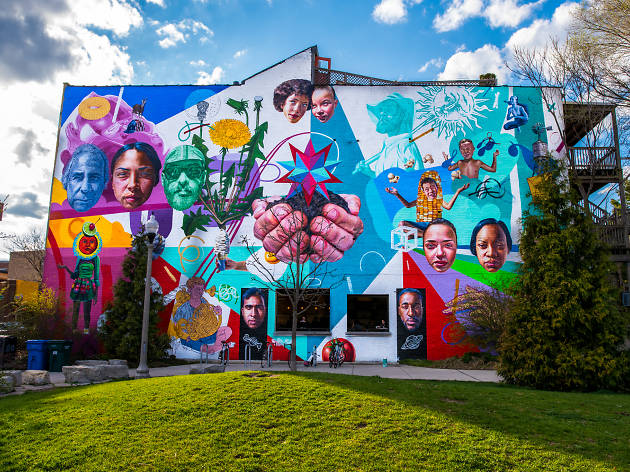 Photograph: Neal O'Bryan
Conagra Mural (Urbs in Horto)
Named for its underwriter, locally headquartered packaged-foods company Conagra Brands, this vivid mural takes up the side of a building in Park No. 567, near the Milwaukee Avenue bridge on the 606. Local artist Jeff Zimmermann acknowledges Chicago's agricultural legacy throughout the colorful mural, depicting hands full of dirt, a man dressed in a corn suit, dandelions and floating heads.
12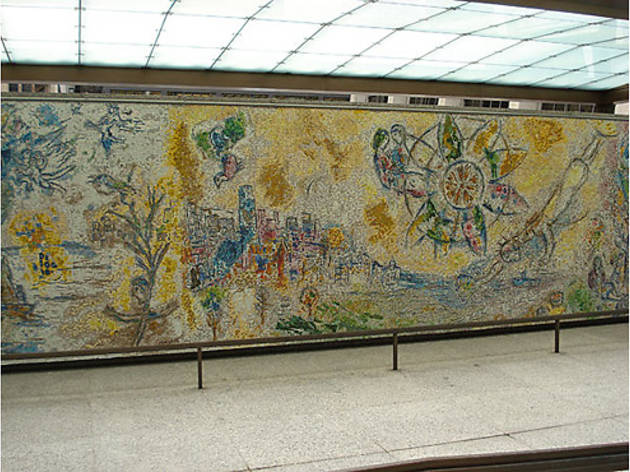 Marc Chagall is perhaps best known in Chicago for his America Windows, which are located at the Art Institute and made an appearance in Ferris Bueller's Day Off. But you don't need to visit a museum to see Chagall's work—his huge mosaic, The Four Seasons, is comprised of colorful chips in more than 250 colors and is situated in the Chase Tower Plaza. Built in 1974, the installation depicts six scenes of life in Chicago.
13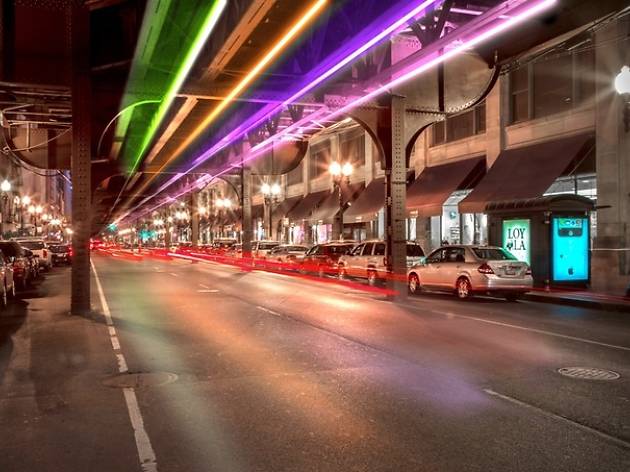 Wabash Avenue has been transformed in recent years, lead by an overhaul of the El tracks along the street. A pair of Chicagoans are brightening the area with LED lights mounted beneath the tracks and calling the project Wabash Lights. With a few lights already installed, they're hoping to expand the color-changing glow along the entire street and allow passersby to choose the colors by using a smartphone app.
14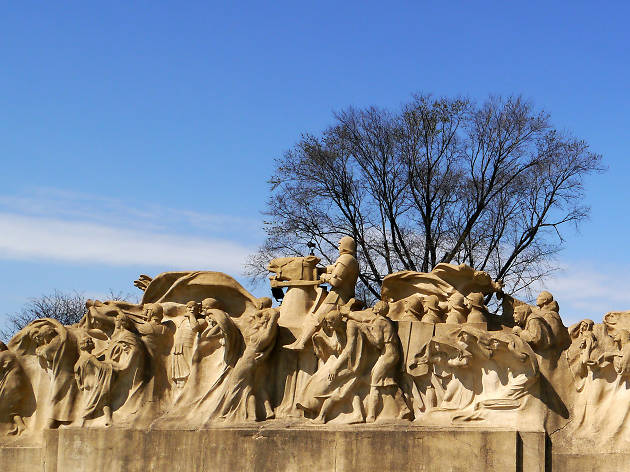 Photograph: CC/Flickr/Howard Lifshitz
Depicting 100 figures passing in front of Father Time (who carries a scythe), the Fountain of Time was created to celebrate 100 years of peace between the United States and the United Kingdom. Lorado Taft made the 1246-foot-long sculpture from concrete and incorporated a reflecting pool, situating it on the western edge of the Midway Plaisance in Washington Park, near the University of Chicago. One of the figures in the intricate sculpture is a self-portrait of Taft—see if you can figure out which one.
15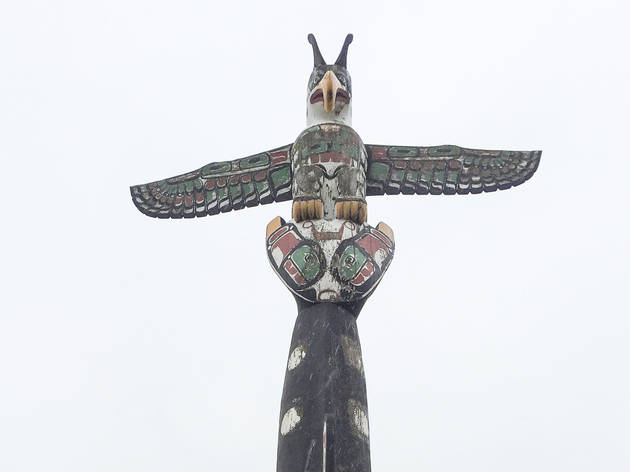 Photograph: Kris Vire
On the lakefront, just east of where Addison Street meets Lake Shore Drive, stands a colorful 40-foot-tall totem pole, a reminder of Chicago's connection to the Native tribes of the Pacific Northwest. Alaskan ethnologist George Hunt introduced the city to the Kwakiutl tribe of British Columbia with an expansive exhibit at the 1893 World's Columbian Expo. In 1929, processed cheese patent-holder James L. Kraft donated a Kwakiutl totem pole he'd acquired to the city. The current pole, called Kwanusila, is a replica of Kraft's, commissioned in 1985 by Kraft Inc. to replace its weathered predecessor.
Check out more art at Chicago's best galleries
You'll find some truly amazing art housed in Chicago's finest museums like the Art Institute and the Museum of Contemporary Art, but your journey through the city's creative offerings shouldn't stop there. There are commercial galleries, nonprofit art centers, university galleries and new contemporary art spaces throughout the city—you just have to know where to look.