The best attractions and things to do in Wrigleyville
You don't have to be a baseball fan to enjoy a day on the Cubs' home turf. We tracked down some of the best things to do in Wrigleyville—it's not just bars.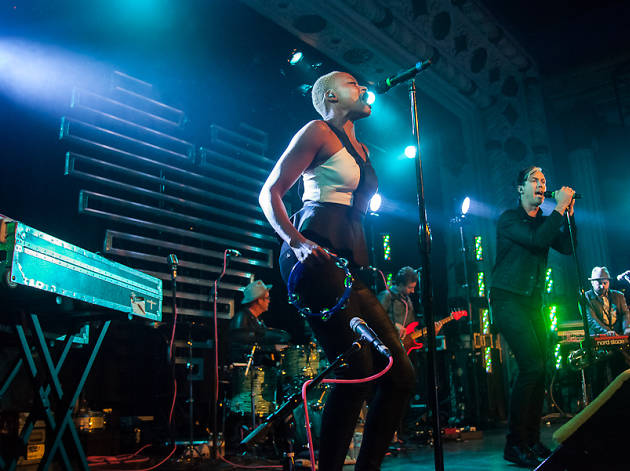 Wrigleyville may be named for the stadium at its center, but the Chicago Cubs aren't the sole draw in this small Chicago neighborhood. Grab some great burgers and see some funny folks perform at Rockit Burger Bar's weekly comedy show or head down the street for a dance party at Smart Bar. If you're a history buff or a fan of offbeat Chicago attractions, you may enjoy a stroll through the nearby Graceland Cemetery. Leave the "Friendly Confines" behind and experience some of the best attractions and things to do in—and around—Wrigleyville.
RECOMMENDED: Our complete guide to Wrigleyville
Things to do in Wrigleyville
This shiny new home for the LGBT community opened in 2007 as a LEEDS-certified ecofriendly delight. The Hoover-Leppen Theater stages LGBT-themed productions and doubles as a house of queer-friendly worship on Sundays while the Billie Jean King Recreation Hall beckons sports enthusiasts, but it's the wide array of social services that lures LGBT youth, seniors and minorities from the South and West Sides.
Read more
Since 1860, the Graceland Cemetery has been the final resting place for numerous famous Chicagoans. You can take a self-guided tour of the picturesque grounds between 8am-4pm and pay your respects to politicians, writers and other prominent figures of the past.
Read more
The twentysomethings in the back room playing board games are missing out. The real action is at the bar, where silver-haired ladies flirt with ex-frat boys and the occasional indie-rock couple. It's tough to find a place in Wrigleyville where worlds collide and all are welcome for a mildly drunken kumbaya vibe, but that's exactly what this is.
Read more
Metro is one of the city's older and more famous clubs. Formerly known as the Cabaret Metro, it hosts a variety of midsize national touring acts of all genres, from rock to hip-hop to electronica. A number of its shows are all-ages or 18-and-older, so you'll likely be frequenting it. Downstairs you'll often find excellent DJs at the adjacent Smart Bar.
Buy tickets
Read more
The brie-topped Kobe burgers and juicy steak Pockits at this Wrigleyville Billy Dec outpost are pretty great, but the restaurant also hosts a great weekly comedy night. Head to the upstairs lounge on Tuesday nights to catch the mostly-female Hoo Ha Comedy showcase.
Read more
What can lure sports fans away from a sidewalk patio that's spitting distance from Wrigley? A bajillion TVs playing every televised game, a batting cage, Pop-A-Shot, mini bowling and more wings than even "The Fridge" Perry can handle. On Friday and Saturday nights, dueling piano players take requests and dancer's pole on top of the instruments beckons exhibitionists.
Book now
Read more
Originally on the fourth floor of the magnificent Wrigleyville building (also home to Metro), this venerated dance club is now in the basement. A recent makeover slicked up the looks a notch and brought back a vibrant young crowd. But more important, the club boasts a world-class Funktion One sound system, which sounds tremendous on the central dance floor. Cutting-edge DJs from Europe, Detroit and Chicago form the bulk of the weekend bookings with house, techno and electro styles; but local mash-up and indie jocks rule on bargain weekday nights.
Buy tickets
Read more
The Strawdog gang resides comfortably over an East Lakeview restaurant. Known for large-cast plays that show off the company's sizable acting ensemble, the troupe tends to put twists on traditional fare, from Shakespeare to Chekhov. A newly renovated bar space, Hugen Hall, serves as a venue for late-night music and other postshow shenanigans.
Read more