Great things to do in Zagreb in June
The top events and attractions in the Croatian capital this month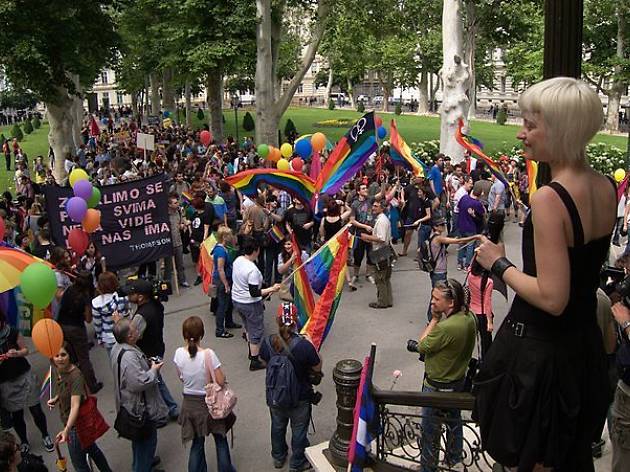 Before the city-dwellers slip away to the Adriatic coast, Croatia's capital spurs into life in June: cultural festivals, music events and major attractions strike up a city-wide summer party. Here are some great goings-on this June.
RECOMMENDED: more great things to do in Zagreb.
This summer-long series of outdoor events offers an outstandingly varied programme of concerts, art-and-craft stalls and downright unusual happenings (the best mongrel dog show, finest wine-and-soda spritzer competition) in the lovely, leafy setting of the Upper Town's Strossmayer Promenade. There's usually a local band playing every night, and a couple of al-fresco bars at the scene make this a great place to hang out on balmy evenings.
It's often thought that the cultural and political turbulence of the Sixties was something that happened in London, Paris, Prague or West-Coast USA, leaving other parts of the world to passively watch from the sidelines. What this major exhibition reveals is that countries like Croatia were not on the fringes of a revolution happening somewhere else, they were themselves at the centre of the whirlwind. Then a constituent republic of the communist-ruled Yugoslav federation, Croatia enjoyed an unprecedented economic boom in the 1960s. People had money in their pockets, feeding the kind of consumer industries that employed designers, marketing strategists, advertising executives and stylists – the very people we call "creatives" today. Cracks in communist discipline unleashed increased dissonance in political views and a relaxed attitude to censorship, while relative cultural freedom allowed avant-garde artists to explore any avenues they wanted. Navigating its way through politics, art, pop music and film, the exhibition is a lavish visual treat: examples of magazine layouts, clothing patterns and swanky domestic furniture will provide stacks of inspiration for anyone interested in modern design. Sudden shifts in lifestyles are signalled by exhibits such as the "Fića", the Yugoslav-made version of the Fiat 600 that brought car ownership to the masses; a pair of Rifle jeans, the most popular purchase for Croatian shoppers popping over the border to Trieste; and arguably the mo
From Spring until early Autumn, history consumes Zagreb. Zagreb Time Machine sees the city celebrate its heritage, with droves of enthusiasts donning fancy dress and performing in the street. Walking through the Upper Town, you might encounter Marija Juric Zagorka – the first female journalist in Croatia – or the poet Antun Gustav Matos. A newsboy will update you on local events, while the city guard will oversee your security. In the Zrinjevac park pavilion, in the centre of town, you'll hear the strains of waltzes and tangos. A brilliantly, quirky way of bringing history to life.