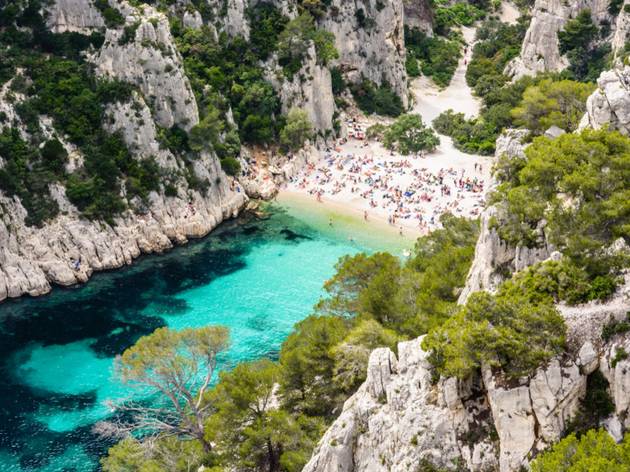 The 17 most beautiful places to visit in France
Coastal creeks, heavenly hilltops, truly charming châteaux: this is our pick of the most beautiful places to visit in France right now
Ever diverse and impossible to pin down, France of course means many things to many people. For some, it's beaches and Mediterranean sun. For others, it's the glossy ski slopes of the Alps. For others, it's the otherworldly lavender fields of Provence. And for others yet, it's all those rural châteaux – ironically complete with impeccably manicured 'English' gardens.
So what do all those visions of la vie à la française have in common? In their own way, they're all bloody beautiful. And we each, inevitably, have our own absolute favourite. That's probably why indefatigable travellers like us can't stop going back: year after year, France is the most visited tourist destination on the planet. We crave a return to that one local boulangerie, that one blue run, that one coastal walk.
Even if you haven't visited the country before, you'll no doubt come away singing the praises of whatever random region you end up going to first. Planning a holiday right now? Browse our list of the 17 most beautiful places to visit in France in your lifetime and pick your next dream tricolore getaway.
RECOMMENDED: Full guide to the best things to do in France
Most beautiful places to visit in France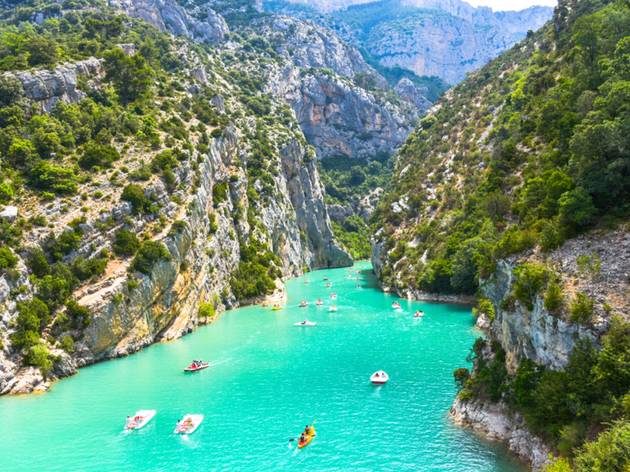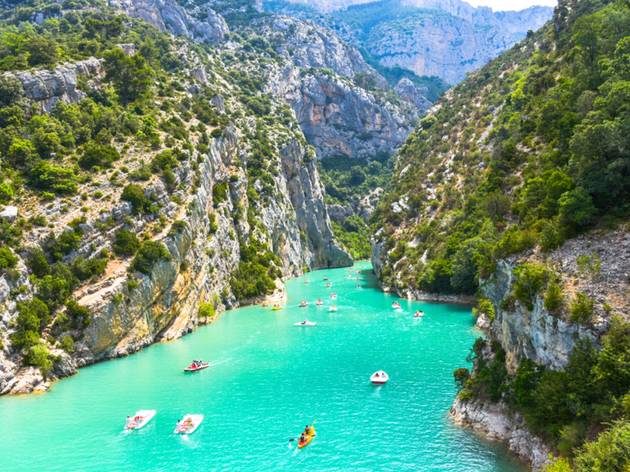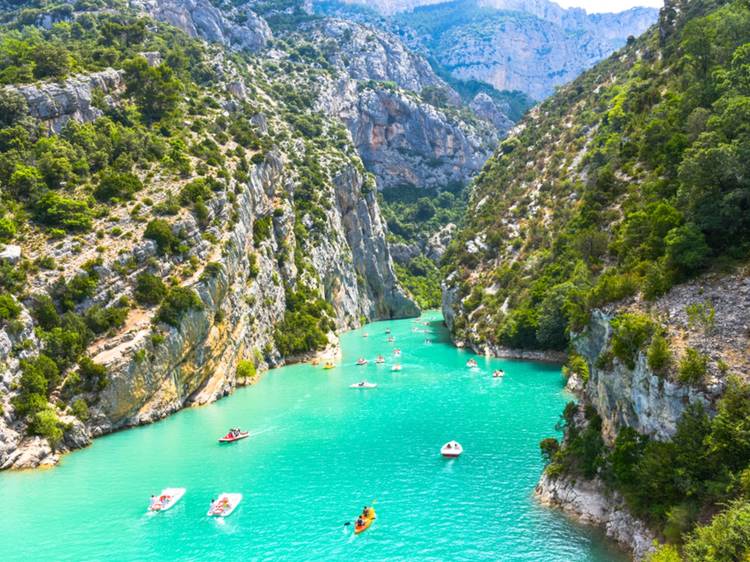 Photograph: Shutterstock
Soaring some 700 metres into the air, the gravity-defying limestone flanks of the Verdon Gorge are striking enough. And then you catch sight of the water, which is a dazzling turquoise-green hue unlike anything else on earth. This gargantuan river canyon – said to be the world's second tallest – draws hikers, swimmers and kayakers fed up with the bustle of the nearby French Riviera. Instead: a tranquil slice of the tropics in, er, rural Provence.
Photograph: Shutterstock
The puys of Auvergne are rounded hilltops formed by hardened magma from a chain of dormant volcanoes. The star attraction in the 395,000-hectare Auvergne Volcanoes regional nature park, the Chaîne des Puys, the Monts Dore, the Cézallier and the Monts du Cantal make a peculiar yet truly unique setting for hikes, cycle trips and hot-air balloon rides. Don't miss the unearthly Pavin crater lake.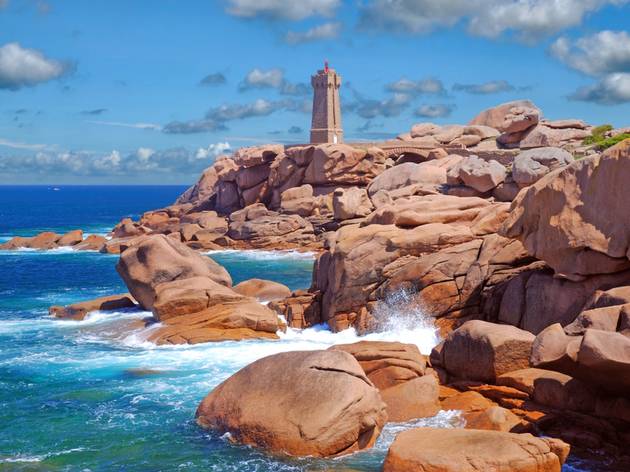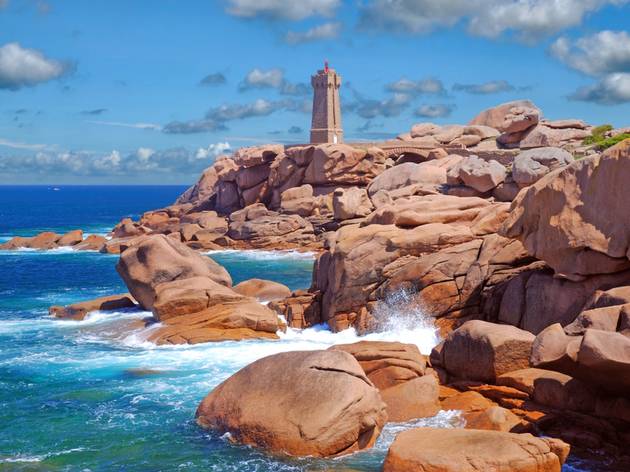 Photograph: Shutterstock
Fancy a flavour of la vie en rose? South Brittany may have the Baie de Quiberon – the indisputable jewel in the region's crown – but the north can lay claim to the subtler charms of the Côte de Granit Rose. This 10km-long stretch from from Perros-Guirec to Trébeurden is known as the 'Pink Granite Coast' for the huge blocks of pinkish Atlantic-polished rock that line its shores. Local must-dos include lunch in the former fishing village of Ploumanac'h, walking the Sentier des Douaniers route and seabird-spotting in the Sept-Îles nature reserve.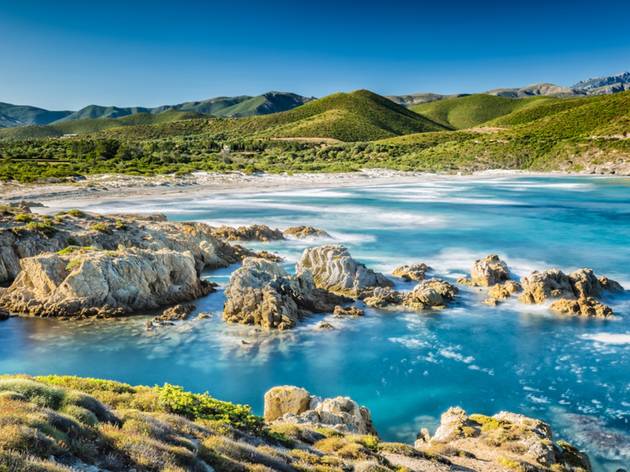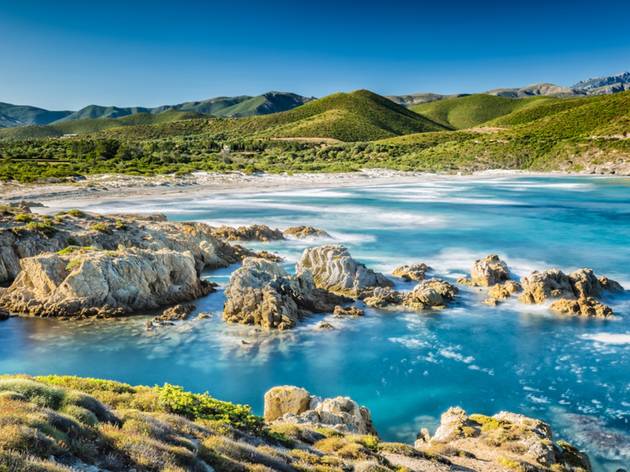 Photograph: Shutterstock
Central Corsica may be dominated by hike-friendly mountains, but the beaches in the north are well worth a look-in too. One of the most beautiful is the Plage du Lotu, which you can access by pleasure boat from the commune of Saint-Florent. Alternatively, if you prefer a physical challenge, you could ramble through the steep, arid, barren wilderness of the Désert des Agriates – Europe's only certified desert – which is fringed by a 40km-long coastal path.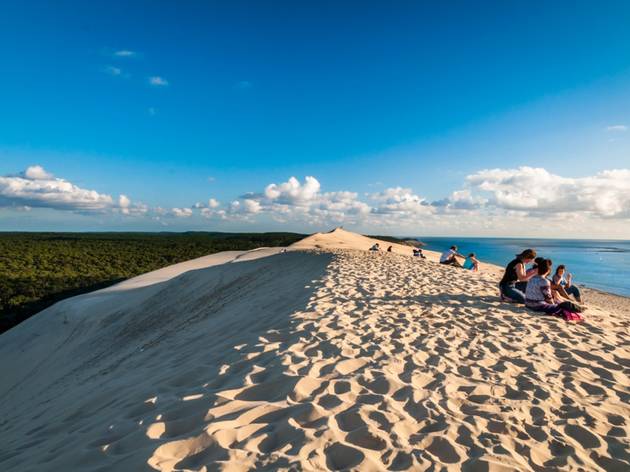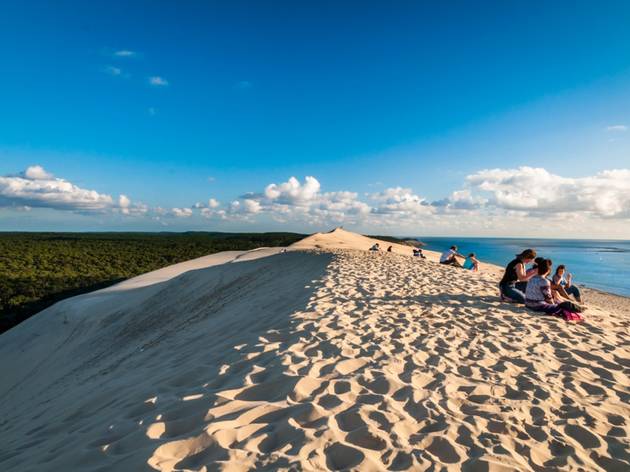 Photograph: Shutterstock
5. Dune du Pilat and the Baie d'Archachon
For seasoned paragliders, the Dune du Pilat needs no introduction. For everyone else, the tallest sand dune in Europe, sandwiched between forest and ocean, may well already be high up your sightseeing hit list. But don't miss out on the neighbouring Baie d'Archachon, home to one of the country's richest and most diverse nature reserves. If you're lucky, you could glimpse bottlenose dolphins, grey seals or even leatherback sea turtles – not to mention thousands upon thousands of migrating birds.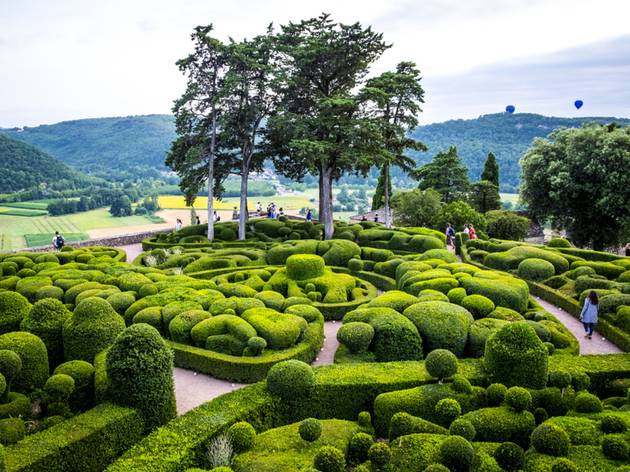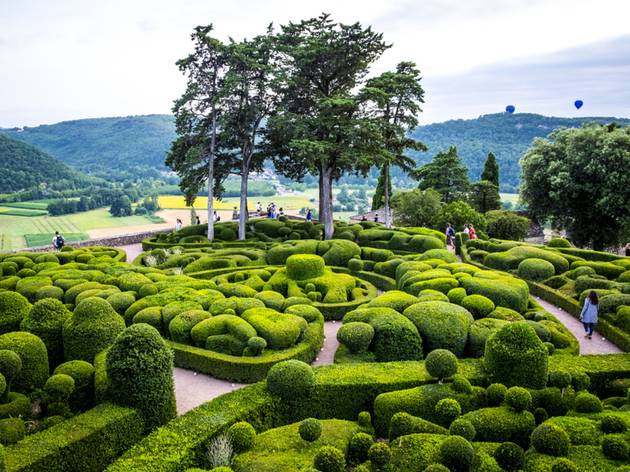 Photograph: csp / shutterstock.com
6. Jardins de Marqueyssac
The Dordogne Valley is replete with idyllic woodland and picture-postcard villages. To take it all in, you should head to the hanging gardens of Marqueyssac, in the grounds of the seventeenth-century château of the same name. Their 150,000 boxwood trees, carved into surreal globular shapes, resemble flocks of sheep on the hillside at Vésac, while a 5km-long walking route through the gardens offers unbeatable panoramas from the castle's clifftop vantage point.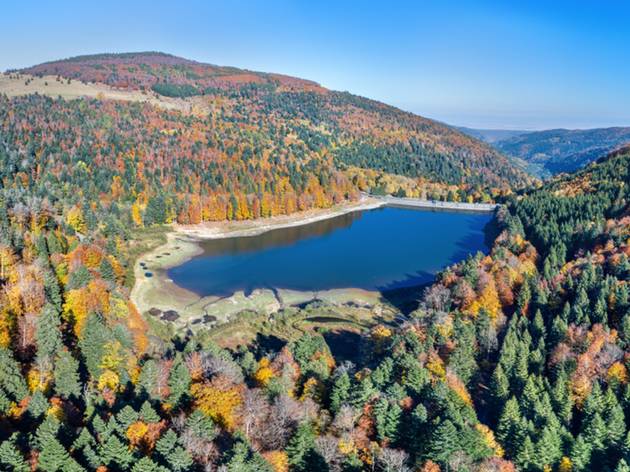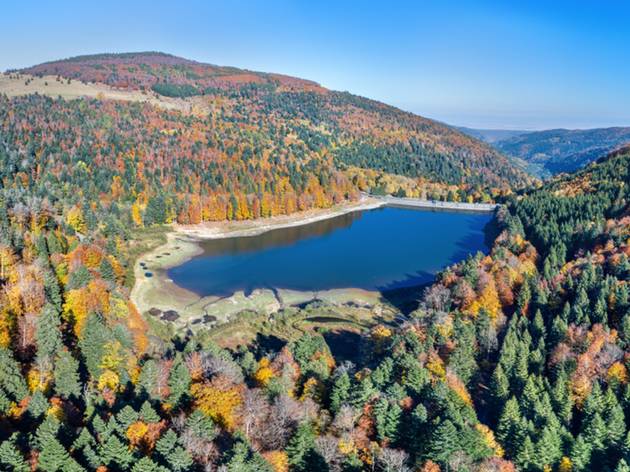 Photograph: Shutterstock
7. Plateau des Mille Étangs
Known by locals as 'Little Finland', the Plateau des Mille Étangs in the Vosges region is a sprawling labyrinth of some 850 ponds formed after the retreat of the area's glaciers 12,000 years ago. The étangs mostly cover around ten hectares each, and are surrounded by intertwining meadows, streams and forests. Any fishing or water sports fans will evidently be in their element, and there are decent footpaths and cycling routes too. Make sure to drop by the thermal baths at nearby Luxeuil-les-Bains and the Notre-Dame du Haut chapel designed by modernist master Le Corbusier.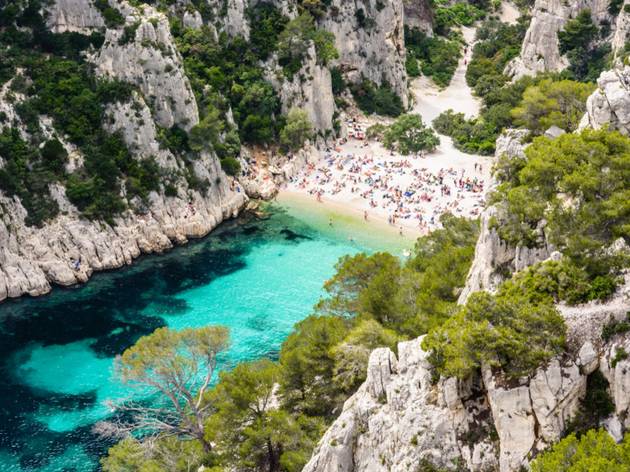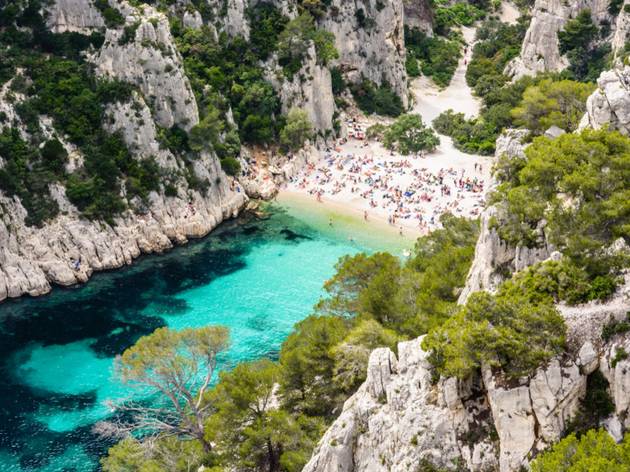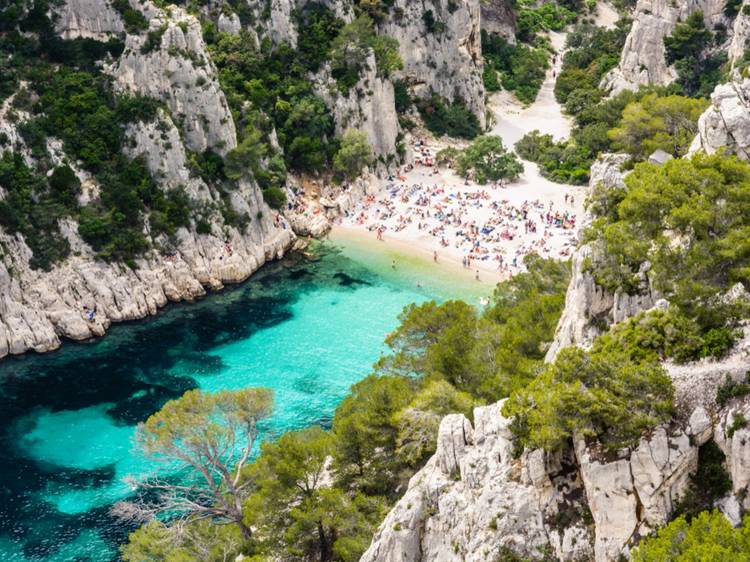 Photograph: Shutterstock
8. Calanques marseillaises
Need an escape to the country after a fun but hectic marseillais city break? Make like a local and pop along to one of the surrounding coastline's many gorgeous calanques (creeks) with charming names like Cassis, Sormiou and Sugiton. Sure, it may be a trek to get out there, but for an unusual, truly multisensory hit of unadulterated holiday bliss, the calanques' beautifully blue (and typically warm) waters, the sweet smell of pine trees and the non-stop buzz of cicadas will almost certainly do the job.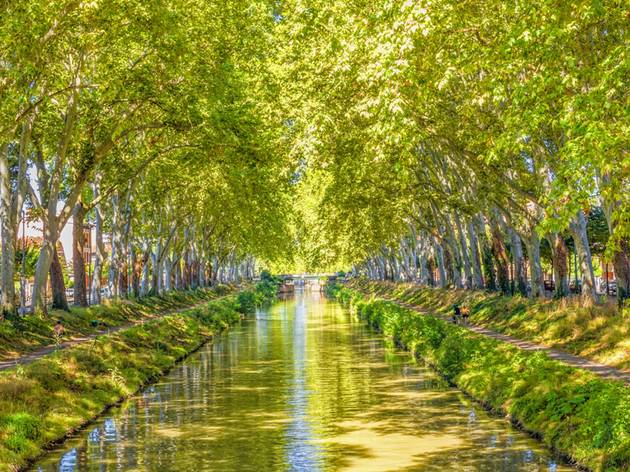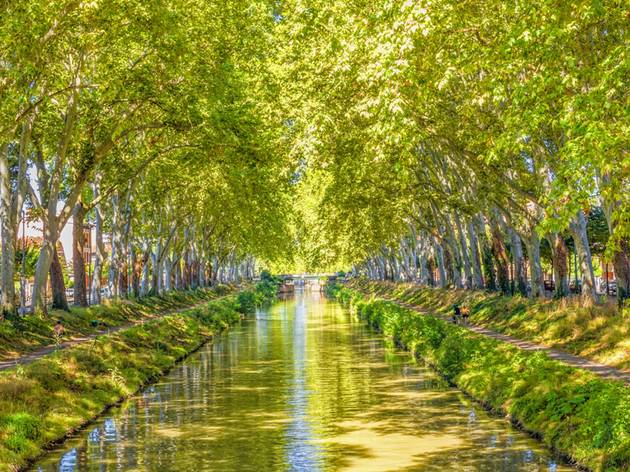 Photograph: Shutterstock
'Parfois au fond de moi se ranime / L'eau verte du Canal du Midi' ('sometimes within me springs / the green water of the Canal du Midi'). The French will often refer to the iconic Claude Nougaro variety classic whenever the Languedoc's most regal of canals comes up in conversation. And many, especially those from the south, would empathise with the sentiment. Connecting the Garonne river with the Étang de Thau basin on the Mediterranean, the 240km-long Midi makes for the dreamiest of waterside cycle trips in summer. Built under patronage of Louis XIV's first minister Colbert in the 17th century, it is now connected to the Canal de Garonne, and together the two canals allow for barges to travel all the way from the Atlantic to the Mediterranean. For the full canal experience, you should rent one.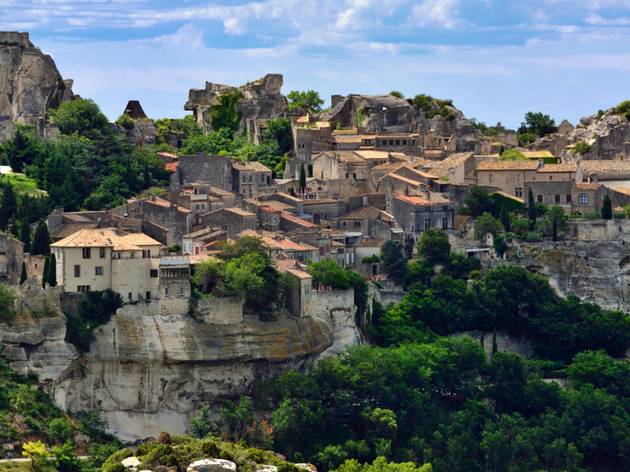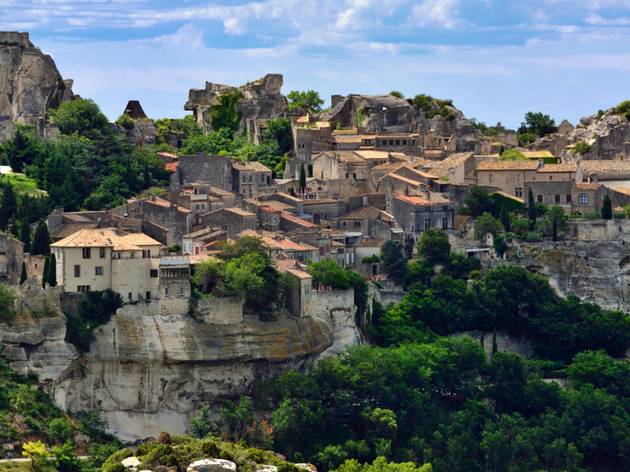 Photograph: Shutterstock
More than a million visitors flock to this spectacular Provençal village every year. And for good reason. Its spectacular location on a rocky outcrop in the Alpilles mountains makes Les Baux-de-Provence an ideal spot to take in the region's sprawling southern plains. Relatively near the photogenic town of Arles – where Vincent van Gogh spent a year just before his death – the village's cobbled alleyways are home to a beautiful thirteenth-century castle and the Musée du Santon, a strangely fascinating museum dedicated to santons, wax and glass figurines traditionally made in the surrounding area. Nearby, you'll also find the Carrières des Lumières, a former bauxite quarry-turned-digital art centre run by the same folk behind Paris's pioneering Atelier des Lumières.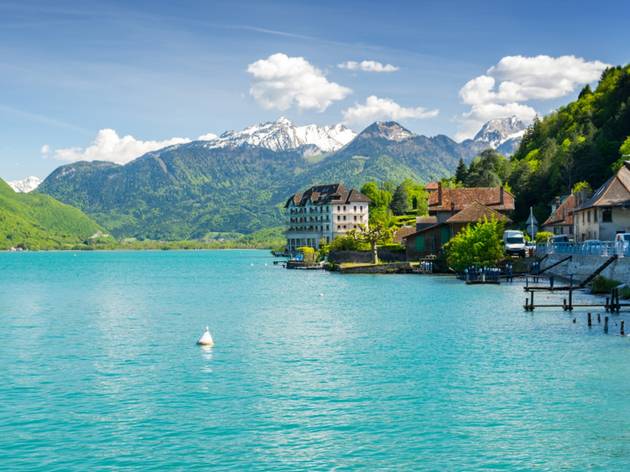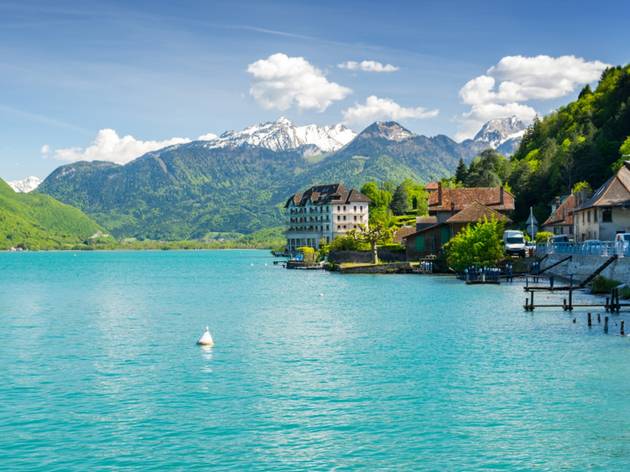 Photograph: Shutterstock
Bordered by snow-capped mountains, Annecy is known as 'Europe's cleanest lake' thanks to strict local environmental regulations. It's also very beautiful. France's third-largest lake – if you discount the French part of Lake Geneva – this 28-square-kilometre destination in Haute-Savoie draws bathers, sailors, divers and sunbathers alike to its 'beaches' in summer. Rich with flora and fauna, the area's hills are ideal for hiking, and Annecy town brims with brilliant restaurants.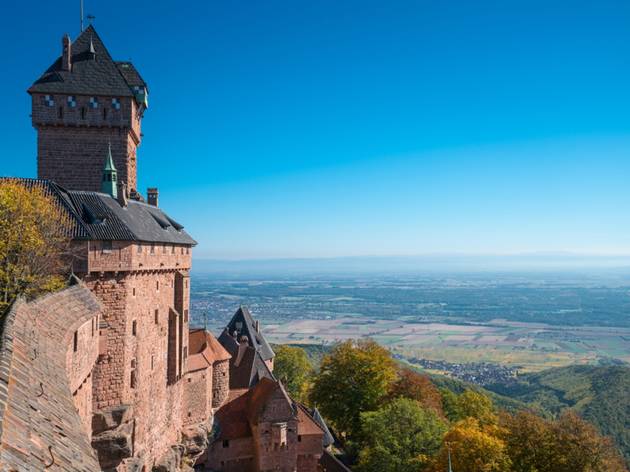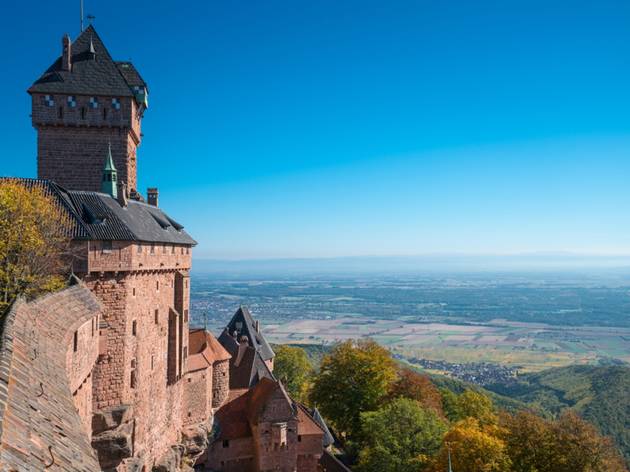 Photograph: Shutterstock
12. Château du Haut-Kœnigsbourg
If you're headed on a road trip to Germany, we suggest dropping by this incredibly picturesque castle overlooking the Upper Rhine plain en route. Perched on a rocky hilltop 700 metres up, the twelfth-century Château du Haut-Kœnigsbourg has changed hands many times over the years, most recently from Germany to France following the Treaty of Versailles in 1919. With its intact dungeon and towers, the medieval structure itself is well worth a mooch, but the gardens and accompanying views are the main draw. This epic complex and its surroundings may well remind you of 'Howl's Moving Castle' (and, quelle surprise, that'll be because Studio Ghibli's Hayao Miyazaki actually did base his fantastical edifice on it). Fyi, it also stars in Jean Renoir's 1937 classic 'Grand Illusion'.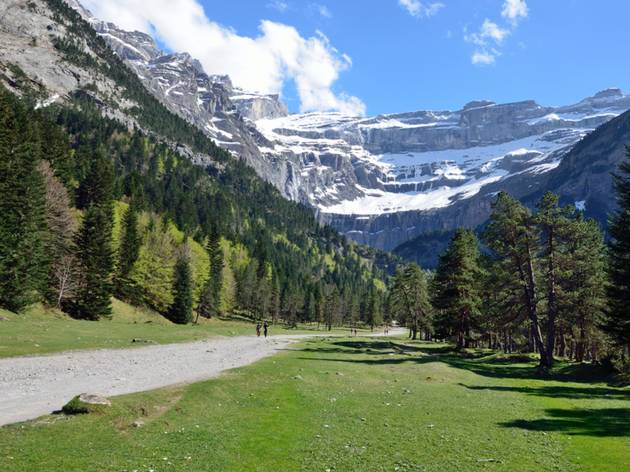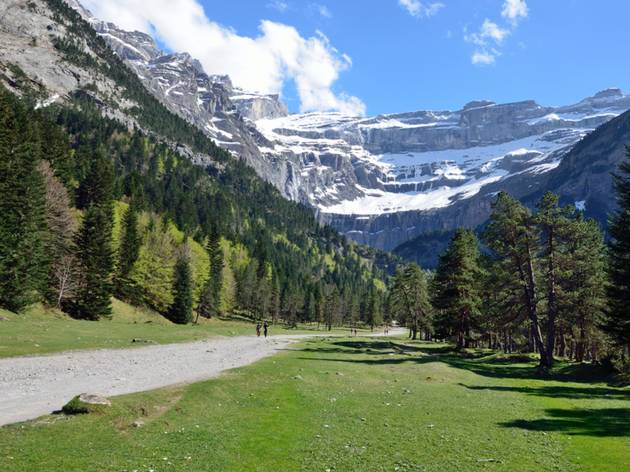 Photograph: Shutterstock
Not far from the border with Spain, the Cirque de Gavarnie is a huge, amphitheatre-like valley that Victor Hugo once described as a 'Colosseum de la nature'. Now a Unesco world heritage site, the Pyrenean cirque is 4km wide and its rock walls loom around 1,500 metres high. Come here in the warmer months and you could gaze up at the 425-metre-high Grande Cascade, Europe's second-tallest waterfall (when it actually flows).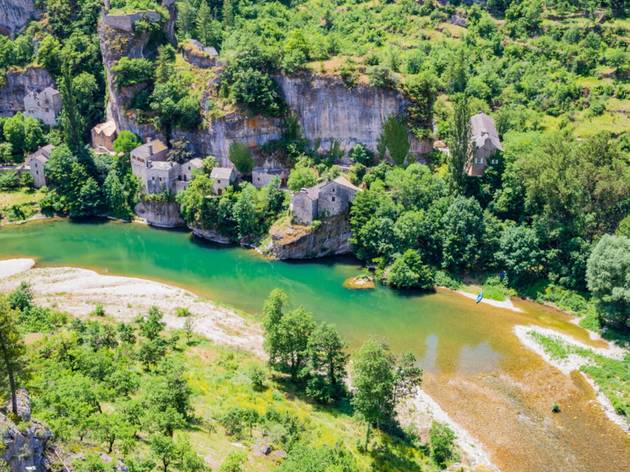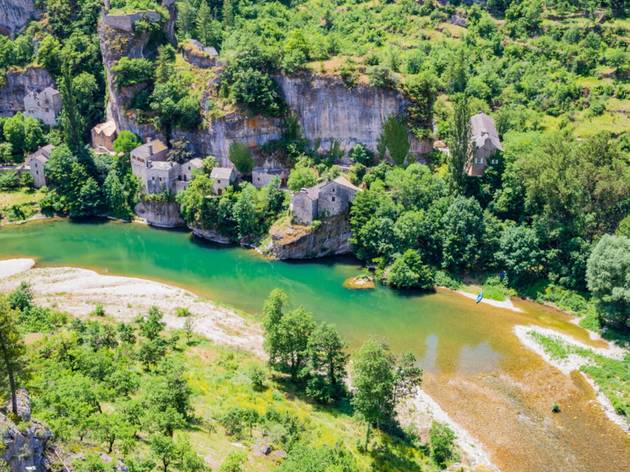 Photograph: Shutterstock
Tucked between the Causses plateaux and the Cévennes mountains, the Tarn canyon is a picturesque adventure and camping holiday hotspot split across the Lozère and Aveyron departments in the south. The striking gorges lend themselves to kayaking, diving and rock climbing, while the nearby plateaux are popular with amateur cavers. Bed down for the night in the pretty seventh-century village of Saint-Énimie, founded by a saint cured of leprosy in nearby waters. And be aware also that sly griffon vultures are known to scavenge in these parts – so watch that picnic!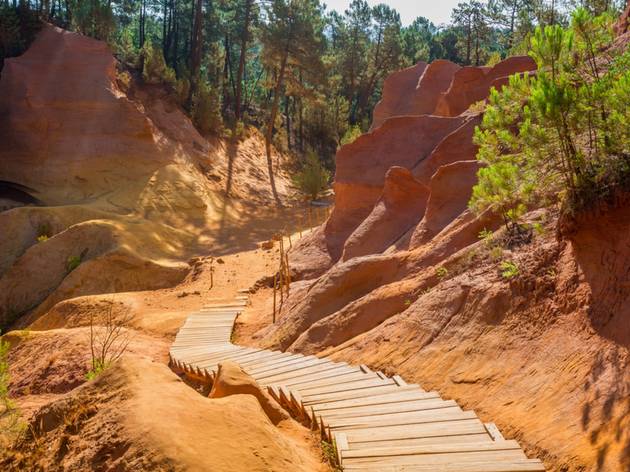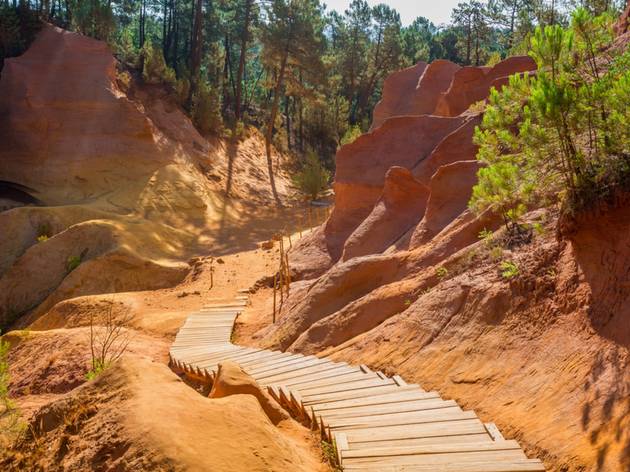 Photograph: Shutterstock
Reds, oranges, yellows: the Sentier des Ocres abounds with flamboyant hues you'd be hard-pressed to find anywhere else in this serene (and very green) corner of France near Aix-en-Provence. Resembling a much smaller version of Monument Valley in the States, the Sentier comprises two marked paths through a disused ochre pigment quarry in Rousillon in the Vaucluse region. Spread over 30 hectares, and renowned for its 20 or so different shades of ochre, it's a truly unexpected sight that's ripe for your next Instagram post.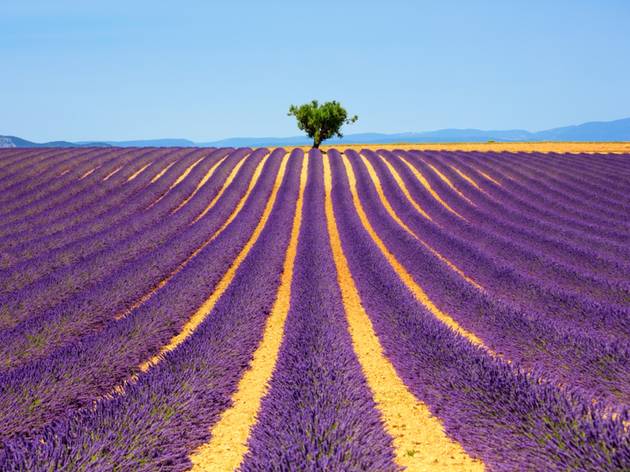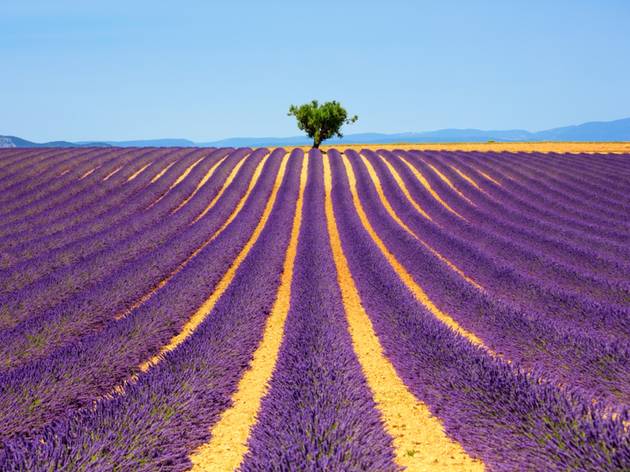 Photograph: Shutterstock
Don't like the smell of lavender? Then best avoid the Valensole plateau, with its fields and fields of purple that stretch into the distance. Not far from the Verdon Gorge, these hilly Provençal slopes abound with 800 square kilometres' worth of the fragrant stuff. We recommend renting a mountain bike and cycling up and down the yellow dirt paths. For a charming stopover, try the villages of Riez and Esparron-de-Verdon.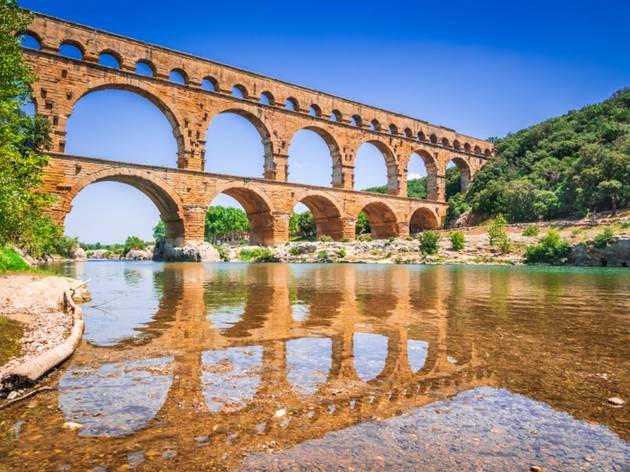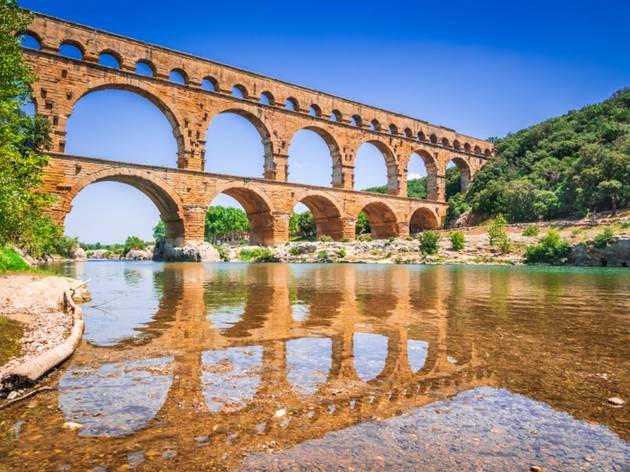 Photograph: Shutterstock
Built to carry water over 50km to the city of Nîmes, the Pont du Gard is surely one of the most impressive Roman monuments still standing. This three-tiered aqueduct, built in the first century BC, straddles the Gardon river near the town of Vers-Pont-du-Gard, and boy is it astonishing to behold. Two millennia after it was erected, the 275-metre-long structure is still sturdy enough to walk across, but for a real sense of its sheer, ambitious size, you'll want to admire this Unesco world heritage site from the water. The river is ideal for canoeing – so try one of several nearby boat rentals.
Find more holiday inspiration
Paris may be beautiful, but boy is it built-up. And come summer… sweat-soakingly muggy. So thank goodness for the brilliant, tranquil, relaxing day trip.