The Program / Son Efsane - Ben Foster röportajı
Bir role hazırlık sürecinde sizce en fazla ne kadar ileri gidilebilir? Ben Foster, Lance Armstrong'u ete kemiğe büründürdüğü 'The Program' için nasıl hazırlandığını Tom Huddleston'a anlattı.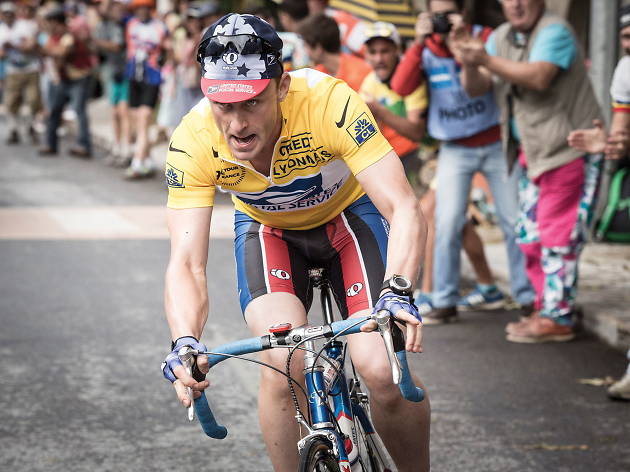 The Messenger' (2009), 'X-Men: The Last Stand' (2006) gibi filmlerden hatırlayabileceğiniz Ben Foster, kısa zaman öncesine kadar Amerika'nın hakkı en çok yenen aktörlerindendi. 34 yaşındaki oyuncunun, Lance Armstrong'u canlandırdığı 'The Program' ile tüm dikkatleri üzerine çekmesi kuvvetle muhtemel. Zira karşımızda kusursuz, Oscar'a koşan bir performans var.
Film öncesinde Lance Armstrong hakkında ne biliyordun?
Hiçbir şey. Tek bildiğim bisikletçi olduğu ve doping kullanmakla suçlandığıydı. İşimin en güzel yanı da bu: Hiçbir şey bilmediğin bir konuya istediğin kadar vakit ayırma fırsatı buluyorsun. Konuyla ilgili elime geçen tüm kitapları okudum ve bir dünya insanla tanıştım. Lance ile birlikte pedal çeviren sporcular, onunla çalışan teknisyenler, beslenme uzmanları…
Armstrong'a pek benzediğin söylenemez. Onu canlandırırken en çok neye dikkat etmen gerekti?
Bisiklet üzerindeki pozisyonuna. Avına saldırmak üzere olan bir avcı kuşu andırıyordu. Marco Pantani'yi bir rampayı tırmanırken izlerseniz neredeyse dans ettiğini düşünürsünüz, öte yandan Lance sanki bisikleti yok etmek ister gibidir. Bu vahşilik rol için çok önemliydi.
Armstrong'un yaptığı hayır işlerini insanlara hatırlatmayı istediniz mi?
En başta şunu sormak önemli: Elimizdeki hikâye nedir? Yanıtı basit, elimizdeki hikâye ilahi bir şey: Bisiklet üstünde bir İsa. Öldükten sonra dirilir ve geri gelip hasta insanları kurtarır. Armstrong hastalıktan kurtulduktan sonra kendi vakfını kurdu (ki ben bunu son derece samimiyetle yaptığına inanıyorum), kanser araştırmaları için yarım milyon dolar para topladı ve insanların hayatını kurtardı. Bu inkâr edilemez bir gerçek.
Rol için neden performans artırıcı dopingler aldın?
Lance'in doping programının bedensel etkilerini de anlamak istedim. Yasa dışı bir iş değildi yaptığım, tüm ilaçları doktor gözetiminde aldım. Kendi kendime enjeksiyon yapmak bile denemeden anlayamayacağım bir şeydi. Kimseye tavsiye etmiyorum elbette ama son derece bilgilendiriciydi.
İlaçların nasıl bir etkisi oldu?
Fiziksel etkileri çok bariz, dayanma eşiğiniz çok yükseliyor. Psikolojik etkileri olan bir ilaç değil, kafanız güzel olmuyor. Sadece daha da motive olmanıza yardım edecek seviyede serotonin salgılıyorsunuz, bu da sizi mutlu ettiği için bir nebze bağımlılık yaratıyor. Riskin farkındaydım. Hiç pişman değilim.
İlaçları bıraktığında yoksunluk çektin mi?
Tabii ki, sinir sistemim allak bullak olmuştu. Yeterince ihtiyatlı olmadım sanırım, sonuçlarına da katlandım.
Başrollerde seni pek göremiyoruz. Neden?
Oynamaya değecek ilginç rol çok az. Gelen senaryoları okuduğumda canım çok sıkılıyor. "Bunu okuyacağıma bir kitap okur ya da güzel bir yürüyüş yapardım," diyorum.
'The Program / Son Efsane' 25 Aralık'ta vizyona girdi.