Sadık Avcı röportajı
Konser ortamlarının bir anda havasını değiştiren ışıklar... 'Bu ışıklar önceden ayarlanmış,' diyecek kadar kendinizden eminseniz, bir de işin aslını Babylon'un Işık Tasarımcısı Sadık Avcı'dan dinleyin deriz.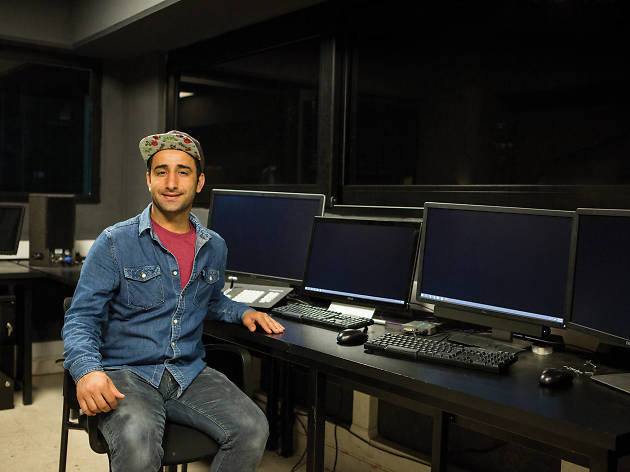 Rutin bir konser gününde ne yapıyorsun?
Konser öncesinde hazırlanmak için çok vaktim olmuyor. O gün konser mekânına geldiğimde hem ışık hem de video olarak ne hazırlayabilirim hızlıca ona bakıyorum.
Her şeyden sen mi sorumlusun yoksa kendi ışıkçısıyla gelen müzisyenler de oluyor mu?
En fazla iki ayda bir tam teşekküllü etkinlik çıkar. Onun dışında çoğunlukla bütün iş bana kalıyor. Prova şansım bile olmuyor, aslında yaptığım iş müziği takip etmek. Ne çalıyorlar, daha sonra ne yapabilirler onlara bakıyorum.
Elinde en azından çalınacak şarkıların bir listesi oluyor mu?
Bazen oluyor ama elimde öyle bir liste varken de şarkıları önceden dinleyip hazırlanma şansım yok. Her şeyi o sırada planlamam gerekiyor, her şey doğaçlama gelişiyor.
Konser sonrasında "Işıkçınız şarkılarımızı nerden biliyor? Her şeyi tam zamanında yaptı," diyen müzisyenler oluyormuş.
Bana en çok sorulan soru, şarkıları önceden bilip bilmediğim. Hatta bazen "Bu çaldığımız yeni bir parçaydı, sen nereden biliyorsun?" diye soruyorlar.
Müzikle uğraşıyor musun? Serde müzisyenlik var mı?
Hayır, ama çok seviyorum, çok fazla müzik dinliyorum. Yat kalk tüm günüm müzik dinleyerek geçiyor. Zaten işim de müzik dinlemek bir açıdan.
Hangi yollardan geçip ışıkçı oldun?
Vallahi eskiden bu işin bir okulu yoktu Türkiye'de. Artık video-art bölümleri var ama sanıyorum ışık üzerine bir okul hâlâ yok. Ben biraz şans eseri başladım aslında bu işe. Geri dönüşler çok pozitif olunca tabii motive oldum. Kendi kendimi yetiştirmeye başladım. Bu işin büyük kısmı masada biter, teknolojiye hâkim olmak lazım. Oturdum bol bol çalıştım.
Çalan müzisyenle ilişkin performansını etkiliyor mu? Duyduğunda motivasyonunu artıran konserler oluyor mu?
Evet, bu seneki Oscar and the Wolf konseri mesela. Müzikleri zaten çok iyi, daha önce bir kere izleme fırsatım da olmuştu. Onlara ne yapabilirim diye düşündüm. Genellikle insanlar yaptığım işi takdir eder ama ben hep "Daha iyi yapabilirim," diye düşünürüm. O konserden sonra ise "Tamam, bu gece çok iyi bir iş çıkardım," dedim.
Önümüzdeki konserlerinde ışıklarla senin ilgilenmeni özellikle istemişler sanırım.
Evet, dün e-posta atıp söylemişler.