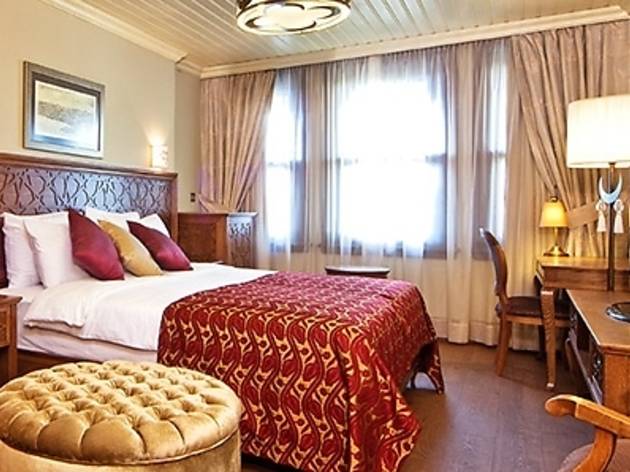 Time Out diyor ki
Hotel, Sultanahmet Camii ve Topkapı Sarayı gibi tarihi mekanlara yürüme mesafesinde, zamanın donup kaldığı, sessiz, sakin bir eski İstanbul sokağı olan Peykhane sokakta yer alıyor.
Peykhane sokağı adını, Osmanlı ordusunun efsanevi habercileri "Peyk" lerden alır. Bir günde yüzlerce kilometre mesafeyi koşarak aşabildikleri rivayet olunan Peykler, yeniçeriler arasından seçilirler ve Topkapı Sarayı civarında, bugün Peykhane sokak olarak isimlendirilen bölgede yaşarlardı.
The Celine, zamandan azade atmosferi, müze ve tarihi anıtlara yakınlığının yanı sıra, modern İstanbul'un canlı yaşantısına kolay erişim olanakları ile misafirlerine benzersiz bir İstanbul deneyimi yaşatıyor.
The Celine, sıcak ve samimi ortamının yanı sıra, zerafet ve konforu birarada sunan odaları, concierge hizmeti, havalimanı transferi ve wi-fi hizmeti ile, lüks konaklama alanında beklentileri karşılayan bir servis standardı sunmaktadır. Otelin otantik dekorasyonunu oluşturan ince zevk ürünü detayların arkasında, yüksek teknolojili güvenlik ve yangın koruma sistemleri bulunmaktadır.
The Celine geç Osmanlı stilinde, kalite ve zevkin en ince ayrıntısına kadar düşünüldüğü mobilyalarla dekore edilmiş 14 odası bulunmaktadır.
Ayrıntılar