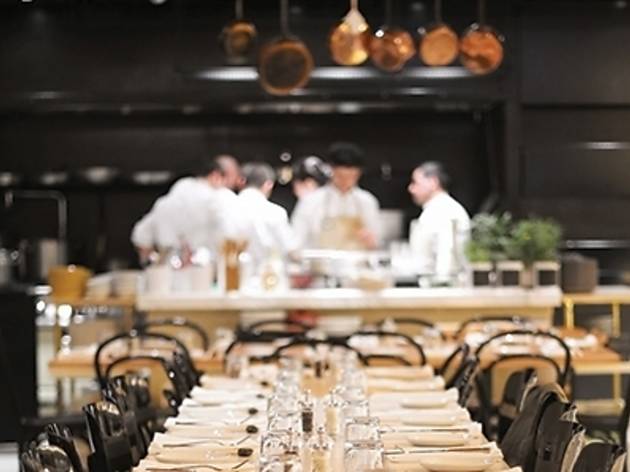 Time Out diyor ki
Amaç hem yerel hem de dünyadan gastronomik lezzetleri harmanlayıp her tabakta bir farklılık yaşatmak. İşin başında Lucca'nın yetenekli şefi Pelin Çakar'ın yönetiminde Türk ve yabancı şeflerin oluşturduğu çok sesli ve çok renkli bir ekip var. Üstelik, tamamen açık ve herkesin gözü önünde bir mutfakta...
Cantinery mutfağı, dünyadan farklı lezzetlerin içine İstanbul ruhu katan bir mutfak. Cem Mirap'ın tabiri ile "Kafada New York'lu, ruhta İstanbullu bir yer..." En büyük sürprizi ise sadece yerel ve taze içeriklerle hazırlanan mevsimlik bir menünün yanı sıra, her gün değişen lezzetlerin sunulduğu ek bir menüsü de olması. Bu günlük menü, sabahın erken saatlerinde yapılan alışverişin ardından gerçekleşen ekip toplantısında belirleniyor ve hemen hazırlıklar başlıyor. Menüde öne çıkan lezzetler de oldukça orijinal. Yemek öncesi sunulan ekmekler ve trüflü tereyağı da şeflerin marifeti.
Cantinery'nin barı ise ödüllü miksolojistler tarafından yaratılan, yemeklerle uyumlu 'craft' kokteylleri ile ön planda.
Dekorasyonu ve ferahlığı ile de dikkat çeken Cantinery'nin tasarımında, New York'un favori mekânlarından The Standard Grill, Lafayette, Boom Boom Room ve The Standard Hotel'i de tasarlayan ünlü tasarım ofisi Roman & Williams'ın imzası var.
Istakoz burger
Ne yenir?
Istakoz burger, soğuk bardan hamachi ceviche ve et sashimi, gümüş balığı tempura, gold fish gyoza, fırında somon ve sakızlı cheesecake denenmesi gerekenler arasında. Passion fruit'lu 'Victoria's Secret' ve salatalık içerikli 'Lemon Pie' ise Cantinery'nin barına özel kokteyllerden sadece ikisi. Gözde Yolaç Savaş
Ayrıntılar