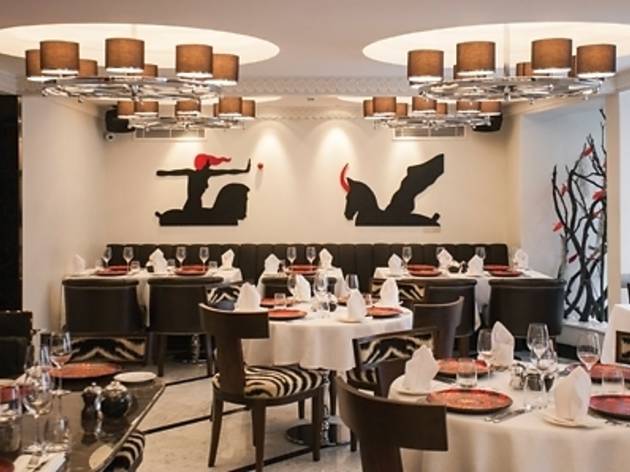 Time Out diyor ki
Nispetiye Caddesi üzerinde ön saflarına vale ve host taburu yerleştiren pek çok mekânın aksine The Galliard'ın pek de göze batmayan bir girişi var.
Ancak içeri girdiğinizde siyah, beyaz ve kırmızıdan oluşan dekorasyon ve parlak ışık başta sizi irkiltebilir. Merak etmeyin zamanla gözünüz alışıyor. Özellikle duvarlarındaki sanat eserlerinin mekâna ısınmamızda büyük faydası oldu. Mekânda Kezban Arca Batıbeki, Kemal Seyhan ve Nermin Er gibi sanatçıların eserleri var. İç mimarisi ise oldukça tanınmış bir isim Murat Atabarut tarafından tasarlanmış.
Benzerlerine Paris ya da Roma'da rastlayabileceğiniz The Galliard, ismini Rönesans dönemindeki bir dans ve müzik türünden alıyor. İspanya, Fransa ve İtalya'da meşhur olan bu dans özellikle yüksek aristokrasinin eğlence anlayışında önemli bir yere sahipmiş.
Mekânın sahibi Ahmet Uras New York'ta uzun süre finans sektöründe çalıştıktan sonra İstanbul'da yeme-içme sektörüne The Gaillard ile adım atmaya karar vermiş. MSA'da yarı profesyonel aşçılık eğitimini de tamamladıktan sonra üst düzey bir mutfak yaratmak için şefleriyle birlikte kolları sıvamış.
Mekânın hem görünüşüne hem de menüsüne büyük özen gösterildiği çok belli. Bu yüzden içeri ilk girdiğimizde snob bir tavırla karşılanacağımızı düşünsek de bu korkumuz boş çıktı. Aksine müşterisini kral gibi hissettiren bir servisle karşılaştık.
The Galliard'ın menüsü isminin de izlerini taşıdığı İspanya, Fransa ve İtalya gibi Batı Akdeniz ülkelerinin mutfağına yoğunlaşıyor. Makarna ve ekmekler bizzat mekânda hazırlanıyor. Özellikle cevizli, kuru üzümlü ve şaraplı ekmek bizi mest etti. The Galliard'da öğle, akşam ve bar menüsü olmak üzere üç farklı yemek macerası var. Bir önceki yaşantısında Fransız olduğunu düşündüğümüz burma bıyıklı garsonumuzun öğle menüsünden bize tavsiye ettiği dana yanaklı tortellininin tadına baktık ve parmak yalatacak kadar lezzetli olduğuna kanaat getirdik.
Akşam menüsünden dana ilik, Kars'tan gelen kazla hazırlanan risotto ve karışık midye tenceresini bir sonraki sefer için denemeye söz verdik. The Galliard'ın "İstanbul'da böylesi yok." dedirtecek kadar iddialı olduğu yemeklerden biri de paella.
Mekânda pazar ve pazartesi hariç her gece Power FM'in DJ'lerinden seçkiler dinlemek mümkün. 52 çeşit kokteyl ve mini hamburgerler, mozzarella topları, paniniler ya da croque-madame gibi atıştırmalıklar var bar menüsünde. The Galliard'ın çok da ucuz olmadığını hemen söyleyelim. Öğle ve akşam menüsü farklılık gösterse de fiyatlar ortalama 26 TL ile 80 TL arasında değişiyor. Elçin Poyrazlar
Ayrıntılar