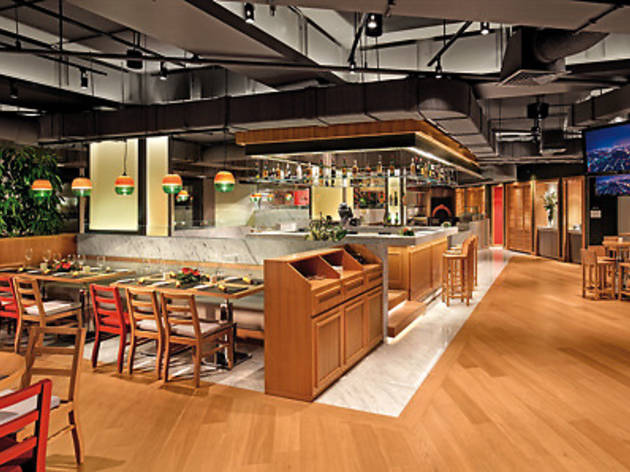 Time Out diyor ki
B kulesinin giriş katında yer alan The Hill's, Akdeniz ve dünya mutfaklarından oluşan menüsüyle Bomonti için aranan kan. Dekorasyonu Sinan Elülger'e ait mekân, ortada bulunan iki açık mutfağın etrafında konumlandırılmış. Böylece misafirler, yemekler yapılırken izleyebiliyor. Tavandan geçen havalandırma boruları modern tasarımın tuzu biberi.
Executive Chef Orhan Yenidere tarafından yönetilen, 17 kişilik profesyonel mutfak ekibince hazırlanan The Hill's, à la carte menüyle öğlen ve akşam saatlerinde servis yapıyor. Restoranın spesiyalleri ızgara ıstakoz kuyruğu ve kuzu külbastı. Tikka soslu piliç, ev yapımı cevizli erişteyle servis ediliyor. Ayrıca menüde, leziz deniz levreğinden, wrap'lere, pizzadan makarnalara, ev yapımı hamburger çeşitlerine pek çok alternatif dizi dizi. Şarap menüsü de gayet tatminkâr. Kavaklıdere başta olmak üzere Arjantin ve Şili şarapları kavda. Restoran, konseptli akşam yemekleri de organize ediyor. Çarşamba akşamları masanın yıldızı rakı-balık, cumartesi akşamları ise fondü ve bar gecesi düzenleniyor. Ayrıca zaman zaman Türk yemekleri günleri de yapılıyor.
The Hill's de grup rezervasyonu için düşünülmüş, VIP konseptli özel bir de bölüm bulunuyor. Toplantı ve özel grup organizasyonları için tasarlanan 10 kişilik VIP bölümü, sakin ve farklı bir köşede. Ayrıca The Hill's, yemek öncesi ya da sonrası, dileyen misafirlerini barında da konuk edebiliyor. Şık bahçe ve iç mekân servis alanıyla özellikle iç tarafta 96 kişiye kadar servis yapılabiliyor. Bahçe kısmının genişliği ise sayıyı birkaç kat çoğaltıyor.
Ayrıntılar