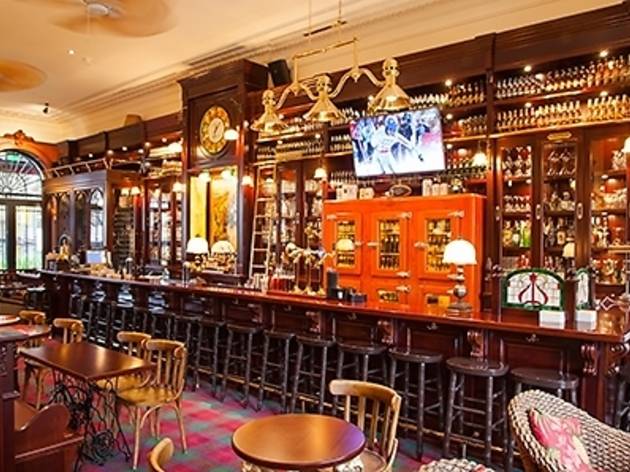 Time Out diyor ki
Peki The North Shield'ların sonuncusu bilin bakalım nereyi mesken edindi kendine? Tabii ki Karaköy. Aslında The North Shield'ın ilk gastro-pub denemesi değil Karaköy şubesi. İngiliz beyefendisi sadece birkaç ay önce Göktürk'teki şubesinde bu konsepti denedi ve aldığımız duyumlara göre Göktürklüler burayı çoktan bağırlarına bastı.
Adını Newcastle'daki bir limandan alan The North Shield'ın Karaköy şubesi semtin kaosundan uzak bir yere, Tersane Caddesi'ne konumlanmış. Mekân tasarımı diğer The North Shield'larda olduğu gibi Hünal ve kızlarının elinden çıkma. Kafanızı kaldırıp bakmaktan kendinizi alıkoyamayacağınız yükseklikte içki rafları, bir uçtan diğer uca uzanan devasa bir bar, İngiliz, İrlanda, Galler ve İskoç bayraklarının işlendiği küçük yuvarlak masalar, meşhur centilmenler kulübünden çıkmış gibi duran deri koltuklar ve daha onlarcasıyla burası ucuz Hollywood aktörlerini İngiliz aksanıyla konuşmaya itecek kadar İngiliz. The North Shield'ların olmazsa olmazı spor yayınları da kriketten rugby'e ve futbola kadar emrinize amade.


İçeri girer girmez Sir Alex Ferguson namı diğer Fergie'nin otobiyografisi bize göz kırpıyor. Hemen bir hevesle "Acaba satın alabilir miyiz?" diyoruz fakat kendisinin Teoman Hünal'ın kütüphanesine ait olduğunu ve satılmadığını öğreniyoruz. Neyse ki mekânda oturduğumuz sürece kendisi bize eşlik edebiliyor, uzayıp giden bir menüyle beraber. Karnı acıkanları başlangıçlar, burgerler, salatalar, makarnalar ve ana yemekler bekliyor. Mekâna özel bir lezzet olan beef & ale pie'ı (36 TL) deniyoruz. Milföy altında gizlenen ale ile pişirilmiş et güveç bol etli, dolayısıyla da doyurucu. Gastro-pub kültürünün gastro'sunu denedikten sonra sıra pub kısmına geliyor. Onlarca farklı kokteylin yanında cinlere de önemli bir yer ayrılmış menüde, dokuz çeşit cinin aromaları ayrıntılı bir şekilde açıklanmış. Bardaki özel bira dolabı şubeye özel tasarlanmış, dünyanın hemen hemen her yerinden onlarca farklı bira var, hatta The North Shield'ın ithal ettiği özel biralar da mevcut.

Uzun lafın kısası gastro-pub heveslilerinin Karaköy adresleri çoktan belli oldu. Maç izlemek ve kafa boşaltmak için kendi sınıfının en iyisi kesinlikle The North Shield. Erçağ Akın
Ayrıntılar