Bang Bang Baller Bar at Brolly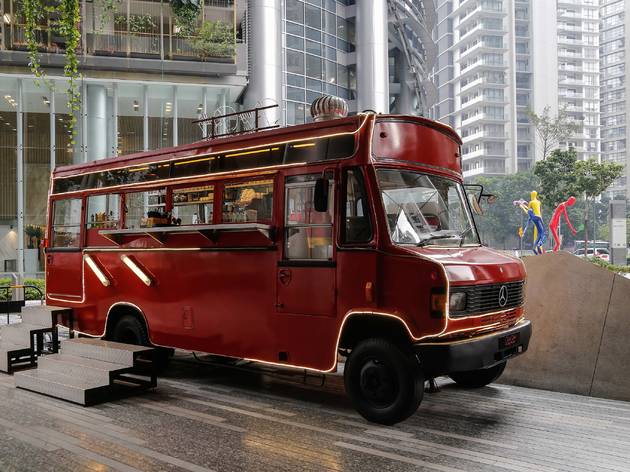 1/4
Photo: Daniel Chan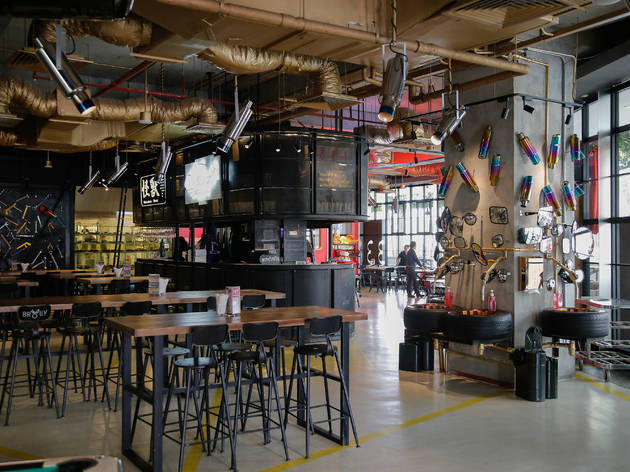 2/4
Photo: Daniel Chan
3/4
Photo: Daniel Chan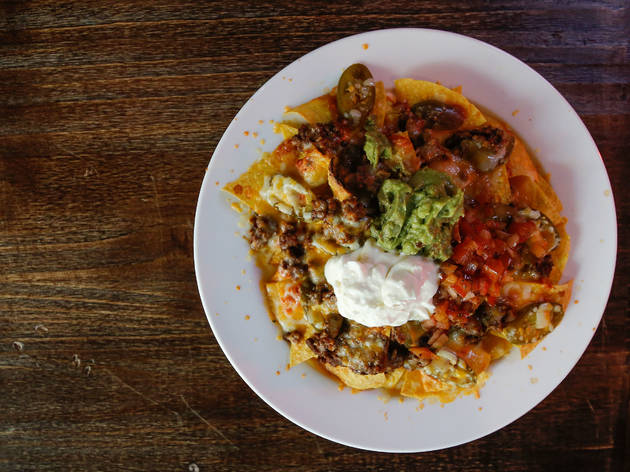 4/4
Photo: Daniel Chan
Time Out says
At Brolly, there are nine different food concepts in one huge menu, providing a range of choices for every palate. You can find fresh seafood cooked Louisiana style, barbecued and grilled meats, Japanese curry rice, and even a vast selection of desserts. This is the place to be when you're dining in a large group, what with the extensive food choices and the long tables scattered around the space. Decor-wise, you'll feel like you're stepping into an oversized garage. It's in the little things: Giant screwdrivers as door handles, hubcaps as wall decorations, petrol pumps as taps, and even a car that's hung upside down in one corner of the restaurant.
The main attraction is what's located outside of Brolly – a red minibus which acts as Brolly's signature bar, Bang Bang Baller Bar. Though you're not allowed to actually sit inside the bus, you can stand by the side and watch as your drinks are being made. We love the LED lights wrapped around the bus, lighting the way to the drinks come nightfall. If you hear a car honk, it just means that your drinks are ready to be served.
Head to Bang Bang Baller Bar for their signature drink, the Beergaritas (RM28 & RM30). Basically a pimped-up margarita, it's a simple combination of beer, tequila and fresh fruit purée – choose from a variety of flavours like green apple, passion fruit, maracujá (a South American passion fruit), pineapple, peach or wild berry.
Another favourite is the High-Ballrus (RM21, RM26), made with whisky and homemade soda, served in a beer mug with large ice balls. It's fizzy with a punch – what's not to love? There are plenty of other options on the drinks menu including bottled beers, whisky, cognac and wines, as well as nonalcoholic drinks.
Although there are the nine concepts to choose from, we suggest going with the bar munchies on the vari.EAT.y menu. Start with the Prawn Popcorn (RM23) that's stir-fried with chilli and onion and sprinkled with Brolly's own Szechuan mix. It's salty and spicy and you won't be able to stop.
Meat fans will enjoy the Grilled Skewers in Bulgogi Sauce that comes in a serving of three. We suggest going for the lamb or chicken as it's tender and juicy. For bigger groups, the Baked Cheesy Nachos (RM28; pictured) are your best bet. Go big and pile on the Beef Con Carne for an extra RM4 for that meaty goodness.
Fun fact: The team behind Brolly and Bang Bang Baller Bar do their part and give back to society through a social initiative called The Experience Life Project. For every purchase of a Brolly umbrella at RM90 at the restaurant, 50 percent of the proceeds are immediately donated to the project. If it's a rainy day, all proceeds will be contributed to the project. The project provides the monetary means for opportunities catered towards underprivileged kids – two types of 'life experiences' to be specific. Based on Brolly's discretion, kids will either get the chance to participate in water-based activities like swimming, surfing or learning about marine life; or obtain a diving licence.
Details