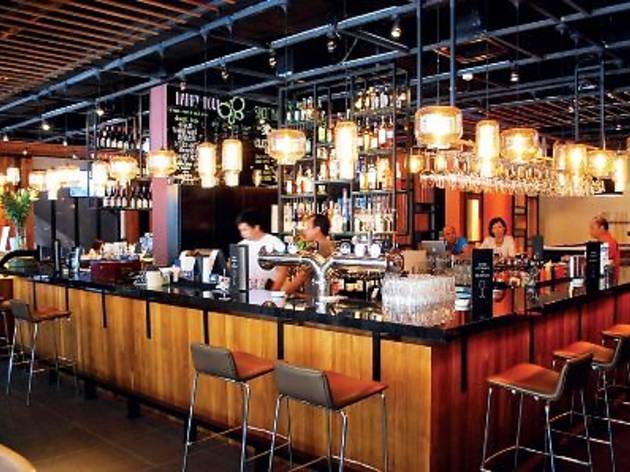 Time Out says
February 2013
How do we start with a bar this ace? Uhm, let's start with service. It was a Wednesday evening; my mates and I had a table at the outdoor area. Out of nowhere, it poured. But within seconds, the staff swiftly moved us and managed to allocate another table for us despite the massive crowd inside. Impressive.
It is a relatively huge space and a busy floor. People are crammed in any which way they can fit – on the low-slung tables, indoor leather couches, or even high stools at the bar. But the restaurant manager and staff keep things running smoothly, with one eye on the line waiting at the door. But The Social is definitely worth the wait. The place is usually filled with a strong, mature crowd as opposed to its more hipster-ish neighbours.
Next to our table was a bunch of white collars sharing a bottle of whisky; at the other table, young urbanites were chugging beers, and the couple next to them was having a bottle of wine. You get the picture. It's the kind of place where friends hang out for a post-work drink; businessmen take their clients out for a laidback evening. There are no fedora-wearing bartenders wearing behind the bar, though they're more than happy to fix you a cocktail. And their wine list is long and respectable. Beers and spirits are the gist here. It might not be the cheapest place to drink in Publika, but it certainly has its charm.
Here's the kicker: their perfectly roasted aromatic crispy duck, served with homemade pancakes, sweet plum sauce, chilli oil and spring onions and cucumber is damn tasty. And the portion is good for sharing too. The bar bites such as chicken 65 (boneless chicken in tandoori spices) and salted egg chicken strips are also great, especially with beers.
There are also live band performances on selected weeknights. When the band is not playing, the music selection runs from '80s, '90s to a small fraction of Top 40. Oh, there are two pool tables at the back where you can hit a round of balls too.
Whatever you do, don't attempt this bar on a weekend, unless queuing up is your kind of fun. If you have to, make sure you make a reservation. Opt for the outdoor seating as it's one of the best places to catch performances at The Square. Otherwise, our best advice is: go early, go midweek, then drink and dine the night away. Ian Loh
Details