Rebel Wilson interview
Her Hollywood currency is on the rise thanks to her genius talent for making funny funnier. We talk to Rebel Wilson about her new BFF J-Law and flashing President Obama in the 'Pitch Perfect' sequel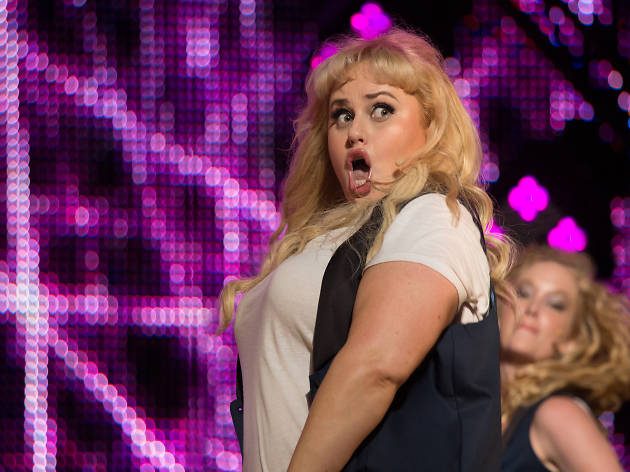 First things first. Rebel Wilson is not Fat Amy – the character she plays in 'Pitch Perfect'. This is disappointing for precisely as long as it takes for her to answer my first question. Disappointing because Fat Amy (she calls herself that so 'twig bitches' don't do it behind her back) is one of the most hilarious characters in recent movie memory – so funny people have taken to wearing her off-the-wall one-liners on t-shirts. The actress is one of the most impressive people I've met – funny, yes, but totally focussed and refreshingly honest about her ambition, refusing play down her intelligence. Put simply, Rebel Wilson is the living, breathing woman you want to be after reading Sheryl Sandberg's motivational book 'Lean In'.
The 29-year-old moved to Hollywood in 2010 after working on the stand-up circuit and TV in Australia, and within months landed a role in 'Bridesmaids' playing Kristen Wiig's flatmate. It was a tiny part but here's the thing about Rebel Wilson – she's got a knack for stealing every scene she appears in. Within two weeks, she signed up to six new films, including 'Pitch Perfect'. The sequel, out this week, opens with Fat Amy flashing her vagina to President Obama on his birthday in front of a crowd of thousands.
Okay, let's talk about that opening scene in 'Pitch Perfect 2'. You end up dangling in mid-air with a split leotard in a massive concert hall. Is it true that you went to circus school to prepare?
Yes! I trained really hard. I had to, because there are no stunt girls my size. It was either me or a completely new start to the film. I chose to suffer for the sake of comedy. It was pretty scary. I am afraid of heights, but I just sucked it up. And I had Spanx on – with a butt crack drawn on. No one really saw my butt.
Fat Amy is such a brilliant character. How much of you is in her?
Fat Amy is very confident. She's overly confident. I'm not a maniac in real-life. I'm more sensible. But a lot of people have told me that I am comfortable in my own skin. I have always had that.
Where does that inner confidence come from? And where can I get it?
I don't know. I was shy as a kid, but I always had confidence in my skills and abilities. I mean no one thought I would be a professional actress. That doesn't happen to girls like me. People were just like: 'Yeah, right.' But I said: 'I can do it. Why not?' And I just went about doing it.
After 'Bridesmaids' did you find fame, all the red carpet stuff intimidating?
It's strange because I'm a person who values what's up here [taps the side of her head]. I never cared too much about fashion. Now that's changed and I have to pay attention. I've actually become really into it. I'm creating a clothing line in October.
Why a fashion label?
I think maybe I wasn't into fashion before because fashion never cared for me. I was like: whatever, I'll just wear my tracksuit. Now I realise there's such a market for plus-size clothing that's still cool and trendy and fits really well and is nice fabrics.
Do people expect you to be Fat Amy when they meet you?
Yeah. People expect me to be comedy 'on' all the time, which of course I'm not. You can't maintain that 24 hours a day. I'd be a psycho. I can be really fun, but the reality is that what I do is really hard work. I try to be smart and sensible in my real life. A lot of people are shocked that I have two degrees, one of which is a law degree.
Have you always been so driven?
'Yes. Weirdly. I never quite knew what I wanted to do, but I thought I'd be successful. I was very academic and studied hard at school. Maybe it's because I wasn't born with a lot of advantages or privileges. But I did think: Why can't I do that?'
Your siblings are called Liberty, Annachi and Ryot. Were your parents hippies?
No. Dog show-ers. If you've ever seen the movie 'Best in Show', that was my life growing up, going to the dog shows every weekend. And there are a lot of eccentric characters in that world. It's good material.
Did you have a plan B?
Yeah, it was being a lawyer. By the second year of law school I was already working professionally as an actress and I could've quit. But I was very sensible.
You've been in 'Bridesmaids' and 'Pitch Perfect'. Does it make a difference, working on comedy written by women?
Yes. There are some male writers who create really amazing female characters, obviously. But usually on male-driven films your part is very marginalised. You don't have a lot of jokes on the page, so you have to work harder. But someone like Kay Cannon [scriptwriter on 'Pitch Perfect'] writes movies with not just one funny female character or two, but ten.
Who's the funniest person you know?
I'm going to say Matt Lucas, but that's really hard. I've met some of the world's top comedians. And Jennifer Lawrence. She's hilarious in real-life, funnier than me.
Are there any actors out there whose career you would like to have?
Jonah Hill. He's done amazing comedy and then transitioned to doing brilliant Oscar-nominated films. Doing a Scorsese film would be awesome.
If you had to watch one comedy for the rest of your life, what would it be?
'Grease'. It's a musical comedy. But I love it.
'Pitch Perfect 2' is showing now.
Read our 'Pitch Perfect 2' review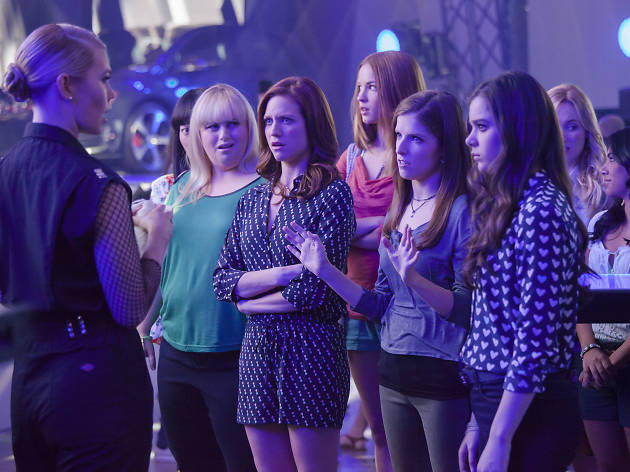 Aca-about time! Three years after 'Pitch Perfect', the first ladies of a cappella are back – and they're hitting the high notes.