The best durian mooncakes
Contemporary mooncakes are taken to the next level with these luxurious durian iterations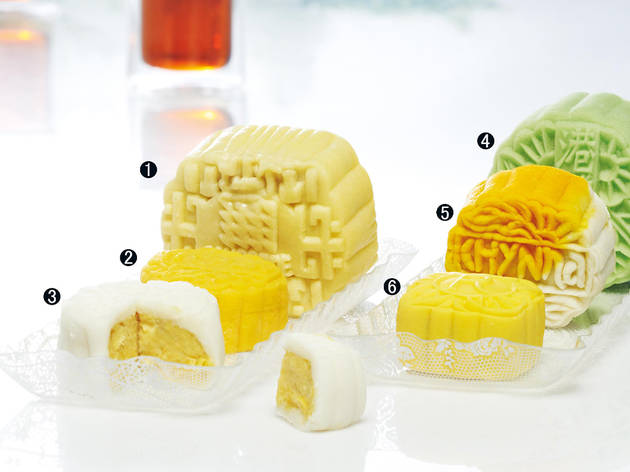 1. Snowskin with Musang King durian
Upon cutting through the delicate snowskin, the heady aroma of Musang King durian rushes out into the open abyss. It's not quite a mooncake but more like rich, creamy durian meat encased in soft skin – a close-your-eyes-to-enjoy-it dessert for the most ardent of durian lovers. A word of caution: The smell of this cake will travel great distances.
Concorde Hotel Kuala Lumpur (03 2144 8750/kualalumpur.concordehotelsresorts.com).
2. Durian custard mooncake
These cakes are lusciously milky without the (sometimes) overbearing richness of durian. We suggest you store them in the freezer and let them sit out for a good few minutes before eating – the result is a nostalgic reminder of potong durian ice cream on a hot afternoon.
Ti Chen, The Saujana Hotel Kuala Lumpur (03 7843 1234/www.shr.my). RM22 per cake; RM88 per box of four.
3. D24 mooncake
Tai Thong's cultish favourite, the Imperial Musang King Royale, is a no-brainer choice for durian fans. But we particularly enjoy this year's D24 edition where the fruit's flesh is pulled out into clumps of pulp and protected within a layer of snowskin. Less pungent than the Musang King, it's ideal for those taking baby steps towards enjoying the mystifying fruit.
All Tai Thong outlets (1800 88 2338/www.taithong.com.my). From RM88 per box of four.
4. Snowskin durian mooncake
The delicate snowskin is dyed a pretty pastel green and filled with a mixture of lotus paste and durian. The ratio of paste and D24 fruit is balanced without either outstripping the other, while the larger-than-average size also indicate good value if you're going down the durian route this year.
All Oriental Group outlets (www.orientalrestaurants.com.my). RM23++ per cake; RM92++ per box of four.
5. Heavenly Gold
Chef Lam's renowned Musang King creation is a revelation in the world of durian desserts. Its sweet, creamy, rich and mildly bitter filling is countered by floury snowskin dough for a firm bite. If decadence is your theme for this year's festival, look no further.
Chynna, Hilton Kuala Lumpur (03 2264 2405/www.life.hiltonkl.com). RM38++ per cake; RM198++ per box of four.
6. Snowskin fruity durian paste
However dubious the shade of canary yellow these mini cakes come in, there's no doubting their deliciousness. They're designed to emulate the traditional pastiness of mooncakes, and the durian is more a background flavour; it's like eating durian dodol in a pretty snowskin casing.
Renaissance Kuala Lumpur Hotel (03 2162 2233/www.klrenaissance.com). RM13.80 per cake; RM82.80 per box of six.
Want more?
The competitive industry of mooncake packaging has evolved from plain square boxes to immaculately designed multi-purpose kits. Here's how to double up the functions of this year's packaging.
Read more