The dish: Nasi tumpang
There are two ways to eat nasi tumpang: you could use a spoon and work through it layer by layer, or you could crumble and mix it all into a heap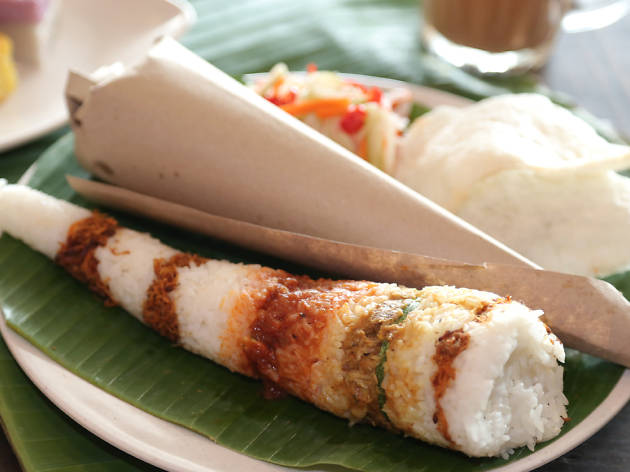 Origin
This mystifying Kelantanese rice dish is rarely spotted in KL, and when it is, it's difficult to turn your eyes away. Essentially it's rice and lauk densely layered into banana leaf. The oddity here is the towering cone shape it's served in; even with the Kelantanese submitting their rice to eccentric practices – dying it blue for nasi kerabu or adding beras pulut to the mix for nasi dagang – nasi tumpang is high on the quirk chart. Dating back to the '60s, it's traditionally a bare dish of rice, fish and cucumber that the local wives would make for their fishermen and farmer husbands before they set out in the morning. Because it offers easy access to rice and sides without requiring a plate, nasi tumpang is exceptional in its balance of form and function.

Preparation
Tumpang translates to 'overlap' in Indonesian and in some instances of colloquial Malay, which makes sense when referring to the assembly of this dish. The original version sees rice, curry, cucumber and fish serunding layered into a modest package of three or four layers. But The Warung in Mid Valley puts nasi tumpang on a pedestal by crafting a whopping 11 layers made up of rice, fried egg, chicken rendang, sambal, cucumber and your choice of chicken, beef or fish serunding. Each layer is cautiously stacked and pressed down before the next is added, and once the tip of the cone is completed, the banana leaf is tightly wound around it to hold everything in place.

Taste
There are two ways to eat nasi tumpang: you could use a spoon and work through it layer by layer, or you could crumble and mix it all into a heap. For optimum taste, we strongly recommended the latter. But even when muddled up, nasi tumpang is humble in taste; while it doesn't have the immediate coconutty allure of nasi lemak, it takes from each element without drowning out the other. The sweet sambal and fragrant rendang pair a treat with the coarseness of the serunding, and when eaten alongside keropok ikan and acar buah, it's a dish that wins you over on account of familiarity – even if you've never eaten it before.
Eat it at