The lack of farm-to-table restaurants in KL
We delve into the worrying lack of cafés and restaurants using local produce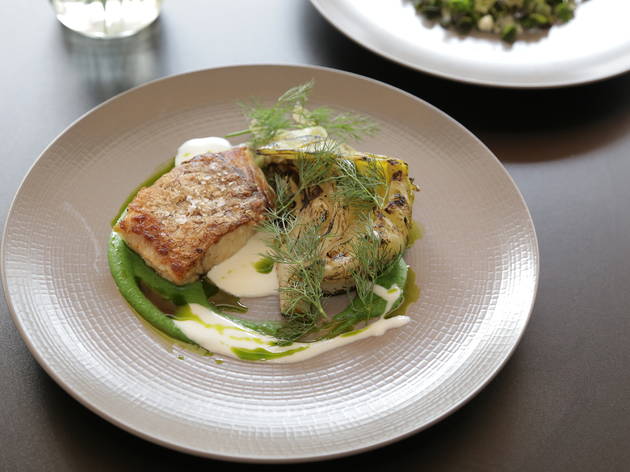 Christian Recomio breaks a wobbling stack of ridged, porcelain-white ricotta onto a wooden board. A scatter of edible flowers, a drizzle of honey, a draping of dill and a few grinds of black pepper later, he beams and says, 'There you go. This plate is 100 percent Malaysian.' It's not often this sort of pride is demonstrated in a local kitchen, and the co-owner and head chef of Sitka in Damansara Heights merely represents a speck of soil in a sprawling terrain of untouched Malaysian produce.
Farm-to-table, farm-to-fork, nature-to-table. Call it whatever you want, but the concept of using and taking pride in local produce seems to be lost on KL's newer spate of restaurants. Elsewhere, the practice has not only taken off but used to death. Specifically in the US, the term 'farm-to-table' is used to the point of oversaturation, but the core values of utilising local produce still come through. In the UK, top chefs strive to forage their own herbs and greens while local dairy is heavily championed. 'You don't even need to say [farm-to-table] now in modern European restaurants. It happens by default,' says Christian, who also heads Moonfish Café in Aberdeen, Scotland.
'Flying in ingredients from the likes of France, Australia and Japan seems to grant chefs direct access to bragging rights'
What seems to spur our collective fascination with the imported stamp? Jenifer Kuah, co-owner of Sitka, steps in, 'We've been eating local produce for so long in the kopitiams, but suddenly you lose it at the fine dining level. Fundamentally, I think it's a show-off thing.' This baffling mentality is most often observed in chefs who cook at a higher, more technical level, where foie gras, truffle and exotic cheese are seemingly irreplaceable. 'In Asia, there's an obsession with freshness, but when it comes to fine dining restaurants, it's all about stuff that we don't get here,' Jenifer adds.
In this country, flying in ingredients from the likes of France, Australia and Japan seems to grant chefs direct access to bragging rights; elsewhere around the world, the very idea would be severely frowned upon. A classic example is Copenhagen's Noma – what critics claim to be the world's best restaurant – whose mastermind René Redzepi gathers wild plants from within a minimal radius of the restaurant. Even in the cold climate, he makes it work; pickling and fermenting vegetables are common practices.
Somehow, despite the fact that ours is a nation where an abundance of produce is available all year round, most fine dining chefs don't seem eager to celebrate its location and climate. 'If you were to put [top chefs from colder countries] here, they would have a field day because they've got produce all year round,' Christian says. 'I still can't believe that the top chefs aren't here. They've been in Singapore and Bangkok and for some reason, in Malaysia, there's a big black hole.'
However doubtful you may be about local produce, Christian and Jenifer are firm believers of the choice and quality available here. 'Any top chef would be amazed at the produce in Malaysia. It's absolutely shocking that in 2014, nobody has noticed that,' Christian says. Our seafood – if handled well during transportation – is remarkably fresh when it hits the wet markets; our vegetables grow in all directions in highlands; our tropical fruit trees bear rich results; our forests provide exotic plants and fungi. Malaysia should by all accounts be a culinary playground, into which master chefs ought to be able to walk with grocery baskets in hand.
Like anything else, a bit of fieldwork goes a long way. Christian and Jenifer don't simply stroll into a wet market and expect to check off everything on their shopping list; chats with highland farmers and trips to local fishing ports are crucial in maintaining the standards they require for the restaurant. Where supply falls short, they make do. Malaysia may not carry high-quality beef, lush berries or deepsea fish, but for Christian, it's a matter of being resourceful with ingredients at hand. 'We would much rather treat the beef in a nice way when it's only travelled 50 miles than it being frozen from Japan or Australia,' he points out. 'For instance, you could simply sear a hanger steak in the UK but here, I'd cook it under pressure for a longer time to mellow it out a bit.' It's certainly a challenge for local chefs to work around our produce – there are few who embrace it. 'It's very easy to sear a bit of foie gras and serve a bit of potatoes,' says Christian. 'But I've been doing that for ten years anyway; I don't really find it very challenging.'
If not just to support local farming and reduce carbon emission, using local is also considerably cheaper. Christian points to a prettily assembled plate of seabass with broccoli purée, 'If I was to ship [the seabass] over, it would be about RM125 a kilo. And this is coming in at RM18 or RM22 a kilo.' This way, diners pay less for a well-cooked piece of fish rather than whip out a few more tenners at a restaurant like Nathalie's. To put it simply, everyone wins.
In the case of local producers, winners don't always emerge. Bright Cow – a six-month-old local dairy manufacturer that produces unpasteurised Jersey milk, yoghurt and soft cheeses – is not doing quite as well as its company title suggests. At Bright Cow, dairy is sold at a higher rate, down to high-quality feed for the cows and a better standard of produce derived from the Jersey species. 'The cost of producing something that's natural and high quality is high, but many are able to bring imported products with longer shelf lives at a cheaper rate,' director Bala Nair says. 'For example, you're able to buy cheese from Italy or France at a cheaper price, but that has been processed many times.' By contrast, some of Bright Cow's produce lasts on shelves for only five days.
'Any top chef would be amazed at the produce in Malaysia. It's absolutely shocking that in 2014, nobody has noticed that'
Bala is always on the lookout for proprietors like Christian, whose business model defends the plight of local producers. As you can imagine, the search is often an uphill battle. 'Initially, we were very excited that restaurants will be happy about the prospect of local milk but six months into the business, I've positioned myself to believe that my business will only have selective buyers,' he adds, with mild resignation. Understandably, affordability may be a factor for some restaurants, but for others, sourcing for good local ingredients is nothing more than a bother.
Perhaps it all stems from a typically Malaysian phenomenon – apathy. A looming epidemic among KL's younger diners is the sheer lack of interest in where their food comes from. 'The consumer needs to ask, "What am I eating?" They're totally oblivious about what's going into their food,' laments Bala. For an active player in KL's dining scene, Jenifer is frustrated too. 'It's all about looks. It's all about ambience. Nobody demands that the food be fresh or from a farm that has ethical practices,' she says. 'Even the hipsters don't care. They're all like, "I look good, let me pose with my flower." Rubbish la.' With Melbournestyle brunch cafés sprouting in every pocket of the city, we seem to have conveniently disregarded the Melbourne-style pride of going local.
But hope is not lost. As it turns out, Sitka isn't the only gushing tribute to Malaysian produce; the newly opened The Kitchen Table Restaurant & Bakery goes local wherever possible. It's run by Marcus Low and Mei Wan Tan, a promising duo who've taken to heart the farm-to-table concept they experienced overseas. '[Malaysia's] seafood is excellent, it's very, very fresh,' Marcus says. 'But we don't make enough use of it, and it gets exported out.'
Marcus and Mei Wan's culinary experience in Canada and England brought with it an awareness of the importance of using local ingredients, and they've taken care to regard each place they've lived as a case study in making the best of what's readily available. 'We're at a stage of the industry that's very young,' says Mei Wan. 'There's lots of potential.'
'A looming epidemic among KL's younger diners is the sheer lack of interest in where their food comes from'
Mei Wan is responsible for some of the city's best baked goods: Tin cakes, chewy cookies, homemade sourdough, and a rather excellent version of Momofuku Milk Bar's infamous crack pie line the glass displays, all of which are delicious proof that the use of local ingredients doesn't just mean sambal belacan. A local talent pool is an additional bonus at The Kitchen Table. 'Having local talent cook local produce was an interesting notion I was exposed to [in England],' Mei Wan says. Interesting as it may be, just how long do we have to wait for it to be the default in a food city as thriving as KL?