Will Meyrick interview
Born in Portugal, spent his childhood in Italy, worked in London, Australia, Thailand and ending up in Bali, Scottish chef Will Meyrick is redefining street food, one warung at a time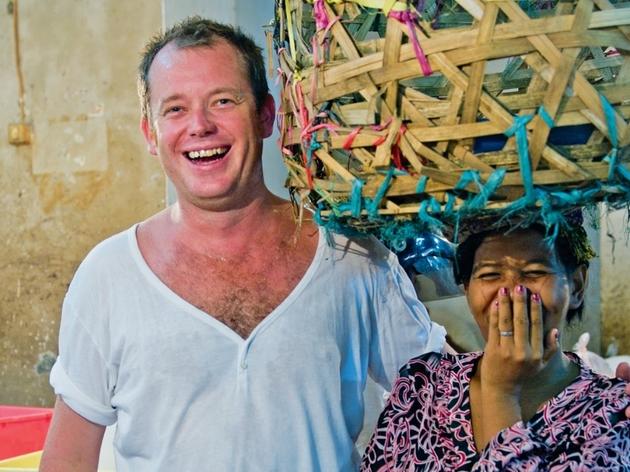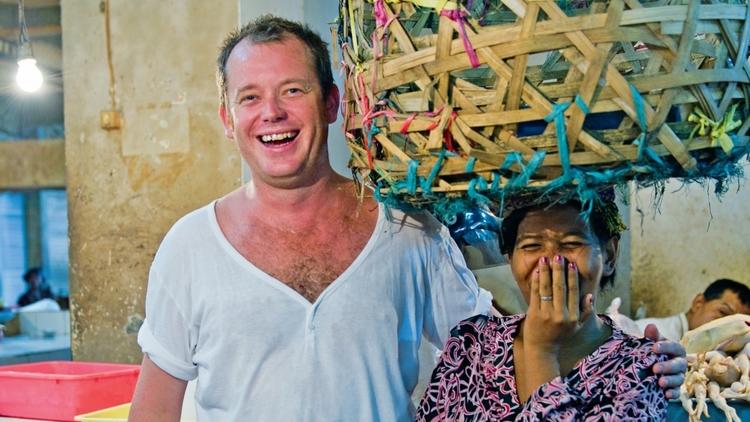 Celebrated chef Will Meyrick of Balinese fine dining establishment Sarong (which made the 2014 San Pellegrino Top 50 restaurants in Asia list), E&O in Jakarta and the super trendy Mama San Bali was in town for KL's very first Mama San, in KLCC, no less. We talked to the star of Asian Food Channel's (AFC) Street Food Chef about celebrity chefs, Malacca chicken rice ball, and where Malaysian food is heading.

Tell us about yourself. From Portugal, how did you end up in Asia?
After cooking in London, travelling through Asia, and then working in Australia, I decided that I wanted to cook Asian, with Asians, in Asia. So I went to Bali! Not the most obvious place to go, I know. But it has that something a little stronger about it.

Can you explain the name behind Mama San?
After all the travelling and cooking with the ibu-ibus from India all the way to Laos, we decided to put a cookbook together. As we're doing it, we're like, there's so many great, streetfoody recipes, let's build a restaurant that's accessible, and that's why Mama San kind of grew into what it was.

The reason behind the name, Mama San, is basically because I cook with so many old ladies. For me, that is very like the mamasan of a brothel; the mamasan who looks after the girls. The girls all come from the street, she's brought them in, she's looked after them, she's educated them, and you know, there's a certain belonging to a mamasan. And it's the same thing of how I feel when I cook. There's a certain belonging with these women who have passed on their recipes to me. That I have to protect and respect the recipes and also understand the cultures that I've worked with. And that's why we have the lady as a feature on the wall, she's looking over the diners and making sure I'm cooking correctly.

It's taken off because over the years, we've seen plenty of Asian restaurants that just popped up. Good thing or bad thing, I don't know [laughs] but it keeps you on your toes, makes you travel more, to get more ideas. That's when we decided to expand.

Why was that?
It was hard to keep our staff. The big hotels came in and poached them. Like, 'Great, train them up, thank you very much. Let me offer [them] double the money because we can afford it!' That's why I wanted to expand the staff and their knowledge. We started with Jakarta E&O and then Mama San Hong Kong. It worked out really well. They can go off and live in a big city, and have an expat lifestyle that they'd normally never be able to have. Indonesian workers normally go on to be pembantus, maids, so it's great to be exporting skilled tradesmen to an international level.

Will the menu in Mama San KL be the same as Mama San Bali?
No. I've spent two weeks travelling and really understanding food here, and it's been really interesting. You know, what is Malaysian food now? That's the question. Is it Nyonya, is it Indonesian, is it Siamese? As the last generation of Baba Nyonya is dying off, they'd rather have the tradition die off rather than infuse it because they [are] incredibly proud people. I would say, arrogance, but in a nice, purist way.

I think it's more of an internal pride than arrogance.
It is. It's just pride. It's been great over the past two weeks listening to their stories and how they think it's going to be taken forward. And I think the way the Peranakan is going to be taken forward is not through their culture but through their food. And that's what they want to be handed down. You can see the culture in the museum, but you'll never be able to experience the culture at home.

How about Malaysian food?
What is Malaysian food right now? I mean, is it imported, like the banana leaf? That's not local, that's imported. But it's so ingrained into the culture now, I think this is where Malaysia is becoming really interesting, is that it's trying to find who it is.

There are so many influences here that you can't really pinpoint and draw a line and say, this is this.
I think that's where you have to… not draw lines, but have an acceptance. Malaysia is a new founded country, like Australia. Australia has now defined what their food is. It's fresh, clean, healthy produce.

With Asian sauces?
Right! With Asian sauces! It can be Cambodian, it can be Indonesian... there are a lot of Indonesians there now. So, it's not about defining where you come from; it's defining how you cook. At the KL Big Kitchen festival, there was a competition to find the signature Malaysian dish, I was like, 'What, you haven't found out what your signature KL dish is?'

Is it safe to say that the menu in Mama San KL is like your travelogue but manifested in food?
And that's what Mama San is always. As with any of my restaurants, it's about where I've been, what I've come to, and who I've cooked with. I think that's why I'm spending so much time here. There is such a diversity here that needs to be understood and to be translated properly onto the plate.

When you visit a new place to cook, do you have a routine?
I do. I'll show a photo of my family and my kids to them, and they'll go, 'She picked him [Will's wife, Wati, is Indonesian], so he's got to be nice!' Generally, I do research. We call them up. Sometimes I bring a film crew with me, sometimes it's just me writing. Sometimes they let me into the kitchens. You don't know until you arrive. Sometimes they're really guarded, or they ask for money. For them, it's their livelihood. They're very protective about it. Because they think you can copy it. But at the end of the day, as one lady said, 'you can take every recipe but every hand is different'.

Why do people call you the 'Street Food Chef'?
For me, the most inspiring chef is the one who has done the same dish for 30 years and still has a queue lining down the road for her food. And she keeps the consistency. I know it's only one dish, but for her, for more people in the world, you cook to live. You eat to live, rather than live to eat. That is the fundamental basic. What you cook today in the warung is what pays the kids to go to school tomorrow. And it's that bare necessity of life that I think attracts me to street food, especially to Asian street food. You have to have it perfect every day, because if not you lose your customer.

Where else have you been in Malaysia?
Penang, Malacca. Penang is amazing. There was nothing there in George Town six years ago. Now, you walk around, there's life. It's a city that's finally got art, culture and food, all wrapped into one. Malacca is sort of boring. I mean, I had to get up at six in the morning to take photos. By eight in the morning, the busloads start coming, the people come marching through, there's a massive queue for the chicken ball rice, which is not that good at all. Malacca is lovely for a day, but Penang has a lot more diversity to it.

For the past few years, because of all the cook shows, the chef is like the new rock star. Is that working out in the chef's favour?
I'm fairly blunt about this. If you don't have a restaurant, then you shouldn't be a celebrity chef. You haven't done the hard yard; you haven't grown in the industry. All you've done is glamourise the industry. You don't have your stripes, you haven't worked enough for it, and you don't deserve it. I've done 20 years in the kitchen; from the ground up, my team has done the same thing. You shouldn't buy an education for cooking. You should go in and learn from the bottom. I mean, we look at Bourdain, Gordon Ramsay, Jamie Oliver, all those guys have restaurants, and they've all worked themselves up. And you look at some of the other chefs now, they go on the 'MasterChef', and all of a sudden… it's kind of funny.

I think it's great that people are enjoying cooking. But that gives a wrong image of what the country is about. You should be focusing on people that have cooked at the stall for 30 years, and produce an amazing laksa. Focus on that.

Were you a judge for the shows?
I was on 'Top Chef Indonesia'. And none of the kids could cook their own food. They were cooking Western food. Because they want jobs in hotels where the biggest salary is. So unfortunately, their food knowledge and culture is completely gone. And that's why you get this fusion kind of thing now. Great, but you have to understand the culture and the ingredients first. Malaysian chefs do it better. The more Chinese chefs in Penang cook in a medicinal way, not for food porn or whatever it is. Thirty years ago, people cooked according to your health. If you were sick, panas dalam, they had household remedies for it, and they would cook that, whether it's black chicken or ginseng.

What is the one Indonesian dish that Malaysians should know more of?
Hmm. People always argue about the rendang, and the rojak is quite interesting. You have so many different versions. It's like the rendang; you have the rendang with rempah, curry leaf, the black rendang that is more Padang-style, with coconut, and then you have the Malay one, with more chilli, and it all depends. Those two are probably the most indicative dishes that are regionally used throughout Malaysia, Indonesia and Singapore. If you understand what is in them, then you probably understand what Malaysian food is all about.
Go now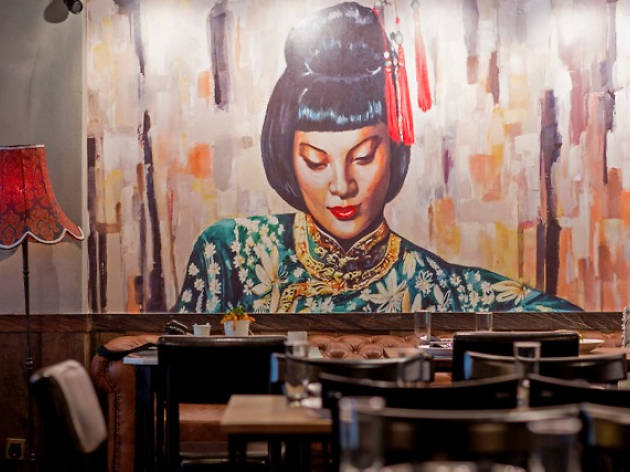 For its KL outpost, the menu is quite an extensive one. There are salads, fish, seafood, meat and poultry dishes done in a variety of styles – Chinese, Indonesian, Indian, Malay, Singaporean, Thai, Cambodian and Vietnamese.