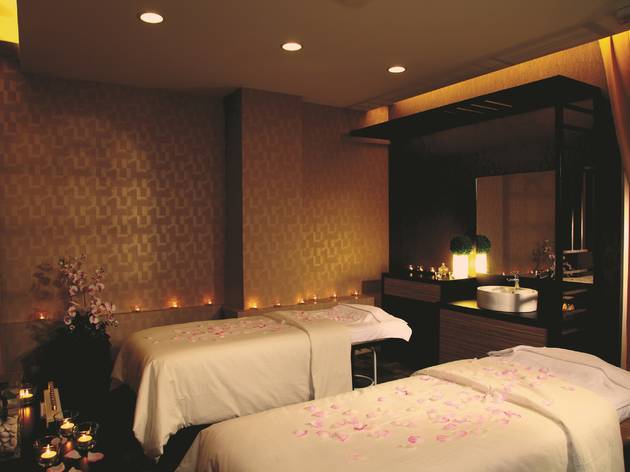 I've recently decided I was going to start taking proper care of my skin as I no longer have youth on my side (note: apparently, your twenties is as good a time as any to worry about age spots, fine lines and wrinkles). In an attempt to solve all my new skin-centric woes, I put on my big girl pants and booked a big girl facial.
I ended up at the cozy, garden-like A'aroma, a concept aromatherapy beauty and spa boutique. A'aroma is the country's first Aromatherapy Associates salon – a brand with roots in the UK – that boasts the usage of all-natural, organic products in its treatments. My aesthetician looked over my skin as I sat sipping floral tea (my 'welcome tea', as she put it) and explained to me the nitty-gritty of A'aroma's signature Essential Rose Facial, before leading me to my room.
After cleansing my face, she began to massage it to encourage relaxation and to release tension. A brief spell of hot steaming followed; it supposedly aids gentle exfoliation, boosts hydration, and has a soothing, smoothing effect. Mostly, it was all prep for the real work: extraction. Think of it as a cosmetic courtship; it's all about coaxing out the contents of the clogged pores with oils, steaming and exfoliation.
Extractions can be so cathartic; it's the same sort of manic satisfaction I feel post-wax, or after I pop a pimple. Bonus: it wasn't as painful as I had built it up to be in my head, and lasted maybe 20 minutes. For the finishing touches, there was a face mask, ice rollers across the face to soothe the skin, a facial cold compress, and finally, toner, a rose serum and moisturiser.
I can give no higher praise than that I didn't leave the spa looking like I've just had a cleansing facial, notwithstanding the fact that I did. My skin was dewy, radiant and felt smooth to the touch; there were no blemishes and blotches, save for only a hint of redness which subsided the very next day.
Venue name:
A'aroma Concept Beauty & Spa Boutique
Contact:
Address:
B-6-1
Jalan PJU 5/14
Dataran Sunway Giza
Petaling Jaya
47810

Opening hours:
Daily, 10.30am-7.30pm
You may be interested in: