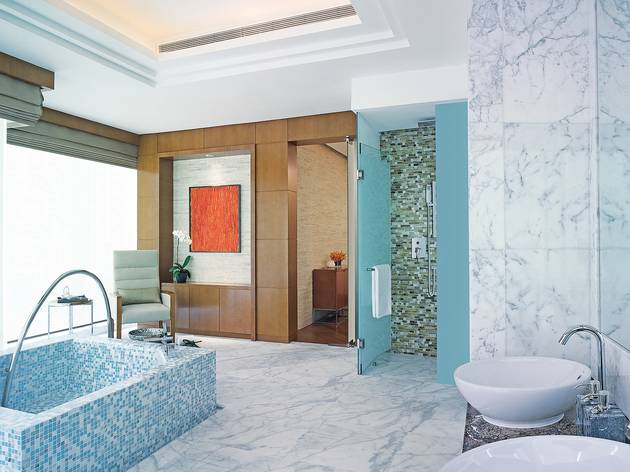 Full disclosure: This writer 'drifted off to a dreamlike state' at the midpoint of the two-hour top-to-toe treatment at Essa Spa (re: I fell asleep). In my defence, that was the whole point of the massage, but we'll come to that in a minute.
The 14,558 sq ft spa in question is a calming retreat in the concrete jungle, smack dab in the middle of the city centre, no less; the privacy it provides and the sheer enormity of the space make it a great choice for a getaway. It features 11 treatment rooms, including two couple suites, and each is equipped with an adjustable massage bed, an integrated shower and a washroom. Soak in the whirlpool Jacuzzis; sweat it out in the 24-hour state-of-the-art fitness centre, saunas or steam rooms; swim in the outdoor pool kept at a constant 28C; snooze at the cabanas and lounge chairs lining the aforementioned outdoor pool – the choice is yours.
My choice was the Essential Calm treatment, a two-part treatment that returns the body to equilibrium through 'well-choreographed rituals created with the ancient Malaysian healing art of ramuan', relaxes one into a deep dream state, and smoothes away one's stress.
The two-hour treatment began with the Jasmine Smooth: a jasmine scrub that sloughed away at my dull, dehydrated skin revealing smoother skin. Post-scrub, I took a short shower to wash off the sweet-smelling exfoliators, and then it's back to the bed in my softly-lit, spacious suite, soundtracked by soothing music for the second part of the treatment: the Essa Aroma Dream State massage.
Blending jasmine, bergamot and ylang ylang, the massage stimulates the body's pressure points as well as the ears, the face and the palms to create and maintain 'a deeply hypnotic, dreamlike state'. There, that's why I fell asleep mid-treatment. The massage itself was more relaxing than rigorous; you're there to be pampered, not pummeled. Being cared for, mothered almost, when you're used to doing (or in my case, not doing; I'm very low maintenance) everything on your own, is therapeutic in itself. Also: bear in mind I was naked for most of the treatment, save for a pair of disposable underwear. By the end of my treatment, I felt like my massage therapist (who was attentive, skilled and very thorough) and I had shared something quite special.
All the trappings of a luxury spa are present and correct: divine attached bathrooms, fluffy robes, heated massage tables, post-treatment tea and snacks. A stroke of genius: I went on a Monday – and if a spa day at Essa Spa isn't the best way to beat the Monday blues, I don't know what is.
Venue name:
Essa Spa
Contact:
Address:
Grand Hyatt
12 Jalan Pinang
Kuala Lumpur
50450

Opening hours:
Daily, 10am-10pm