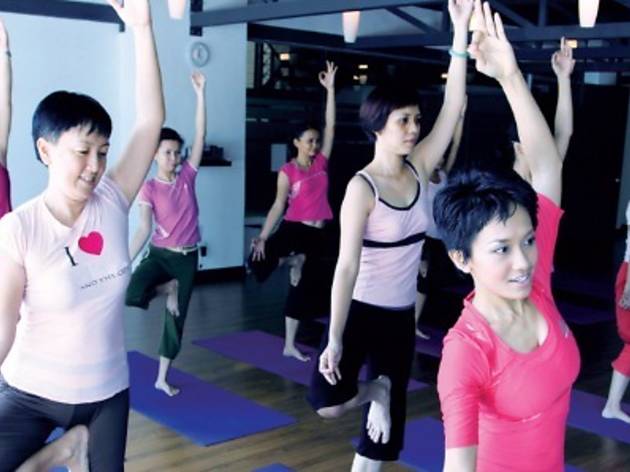 Time Out says
If you find yourself needing to take a break from being a part of the machine, why not turn up this Sunday at the newly opened yoga centre BE Yoga located at the Metropolitan Square in Damansara Perdana for their weekly Karma Yoga session? It's completely free but token sums can be contributed which will in turn be channeled to deserving charities in Malaysia.

Founded by the official yoga ambassador for adidas Malaysia Ninie Ahmad, and one of Asia's most renowned Ashtangi Azmi Samdjaga, BE Yoga believes in giving back what they've gained, which was why Karma Yoga was formed.

Apart from that however, they are also offering about 200 yoga classes per month. Members can choose from the usual Hot Yoga, Ashtanga, Pilates, Yogalates as well as the more unique Prenatal Yoga, Partner Yoga (a fun yoga class practiced with a partner, peppered with a bit of Thai massage and basic acrobatic yoga movements), and the fun Yoga Dance (a fusion of the gracefulness of dance and the discipline of yoga). Parents need not fret as there is also something for the young ones that tag along – Kids Yoga.

Classes are taught by internationally-recognized yoga teachers and the centre boasts some of Malaysia's highest accredited teachers from world-renowned yoga schools of Iyengar, Ashtanga, Vinyasa and other disciplines of yoga. Each teacher specializes in a certain type of yoga instead of being jacks of all trades, masters of none.

BE Yoga prides itself as a yoga sanctuary, with its three spacious studios exposed to natural light through large glass screens, surrounded by trees. The centre is equipped with a large washroom, with multiple shower rooms, lockers, and a Wifi enabled lounge area.

Membership starts at RM88 monthly. Students with a valid student ID will enjoy a 10 per cent discount on any unlimited package. BE Yoga is open from 7am – 9.30pm on weekdays and from 9am-5.30pm on weekends. Karma Yoga is scheduled at 10.15-11.15am every Sunday.
Details