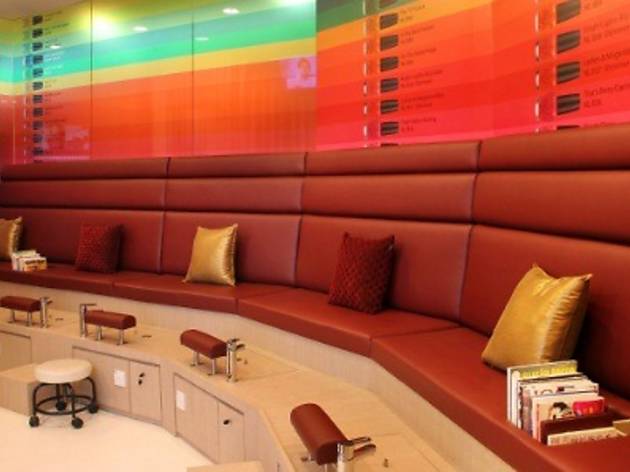 I'm grateful for nail bars like Colour Culture because clumsy fingers like mine can never perfect a manicure without smudging.

Colour Culture OPI Nail Bar definitely has its standards and class. Upon entering the brightly-lit nail bar, I was smitten by the slew of glossy nail lacquers lining the shelves. Pedicure leather chairs filled the room and flat screens on the wall kept patrons entertained.

My Manicure and Pedicure Spa (RM188) session was conducted efficiently – I had both a manicurist and pedicurist working on my nails simultaneously. To begin with, my feet were soaked in a purifying foot bath which softens the callus so that it's more easily removed. My body instantly felt relaxed as the tepid non-bubbling bath ran through my sore toes. The exfoliation session however left me squirming in my seat as my pedicurist ran her fingers up and down my legs with natural sugar crystals. But the sensation was no match for the shea butter foot mask with tingly cooling menthol. My feet were cling-wrapped like an overnight roasted turkey. Apparently, this was to keep my feet supple and hydrated.

While my feet were left to absorb the foot mask, my manicurist was inspecting my fingers for pitting and ridges. Pleased that she'd found none, she gently placed my hands in a bowl of minerals and brighteners before proceeding with the sugar hand scrub. After that, she stroked my hands softly with an anti-ageing serum and finished with a relaxing hand massage.

My favourite part was definitely the colouring process. My nails were filed to the ideal roundness and the skin around my nail bed nicely trimmed. With over 200 colours to choose from, I hemmed and hawed for 15 minutes before deciding on a pastel lilac to complement my sallow fingers and a darker metallic shade of purple for my toes. In just ten minutes, my nails looked impeccable.

At Colour Culture, you can just sit back without worrying about hygiene because the staffs here don mask and sanitise their utensils with antiseptics after every session. I was secretly wishing that my 120 minute nail spa would never end because I've forgotten how supple my skin felt without callus and dirt clogging my pores. My hands and feet could literally breathe. Kong Wai Yeng
Visit Colour Culture's new outlet at Empire Shopping Gallery.
Venue name:
Colour Culture OPI Nail Bar
Contact:
Address:
Level 6
Pavilion
168 Jalan Bukit Bintang
Kuala Lumpur
55100

You may be interested in: