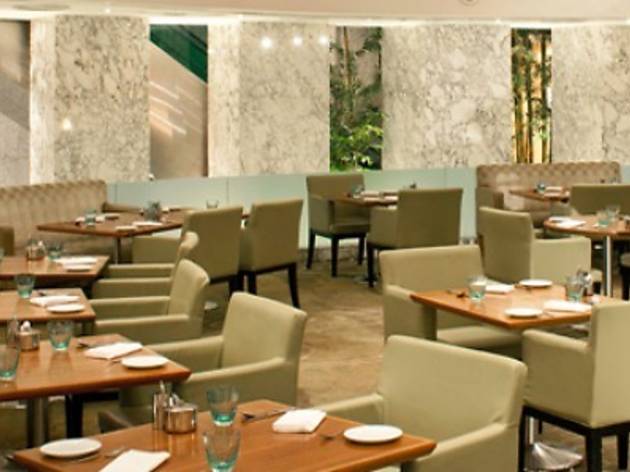 Saturdays for me aren't eventful and I intend to keep it between me and my couch in front of the TV. But that one day, for a change of scenery, I decided to throw on some decent clothes and head out to the Spa Village at The Ritz-Carlton Kuala Lumpur.

Even though Spa Village KL is an extension of a resort spa brand, this urban adaptation did not lose the sense of space and privacy. The spa has its own swimming pool surrounded by lush greens, and the treatment suites are light filled to create a cheerful, airy space. They even come with an outdoor courtyard each, fitted with rain shower and an oversized sunken bath. Unlike most urban spas that make you feel walled in, Spa Village creates the illusion that you are out in some tropical resort.

I started with the spa's signature Sensory Exploration treatment (RM150/60 minutes). This treatment is one of its kind in KL, and I was told it's even the region's first. Much like a cleansing ritual, it consists of a light breathing exercise, a rediscovery of your five senses (taste, smell, touch, sound and sight), and finally neck, shoulder and foot massages. Prior to that, I was asked to write down my worries on a piece of paper using an ink pen. And during the session, the piece of paper was put into a bowl of water to signify the act of letting go. Seeing the words dissolve into the water, I must admit, was surprisingly a therapeutic experience.

The room was pitch dark, save for the blinking LED lights ahead to stimulate a starry sky. The floor vibrates lightly with the earthy reverberating sounds. It's quite unnerving at first when the lights were switched off. Slowly, you are overcome with a sense of peace and comfort as if you could no longer be harmed by the outside world. It may sound far-fetched, I know, but it did feel that way. And at the end of the session, I was asked to choose a gemstone, which I was to hold in my palm, put it to my heart and make a wish. The entire session felt like a reboot, both mentally and emotionally. To be honest, with all the spas that I have been reviewing, I have never felt so renewed.

Well rested, I moved onto a one-hour Malay massage (RM225), which features long kneading strokes that focus on muscles and the body's pressure points. As expected, the massage was excellent, my masseuses' pressure was spot on and she even paid more attention to my perpetually tensed back. As such as I was trying to find fault with the spa (this is after all a review), the only thing I find lacking is a stool in the changing room for me to sit on while I change back into my shoes. Trivial, I know.

For the rest of the day, I spent it over an elegant afternoon tea (RM68) at The Lobby Lounge at The Ritz-Carlton Kuala Lumpur. They have over 40 tea selections ranging from black to green teas and floral/herbal infusions. When the waitress pushed over the tea cart, I was momentarily stupefied by the exaggeration of tea choices but I finally settled on a rich vanilla infused black tea. The three-tiered English afternoon tea set came with lots of freshly made goodies. I particularly enjoyed the caramel scones, mini sweet mango cheese cake and the raspberry chocolate.

So far my most fulfilling Saturday ever. (Now, if only this were a couple's weekend together, but I digress.)
Venue name:
Spa and tea at the Ritz-Carlton
Contact:
Address:
4th Floor
The Ritz Carlton
168 Jalan Imbi
Kuala Lumpur
55100

Opening hours:
Afternoon tea is available Mon-Sat, 3-5pm.
You may be interested in: