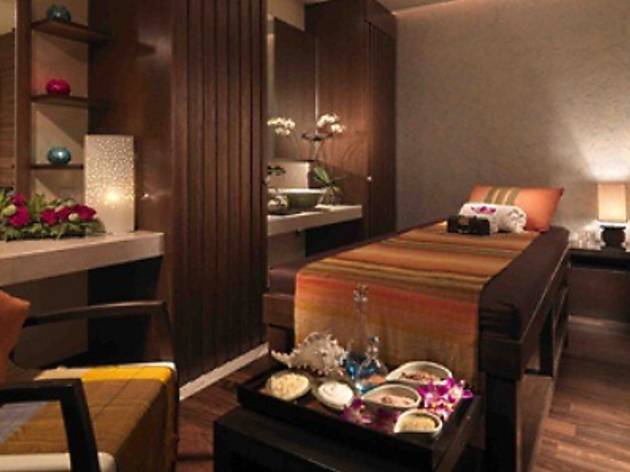 A regional spa chain from Singapore, the St Gregory at Parkroyal Kuala Lumpur is everything you would expect from a spa. It has a comfortable environment, cosy rooms with ambient lighting and attached shower/bath, friendly staff and multiple offerings of herbal tea.
Frankly, the reception area does feel a little corporate, like a really nice office reception. But then again, it is a city spa after all and they make no pretense by trying to dress it up like some tropical resort. However, the menu is made up of predominantly Balinese and Javanese treatments. This theme carries into the rooms which are decked out in dark wood and accentuated by batik details. For facials, Thalgo marine-based products are used whereas body treatments tend to rely more on essential oils and even fresh ingredients.
I chose two treatments that are meant to relieve tensed and tired muscles. Lack of sleep and long exposure to the computer screen can do that to you. Before the treatment started, I was given some time in the room to shower and relax over hot tea.

The 60-minute Aromatic Body Bliss (RM280) is St Gregory's signature massage. It's a combination of Thai, Ayurvedic, Javanese, Swedish and Shiatsu massage techniques. My masseuse used her palm and thumb to administer long strokes that pressed deep into the tissue to rid muscle aches, tensions and stress. She had barely finished my legs and I had already felt the effect of falling into a sleepy slumber.
This massage was followed by a 30-minute warm Ginger and Herbal Bath (RM140). Now this is interesting. The bath was carried out in a Japanese wooden tub called 'mu tong' (only two of the five rooms here have this). The bath water, purposely kept warm to stimulate blood circulation and detox the body, was infused with a variety of herbs that include clove, nutmeg, cinnamon and of course ginger. It had a nice invigorating smell. As expected, I was sweating and feeling a little lightheaded (it's only natural due to the heat from the water). But after that, as my body began to cool down, I felt so relaxed and refreshed, like I just had a restful nap. It certainly was a good finishing treatment to complement the massage earlier. Lim Chee Wah
Venue name:
St Gregory Spa
Contact:
Address:
St Gregory, Level 6, Parkroyal Jalan Sultan Ismail
Kuala Lumpur


You may be interested in: