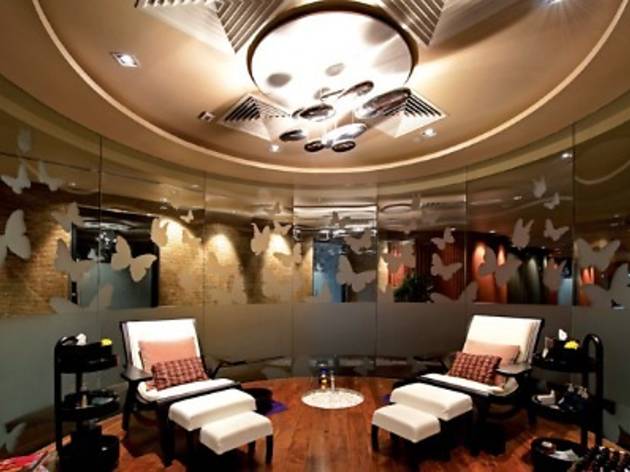 February 2011

The Fit and Spa Lounge at Pullman Putrajaya Lakeside is what you'd expect of a spa - quiet, comfortable and calming. The menu may not be extensive but it is adequate, with head to toe treatments that include massages, body scrubs, facials and nail care. The spa uses a line of botanical products specially imported from Indonesia.
The relaxation lounge is perhaps the most impressive feature of the spa. A round glass structure, it appears to be suspended off the ground. Beyond that are the ten treatment rooms. They look a little peculiar from the outside, like spaceage circular pods. But that's about as edgy as the spa gets.
On the inside, these treatment pods are impeccably modern: clean geometric lines and proportions, dark walls and mirrored wardrobes. Each has its own private shower/steam room whereas the bigger rooms come complete with bathtubs.
My Fit and Spa Massage (RM270/90min), the signature treatment, was delivered exactly as the menu described - a combination of three massage techniques (Malay Urut, Chinese Tui Na and Indian Abyanga) using warming aromatherapy oil to soothe my tired body. It's not a hard massage but the long strokes using both the palm and the thumb, combined with some light stretching, do feel more remedial than the usual aromatherapy massage. There's the tension relief massage (RM100/30min) as well, which is good for those who spend lots of time in front of the computer or behind the wheel.
Granted, this is not a spa you would come to on a whim. It takes some convincing to drive all the way to Putrajaya for a dose of pampering. But if you want to get away from the city, the spaciousness of Putrajaya is refreshing. After your treatment, take a stroll to the lake by the resort; it's usually very quiet here so you can sit and stare into space. Lim Chee Wah
Venue name:
The Fit and Spa Lounge
Contact:
Address:
Pullman Putrajaya Lakeside
2 Jalan P5/5
Presint 5
Selangor
62200

Opening hours:
Tues-Sun, 10am-10pm.
You may be interested in: