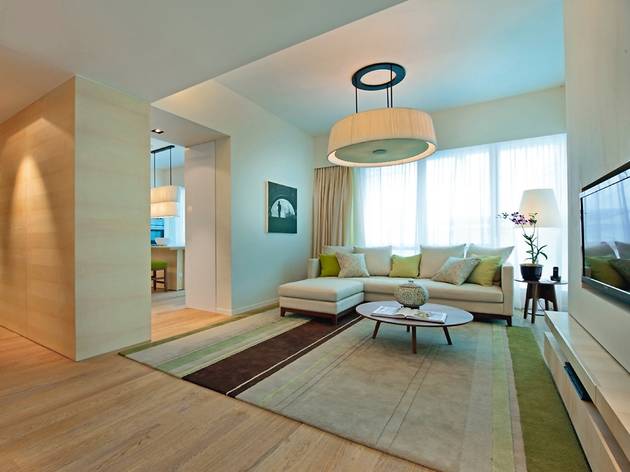 The Hong Kong-originated Lanson Place is located on the quiet end of Bukit Ceylon. You won't miss this 48-storey serviced residence, which looks like a swanky condominium. While other serviced residences deliver all the comforts of home with simple hotel services, Lanson Place gives you more: a grander, fuller view of the KL skyline that makes staying in even more tempting.
The addition of Lanson Place has given shine to the wearisome Bukit Ceylon, which benefits from the proximity to Changkat's nightlife strip. But there's no need to worry about the noise – Lanson Place is a ten-minute walk from the hubbub.
It boasts 150 units with one to three bedrooms, each featuring a different view of the cityscape. Even the most basic one-room unit overflows with amenities: flat screen TV with surround sound, iPod docking station, electric stove, microwave, dishwasher, coffee machine and an oven big enough to whip up a perfect roast.
Lanson Place exudes a minimalistic charm with cushy furniture and a wood-dominated décor. Their trump card is Japanese designer Koichiro Ikebuchi, who's known for his pared-down and elegant designs. The floor-to-ceiling window that bathes the living room with natural sunlight and the luxurious rain shower with London's GilChrist & Soames bath products are reasons to check in; the plush bedding and linens are reasons to never check out.
The real draw of Lanson Place is the 163 sky lounge on the 48th floor, which serves cocktails and basic meals. Not hungry? Drink in the majestic view of the Petronas Twin Towers instead. Unfortunately the sky lounge was undergoing renovation during my stay and the staff had to repurpose one of the guest rooms into a makeshift dining area. Breakfast consisted of cereal, toast, eggs, fruits and coffee – substantial enough, but you'll definitely find tastier options within walking distance.
The hotel amenities were faultless. There was no reason to leave their Olympic-sized pool outfitted with lounge chairs and an outdoor barbecue area. Before I knew it, I was watching the sunset and marvelling at the way the KL Tower gleamed in the dark. And to burn off yesterday's dinner, I utilised their full-serviced gym on the 48th floor, which is equipped with treadmills, elliptical, stationary bikes and free weights.
Lanson Place gives you the freedom to flit from the frenetic Changkat to a relaxed respite within minutes. Plus, the excellent room service sets itself apart from the clutch of serviced residences in the city. Just remember to pack your trainers when you check in.
Venue name:
Lanson Place Bukit Ceylon Serviced Residences
Contact:
Address:
10 Jalan Ceylon
Kuala Lumpur
50200

Price:
From RM648++ per one-bedroom residence
You may be interested in: